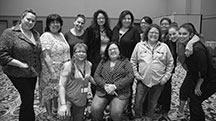 By Toya Stewart Downey, April 1, 2015
Last month a conference was held in District I to address one of the most pressing issues in the community — opiate abuse.
More than 200 people attended the "Fighting for Our Future: Preventing and Stopping Opiate Abuse" conference that was held at Grand Casino Mille Lacs Convention Center on March 13-14. It was sponsored and organized by the Chief Executive's Office, Health and Human Services and with help from the Band's chapter of Women Empowering Women for Indian Nations (WEWIN).
"Babies born addicted to opiates is the biggest threat to our future," Chief Executive Melanie Benjamin said during her opening remarks. "Mille Lacs is one of the hardest hit tribes in the state."
Opiates are a group of drugs that are used for fighting pain and can be both prescription painkillers and illegal drugs such as heroin. Based on recent health statistics across the state, 28 percent of babies born to Native Americans have neonatal abstinence syndrome (NAS) based on the drug use of the parent.
In other words, American Indian newborns are 8.7 times more likely than white babies to be born with NAS. Babies of other ethnic groups in Minnesota are less likely than white babies to be born with NAS.
"If our children are to survive and thrive," said Melanie, "we must follow the adage that it does indeed take a village and, in our case, a Band, to raise our children."
While the long-term effects of opiate addiction on babies are still being studied, the short term effects are widely known – and heartbreaking. The National Institutes of Health cite symptoms such as fever, irritability, seizures, sweating, trembling, vomiting, diarrhea, hyperactive reflexes, poor feeding, rapid breathing, sleep problems, slow weight gain, and high-pitched or excessive crying.
Drug use also increases the likelihood of birth defects, premature birth, low birth weight, small head circumference, sudden infant death syndrome (SIDS) and problems with development and behavior.
According to the Band's Behavioral Health Department, the statistics surrounding opiate use are troubling.
Native Americans ages 12 and older are reported as having the highest drug-use rates of any ethnicity
There's been a 984% increase in opioid and heroin abuse among all groups from 1998-2011
Since 2011, there's been a 3,695% increase of opiate and heroin use among American Indians
There were 38,329 drug overdose deaths in 2010 and of those, 16,000 deaths were due to opiates.
Dale Barry, a local physician who is an expert in opiate abuse, talked about why opiates are easy to become addicted to, what leads to addiction and what can help end it.
Cecilia Fire Thunder, the keynote speaker for the conference, told the attendees that it was important to follow the cultural teachings that were practiced by generations of Native people, that by following those cultural ways the community could find healing.
"Who we are and how we feel about ourselves is integral," said Cecilia, a nurse and community health planner who was the first woman elected as the tribal leader of the Oglala Sioux.
Cecilia spoke of making mistakes and finding the power from within to get past them and move forward. She talked about making the decision to forgive someone and assured the attendees that "only you can let it go. But, you never have to forgive anyone for hurting you because you are the only one who knows the pain." She reminded attendees "our daughters are watching and learning from us."
"A measurement of how well we are doing as an Indian Nation is how well we are taking care of our children," Cecilia said.
Cecilia implored those in attendance to "do something to create a better community for the children, to pray harder for your tribal citizens, to celebrate being alive today and to die in peace, with no regrets."
Other topics at the conference included healthy living, Mothers of Tradition, discussions with health care professionals, Elders and more.
Brett Larson contributed to this article.