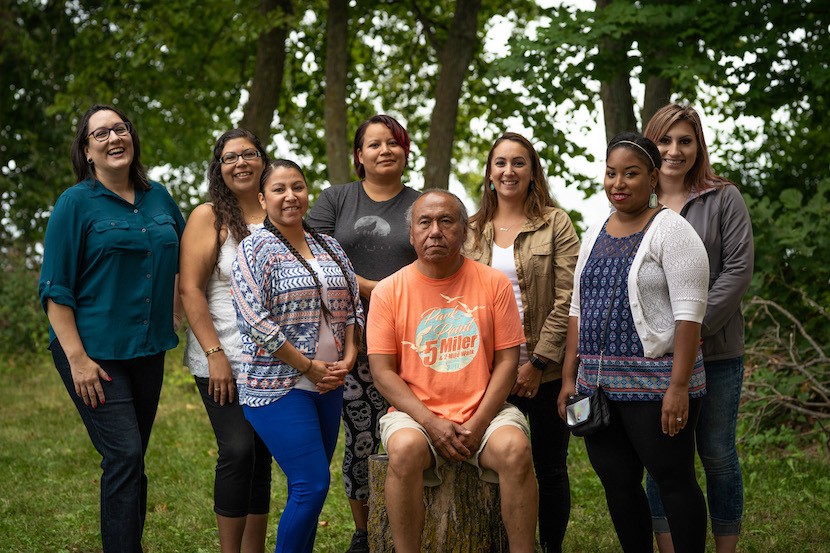 Wendy Merrill
Job Title: Legislative Office Manager
Job Responsibilities: The Legislative Office Manager is responsible for ensuring the smooth operation of the office by managing, evaluating, planning, and implementing the activities of the Legislative Office.
Education and Background Experience: I graduated from Central Lakes College in 2012 with my associate degree, went on to get my bachelor's in organization behavior and minor in psychology from College of St. Scholastica in 2014 and just recently graduated with my master's in tribal administration and governance from University of Minnesota Duluth.
Some of my job experiences are working as an admin for surveillance, Gaming Regulatory Authority (GRA) licensing manager, chair of GRA board, and Isle School American Indian liaison.
Volunteer Experience: I sit on my American Indian Parent Advisory Committee for Isle Schools, and I am currently on the board for Minnesota Indian Education Association and Promise to Act Committee.
Family Information: I live in Isle with my husband Carlos and six children.
Biographical Statement: I was born in Minneapolis but was raised on the Mille Lacs Reservation for the majority of my life. Fun facts: I coach cross country for the Mille Lacs Raiders. I love running for fun! I do as many races as possible throughout the year.
Darcie Big Bear
Job Title: Parliamentarian/Band Assembly Clerk
Job Responsibilities: Provide clerical support for Band Assembly, prepare agendas for Band Assembly meetings, gather supporting documents for each meeting, record all official minutes of the meetings, prepare Band Assembly bills/ordinances, prepare resolutions, and disburse correspondences regarding approved/denied ordinances and resolutions to commissioners and department directors.
Education and Background Experience: I have worked for the Mille Lacs Band for 18 years. I started in Tribal Court, journeyed over to Enrollments where I was the enrollment technician for 13 years and am currently in my third year serving in the Legislative Department. I received my associate degree in business administration in 2016 and am currently working on obtaining my bachelor's in business administration.
Volunteer Experience: I am currently the chairperson for the Isle American Indian Parent Advisory Committee.
Family Information: I am the proud mother of two handsome sons: Todd is 21 years old, and Eldayshun is 16 years old. I also have a 2-year-old grandson, Todd Jr.,who I truly adore. Biographical Statement: I have always tried to put my best foot forward and have worked super hard for everything I have. Being a single mother of two boys, I have tried to show them what hard work takes and to never give up. They are the reason why I went back to school. I wanted to show them it's never too late to go back to school and accomplish a very important goal.
Fun Facts: I am an old style jingle dress dancer and participated in a documentary about the story of the jingle dress. I love Zumba, I am in the stands at every one of my youngest son's high school basketball games, and I love my huge family.
Valerie Harrington
Nickname: Val
Job Title: Legislative Communications Liaison
Job Responsibilities: The most important responsibility is to ensure that the voices of the Band members are heard and used in our branch. Specific duties include:
• Represent the tribe and ensure key people are aware of provided knowledge of matters that may affect the tribe.
• Work with the legislative team.
• Provide key communication processes and use vital communication tools to ensure our media content is timely and effective to our Mille Lacs Band members.
• Provide comprehensive information and relay communication measures to regularly interact with the constituents of the Mille Lacs Band of Ojibwe, the secretary-treasurer, district representatives, commissioner of finance, legislative counsel, and other legislative staff in an ongoing effort to achieve the goals and aspirations set by the Band Assembly.
• Promptly remain prepared to offer competent and appropriate responses. Prepare for issues encountered that may vary depending on the assignment, research, or request.
Education and Background Experience: I love working for the Band. I started working for the Band in the youth workforce program and have been working in many aspects of tribal programs since 1997. I enjoyed working with Small Business Development, Band Member Development, Community Youth Services, Emergency Services, and Tribal Child Support Enforcement.
I received my associate degree from Central Lakes College, my bachelor's degree from College of St. Scholastica, and my master's degree in tribal administration and governance from University of Minnesota Duluth. I have attended many comprehensive trainings throughout my professional career. I have learned so much and I value all learning opportunities. Volunteer Committee Information: Co-chair of local WEWIN Chapter, TERO Commission board member, and secretary for TERO Commission.
Previous Job Responsibilities and Achievements: I previously worked as Financial Specialist for Tribal Child Support Enforcement, where I processed all the financials for the program. I would disburse payments, prepare monthly reports, and process per capita garnishments and minor trust garnishments. I submitted orders and processed tribal court orders. I maintained financial files, submitted quarterly reports, processed the take list monthly, entered payments into the Model Tribal System and made adjustments, and processed account statements.
Certifications and Industry Honors: First Aid Certification, Housing Initiative Home Loan Certificate, Administrative Professional Excellence Certificate, Small Business Development Certificate.
Family Information: I have a beautiful, amazing family. All I do is for them. I have a 22-year-old beautiful daughter and a handsome 15-year-old son. They are my pride and joy. They are my world. My loving partner is Tyler, who gave me a handsome 15-year-old son from a previous relationship. His name is Tyrin. I am very close with my mom and dad and my siblings. I am blessed with a strong family.
Brief Biographical Statement: I have lived in Mille Lacs District I my entire life. I have strong roots here, and I have been blessed to see the growth and development of our reservation. It has also kept me humble to remember always where we come from and where we started.
Fun Facts: I love to travel. I love movies, and I love learning. I love pics. I have tons of pics hanging in my office. I love being a part of the community and attending events. I love playing volleyball; it brings out a competitive side of me. I love watch- ing my kids and my nieces and nephews participate in sports. I love going to games and watching the Vikings and tennis. My dream is to make it to watch the U.S. Open. I have a huge family and love them.
Brianna Boyd
Nickname: My family calls me Bri.
Job Title: Legislative Administrative Assistant
Job Responsibilities: Create purchase orders and check requests, answer phones, assist office manager with special projects, provide clerical support for all legislative staff. Education and Background Experience: I graduated in 2014. From there I went to college in St. Cloud for a year. I am currently attending college to finish up my AA, then I will start my business management degree.
Previous Job Responsibilities and Achievements: In the Grand Casino Mille Lacs HR department, I worked in recruitment and staffing and benefits. I then moved over to Eddy's and was the sales and inventory coordinator before starting in legislative.
Family Information: My parents are Dan Boyd III and Heather Boyd. I have two older siblings and two younger siblings. Brief Biographical Statement: I grew up about 10 minutes away from Mille Lacs, and I attended high school in Brainerd. Fun Facts: I have two dogs. I am left handed. I am the youngest child on my dad's side, and the oldest on my mom's side. My first job was at the casino in the Grand Northern Grille. I'm very clumsy; one time I tripped over a soccer ball and sprained my ankle. I also got stuck in a tree once and sprained my wrist. I've had braces twice.