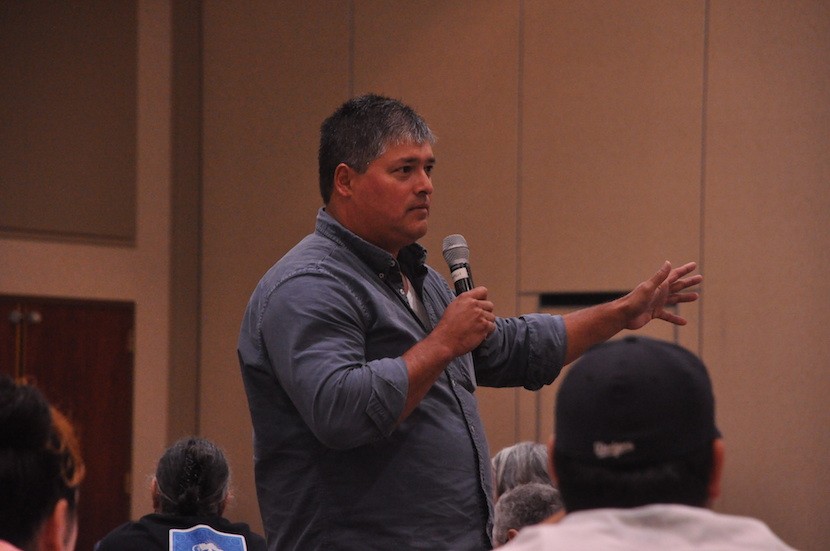 A large crowd of District III Band members received updates on health, education, and other topics at their monthly meeting September 19 at Grand Casino Hinckley.
Representative Wally St. John welcomed the community with a heartfelt speech about the importance of unconditional love. Wally said he was asked by an Elder how he was going to bring love to the community, and he's been thinking about his response.
He said everyone in the community knows how to love unconditionally because they have unconditional love for the children and would gladly die to save their kids' lives.
"Everybody here is one community, one family," said Wally. "You have that ability to love, and love is the key."
He thanked Monica Haglund and Briana Matrious Michels for bringing the Mending Broken Hearts curriculum to the community. The program deals with the effects of historical trauma.
"Those of us who went through the program, we got rewarded because we dealt with some of the darkness in our past."
Wally said he plans to invite Chief Justice Rayna Churchill, Police Chief Sara Rice, Tribal Judge Dave Christensen, and Commissioner of Community Development Percy Benjamin to the October meeting.
Health and Human Services
Wally introduced Commissioner of Health and Human Services Rebecca St. Germaine, who talked about the restructuring of the HHS Department and the response to the opioid crisis, which includes prevention efforts, a clean needle exchange, and Narcan training and distribution. She said HHS has received numerous new state and federal grants and is now part of a state pilot program, which provides access to more state funds to combat drugs and addiction.
She also said the Band will be starting its dialysis program this fall, and she recognized the positive efforts of Sober Squad and Natives Against Heroin.
Donita Odden of the Circle of Health Program also came to the meeting to introduce herself to Band members and let them know she is available to help them with insurance, Medicare, and Medicaid. She said she is in Hinckley Mondays and Fridays and at Aazhoomog Tuesdays and Wednesdays.
School Board
Nay Ah Shing School Board members Rick Dunkley and Joe Nayquonabe Sr. also spoke.
Joe talked about his experience as a chemical dependency counselor, sharing a message he gave to those struggling with addiction: "The Creator gave you a good body, and he gave you the responsibility to take care of it. If you put good things in there, good things will happen. If you put bad things in there, bad things will happen."
When Joe won election to the school board, he applied that same thinking to the mind: If you put good things in your mind, good things will happen, he said.
Rick talked about the excellent people who work at Nay Ah Shing and Pine Grove but said parents and grandparents also need to do their part by making sure kids are going to school.
Rick spoke about his father, Doug Dunkley, who required his kids to attend school every day.
He also asked aunts and uncles to take an active role by attending extracurricular activities to show their support.
"If we can get them to school, good things will happen," said Rick. "That's the plan, and we need the help of families to do that."
Smudge walk
Monica Haglund said she was working with Daphne Shabaiash to plan a smudge walk in Aazhoomog Sunday, September 30. "We need to start loving each other and healing, doing it our way, start smudging our communities," said Monica. "This is the first, and we're going to have many more."
See next month's Inaajimowin for coverage and updates.
Photo: Nay Ah Shing School Board Member Rick Dunkley encourages parents and grandparents to make education a priority for their families.