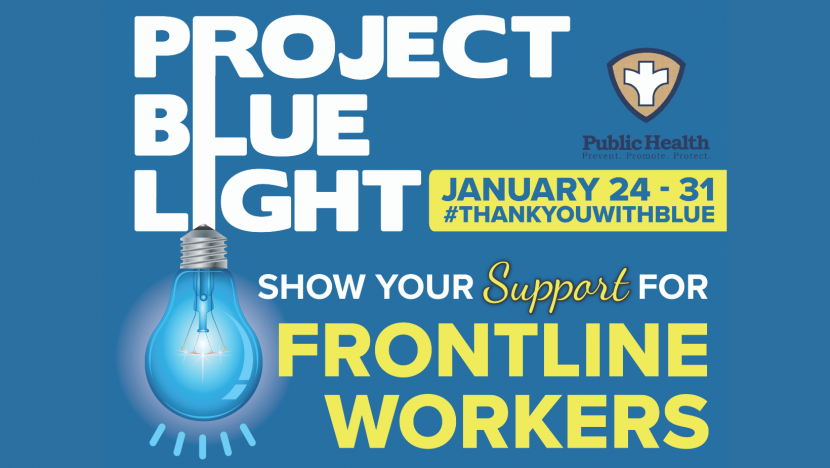 Project Blue Light is an idea from the Arrowhead Regional Public Health and Tribal Health Departments — including the Mille Lacs Band's Health and Human Services Department — to honor those frontline personnel who have been working relentlessly to keep our community safe during the COVID-19 Pandemic. Frontline workers have answered the call to serve their community during these unprecedented times. Their service has allowed essential services to continue operating, minimized the disruption to daily lives, and their work continues to play a critical role in protecting our communities' health and safety.
Frontline workers not only include doctors, nurses, home care, Long term care, assisted living and other medical professionals, law enforcement, firefighters, EMTs, paramedics, emergency dispatchers/Jailers, Customs and Border Protection Officers, Border Patrol Agents, but also the Invisible Infrastructure who may not get the attention as others. Some of these are, grocery store employees, fast food workers, restaurant workers, food and supply distribution center workers, truck drivers, Untied States Postal Service employees and other carriers; School District administration and staff, sanitation, custodial, janitorial, and cleaning service workers; railroad workers, Public Works crews, and other professions critical to the life, health and safety of our community residents, have risked their own health and safety, as well as the health and safety of their loved ones, to carry out their critical duties during the COVID- 19 pandemic. They deserve our recognition and appreciation.
We are hopeful all of you can help us spread the word throughout our communities. Please see the flyer and be ready to turn our community blue from January 24 through January 31.
And feel free to join the Project Blue Light Facebook page and post your Blue Light photos with #Thankyouwithblue.