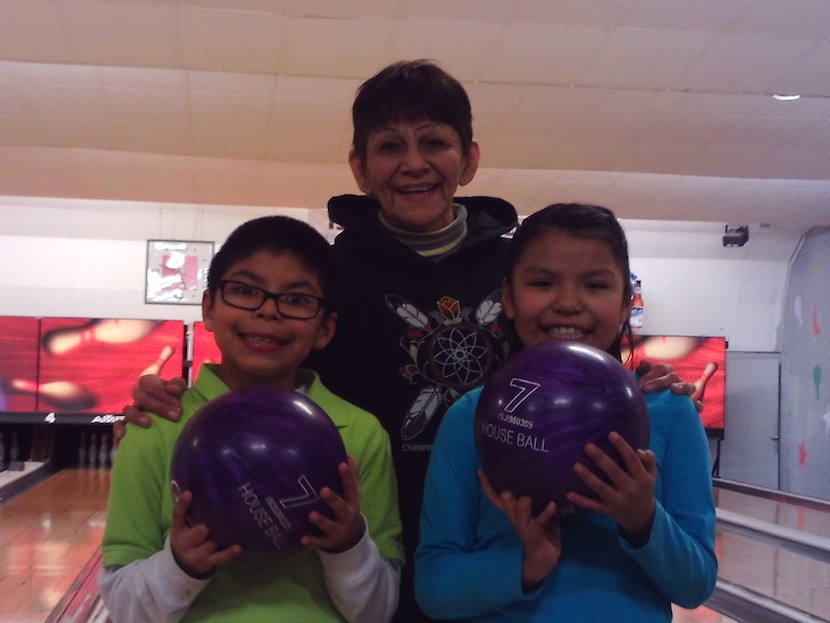 By Chilah Brown Mille Lacs Band Member 
At the beginning of the 2017-18 school year, Band member Jordan Sayers was asked by her grandmother, Sami Thomas, "What after-school activity would you like to participate in – basketball or bowling?" Without hesitation, Jordan chose bowling. 
Jordan and her twin brother Jayden were introduced to the sport at the age of 5 by their grandmother. Grandma Sami was a competitive bowler for 40-plus years, traveling to various cities and competing in numerous tournaments throughout the United States. It seemed only natural that the twins would take an interest in the sport as well. 
Jordan and Jayden quickly took the opportunity to sign up at Nyquist Elementary in Isle (Chiminising) for the bowling activity at the Isle Bowl and Pizza Tuesdays after school. Youth bowlers interested in participating in the district tournament had to establish an average with a minimum of 21 games in order to compete in the 2018 Minnesota Single Youth Bowling Tournament. 
The top five Isle youth bowlers with the highest average were chosen to represent Isle Bowl and Pizza for the East Central District at Junction Bowl in Isanti for the opportunity to advance to state finals in youth bowling. 
With an average of 50, Jordan was the only girl and one of five Isle youth to qualify for the Minnesota Single Youth Bowling Tournament. Youth bowlers had the opportunity to compete in the district roll-offs, which were held over two January weekends. Eighty-eight youth bowlers from across the East Central District competed, and out of the 17 youth bowlers in the U12 75-and-under category, only the top four scores advanced. With a handicap of 397, Jordan had a total score of 594 pins and placed 8th in her division. 
Although Jordan did not make her mark at state, she enjoyed the experience. Bowling has helped her build confidence and find her passion. She continues to bowl for Isle and looks forward to competing in more tournaments and making new friends. Grandma Sami is also looking forward to Jordan competing in more tournaments and enjoys volunteering her time coaching the twins and other youth at Isle Bowl and Pizza. 
Scholarships worth a total of $10,000 are offered to youth participants. More information regarding the Minnesota Singles youth bowling tournament can be found at bpam.org/MNSingles.htm.
Photo: Sami Thomas has been teaching Jayden and Jordan all she knows about bowling — which is a lot!