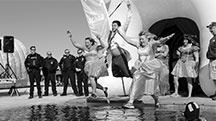 By Mille Lacs Corporate Ventures, April 7, 2015
Last month 290 individuals took the plunge into the frigid waters of Lake Mille Lacs for the fourth annual Mille Lacs Polar Plunge for Special Olympics Minnesota.
Together the plungers raised more than $42,000 in donations toward the cause. Combine that with the $20,000 that Grand Casino Mille Lacs donated to help bring the plunge to the area and the $16,000 donors and Associates raised for Commissioner Joe Nayquonabe's Executive Plunge at Lake Calhoun and all together, the money raised for Special Olympics Minnesota totaled more than $78,000!
Miigwech to all of the plungers who raised money, for all of the supporters who donated money for Special Olympics Minnesota and for the help of local law enforcement (Mille Lacs Band Tribal Police, Mille Lacs Band DNR, Mille Lacs County Sheriff's department, Mille Lacs Search & Rescue and Mille Lacs Health Systems Ambulance).
Related article: Bella Boyd Honored at Special Olympics Minnesota Event