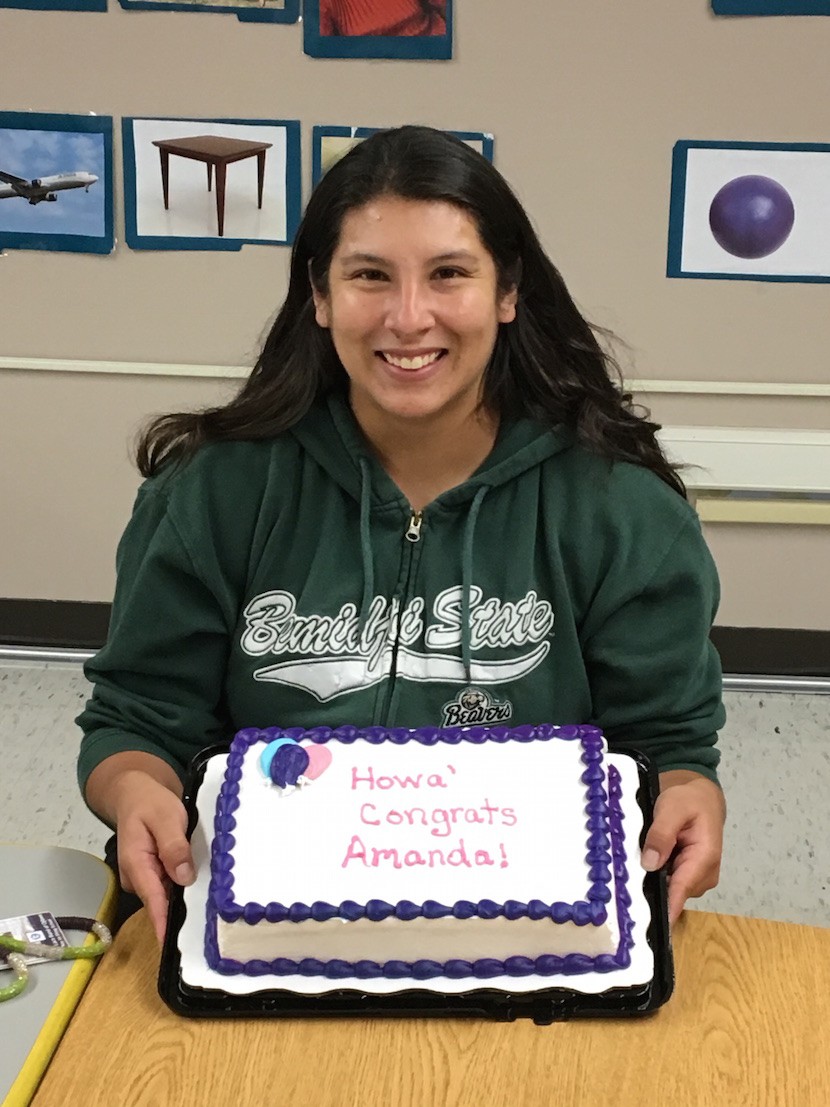 Nay Ah Shing teacher Amanda Nickaboine-Meyer received her K-6 Minnesota teaching license earlier this fall and is working in the new kindergarten immersion classroom.
Amanda became an Ojibwe language teacher trainee four years ago and decided to pursue a teaching license and second bachelor's degree through an online teacher training program offered by Bemidji State University. During her education, Amanda worked in Nay Ah Shing classrooms with Elaine Sam, Bonita Nayquonabe and Linda Stevens.
Now she's back with Bonita in the immersion classroom, and the two have been joined by Aanakwadoons Aubid.
The three-year teacher training program followed a cohort model, with meetings in Coon Rapids three times per year for testing and introductions to the next set of classes.
"It was very valuable," said Amanda. "I liked the cohort experience. There was a lot of good information, and it was good to be with the same group of people. It was a supportive environment for sure."
Now Amanda is facing the dual challenge of being a first-year teacher in a brand-new program, but so far the class is going well. "It's been challenging but manageable," she said. "The students are catching on very quickly. It's really neat to see."
The staff receives help from Waadookodaading immersion school on the Lac Courte Oreilles reservation in Wisconsin, including lesson plans, weekly conference calls, classroom observations and emotional support.
"We've come a long way since LeAnn (Benjamin) has been in charge," Amanda said. "She's very supportive of our program and the staff."
Amanda, who is a Mille Lacs Band member, has been working for the Band for over a decade. She spent six years as a chemical dependency counselor before deciding to follow her original dream of becoming a teacher. "No matter what I did, I knew I wanted to come and work for the Band, because they paid for my education."
Amanda completed her first bachelor's in Applied Psychology while raising her two older children, now ages 14 and 12. When her youngest daughter, now 6, was born, Amanda decided it was time to change careers.
"I had made some friends here in the school," Amanda said. "We had been in groups together, like Mille Lacs Area Partners for Prevention, and I thought it would be a cool move to go to the school. Now I'm back where I originally wanted to be." Amanda's grandfather, Alvin Nickaboine, worked in maintenance at the school but also helped in classrooms.
"I was a first-generation college student," Amanda said. "After my first two kids were born, I knew I wanted to finish college. I didn't want to drop out."
When her daughter, now 14, was four years old, she watched her mom graduate from Bemidji State the first time.
"Now she's watched me graduate two times," said Amanda. "And she wants to go to Bemidji State."
No surprise, with a role model like her mom.