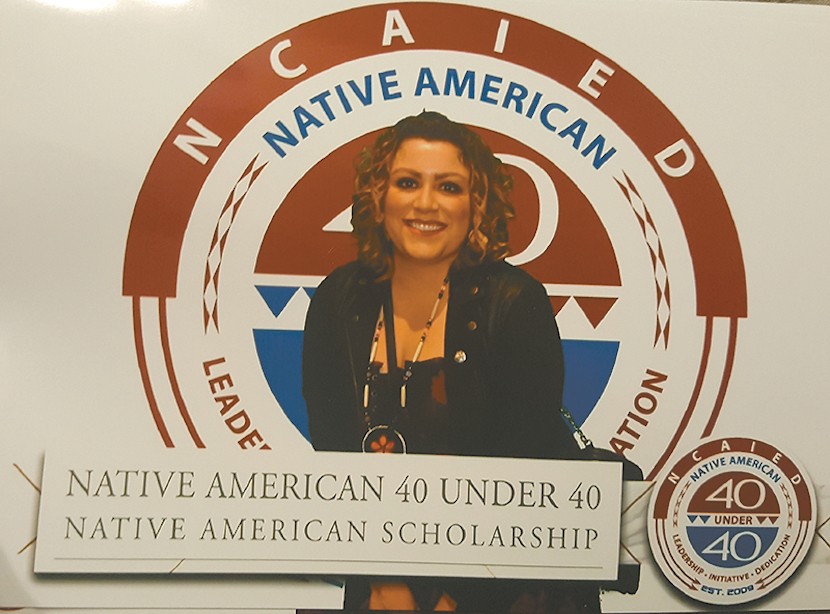 Chiminising Band member Amikogaabawiikwe Adrienne Benjamin didn't always recognize her own potential.
When Adrienne was 25, she was part of a staff training led by professional leadership development trainer James Anderson. "He saw me at my lowest," said Adrienne. "I got him to come and do a leadership seminar, but at that point I could have cared less about leadership. I wasn't involved; I wasn't ready for the level of communication and outward expression that leadership takes. I was in a bad place in my own head. I was depressed and had a lot of issues from my own past traumas. But he kept pushing and didn't give up on me. 'Come back when you want to give this a shot,' he said."
Adrienne took him seriously, changed her attitude, and end- ed up winning the "Superwoman Award" for the person in the group who showed the greatest change. "To this day, I accuse him of rigging the voting box," Adrienne joked.
In the years since, Adrienne has accumulated an impres- sive list of fellowships, scholarships, and honors:
• She was part of Native Nations Rebuilders Cohort Five;
• She is a Blandin Reservation Community Leadership Alum;
• She was a 2016 National Arts Strategies Creative Community Fellow;
• She was in the class of 2018 executive program in Arts and Culture Strategy at the University of Pennsylvania, an Ivy League school;
• She currently is contracted as the Mille Lacs Region Equity Champion with the Minnesota Education Equity Partnership;
• And she recently returned from Austria and the 2018 Salzburg World Seminar where she was chosen as one of 50 "Influential Young Cultural Innovators."
Adrienne's most recent honor is her inclusion in the 2018 class of "Native American 40 Under 40" award recipients. "My successes are not something I like to talk about, but by the same token I am very proud of my accomplishments and especially this one," said Adrienne. "The reason I'm so proud of the 40 under 40 is because in my part of the nomination form I wrote about my life and my own personal turnaround,
what I've come through as a young mother, raising a child with special needs, and trying to get through school, all while doing the community work I've done and growing into these national fellowships."
Receiving the award is like coming full circle for Adrienne because she was nominated by her old friend James Anderson, who was also a past 40 Under 40 honoree.
"To me it's not an award for me but for the people I've worked with and who have believed in me," said Adrienne. "It's for the kids I represent in the tribe, and for young single mothers, to know that you can come through anything, do community work that fulfills your heart, and get recognized for it."
Taking credit and receiving praise can be difficult, Adrienne said, especially for people of color.
"A common theme among other ethnic folks that I've met outside the reservation is the feeling that we don't belong, that we don't deserve to be on these national or world stag- es," said Adrienne. "I've been doing a lot of self-exploration on worthiness, whether I deserved any of it, and this was a gratifying moment where I realized 'Maybe I do, and maybe it's OK to feel happy for things that I've accomplished.'"
"For so many people I've met, just to getting up in the morning can be a heroic feat. Nobody really knows anybody's deep, dark stories; we just see the outside, and we need to grow our empathy and always remember that. We should all be rooting for each other's successes because we've all been oppressed and overcome so much as Anishinaabeg; and because we are such a small and underrepresented group of people, one person's success truly is all of our success."
NCAIED's 40 Under 40 Honored in Tulsa, Oklahoma
The 40 Under 40 award, which is granted by the National Center for American Indian Enterprise Development, recognizes 40 emerging American Indians from across Indian Country who have demonstrated leadership, initiative, and dedication and made significant contributions in business and/or in their community.
The National Center is celebrating the 10th anniversary of the 40 under 40 awards.
Award winners were honored at the River Spirit Casino Resort in Tulsa, Oklahoma, on October 29-30 at the "Impacting Generations: Honoring a Decade of Exceptional Service and Leadership" event. Awardees have the opportunity to participate in additional professional development, networking, leadership, and mentorship opportunities.
Chris James, President and CEO of the National Center, said, "Each of these individuals has devoted their skills and resources to enhancing their communities. From business, academia, healthcare, tribal government, politics, non-profits, journalism, the law, finance, and marketing, 40 under 40 winners are shining examples for all of us to follow."