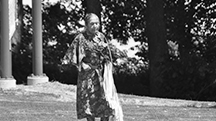 By Mille Lacs Band of Ojibwe, October 5, 2015
Congratulations to Chief Justice Rayna Churchill for her appointment as the new Executive Director of Minnesota Indian Affairs Council. Rayna's appointment was announced by MIAC Board Chair Kevin Leecy on Sept. 14 during the Minnesota Indian Affairs Council meeting.
Rayna replaces Annamarie Hill, who served as the executive director since 2006. Chief Executive Melanie Benjamin serves as one of the board members.
Chief Executive Melanie Benjamin said she was very pleased with Rayna's appointment. "As tribal leaders, when we have a chance to advocated for Band members, we do it. Rayna has our full support, and Rayna will do well."
For more on this story, see the November issue of Ojibwe Inaajimowin.
The Council is the official liaison between Minnesota and the 11 tribal governments within the State. It provides a forum for and advises state government on issues of concern to urban Indian communities. The Council administers three programs designed to enhance economic opportunities and protect cultural resources for the state's Native American constituencies. It places a large role in the development of state legislation and monitors programs that affects the state's American Indian population and tribal governments. The mission of the Indian Affairs Council is to protect the sovereignty of the Minnesota tribes and ensure the well-being of Native Americans throughout the state.