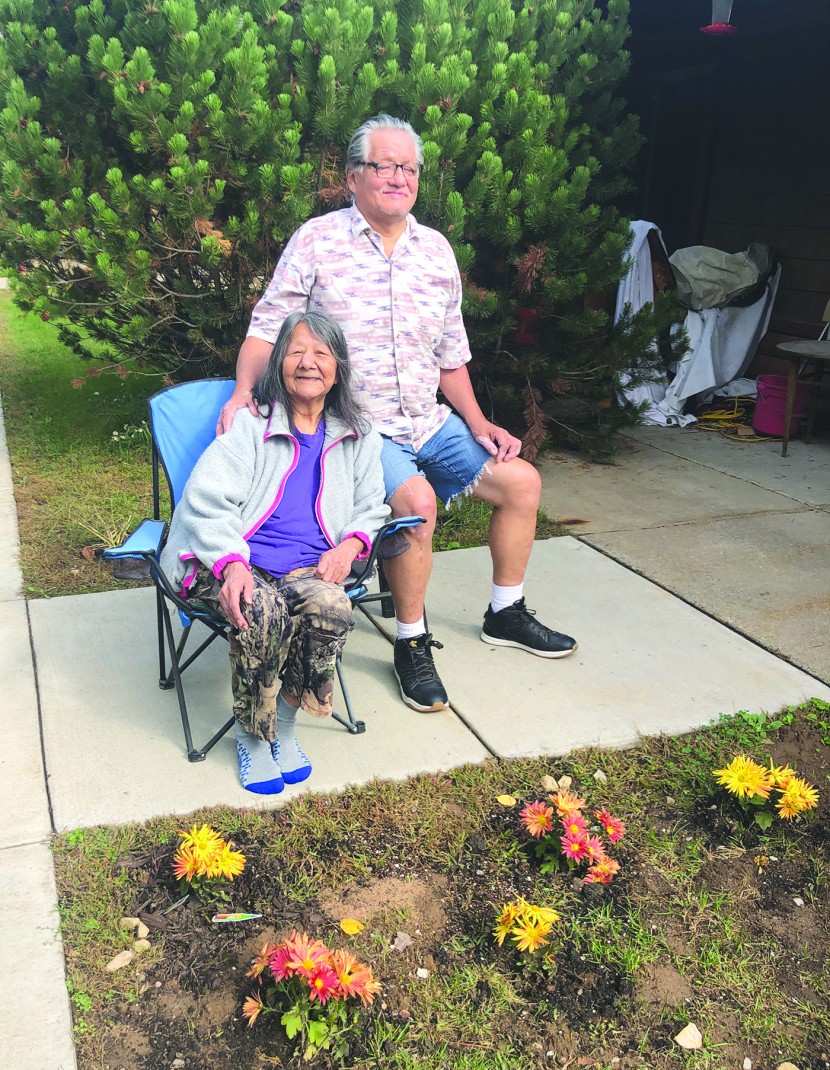 Let's face it: A guy throwing a gal over his shoulder and taking her home probably wouldn't fly in 2020. But it was a different world in 1971, when Glen Bellonger, fresh from a stint in the Marine Corps, strolled out of a Minneapolis bar carrying Mary Anne Benjamin away from her current boyfriend, a local country crooner who was performing that night.
"You're coming with me!" said Glen, and although her ex might've sung a few tearjerkers about the incident, Mary Anne was happy with the result. Forty-nine years later, Glen and Mary Anne are still together, still in love, and enjoying puzzles, gardens, crafts, and friends at the Hinckley ALU.
Don't worry — It's not like they were strangers. Glen wasn't some cave man dragging Mary Anne away against her will.
Glen had first seen Mary Anne working at a beauty salon in the Franklin Avenue neighborhood. "That's a nice looking woman there," he thought. "I wonder if I'll ever see her again."
Apparently it was meant to be. "Walking down the street with my guitar, I saw three women looking off the balcony. I started serenading them!" laughed Glen.
Neither can remember the song, but it was probably a country classic, which were Glen's favorite songs to play. "He was so talkative and fun," Mary Anne recalled. "Boisterous and fun!"
Was it love at first sight for Mary Anne, too?
"He was good looking, but too young for me," she laughed. "I thought, 'My sisters can fight over him.'"
Glen had a different idea, which culminated at the bar that night, much to the chagrin of that poor ol' country singer.
Mixed marriage
Glen is a member of the Sisseton-Wahpeton Band of Dakota who grew up with a foster family in Hastings. After high school (which he attended with the actress Jessica Lange) and the Marine Corps, Glen found his roots. "I was in my 20s and went down to Franklin Avenue where all the Indians hang out," he said. "I didn't know any Indians before that. They kind of told me where I was from."
Mary Anne is a Mille Lacs Band member who grew up in Onamia, on Shingobe Point by the lake. Her grandma was a Davis, and Marge Anderson was Mary Anne's auntie. "We used to go fishing and berry picking with Marge," Mary Anne recalled.
Mary Anne remembers hauling wood and water from the pump, loading up a sled with cream cans. They used to cut across the frozen lake to get to school in the winter.
"Grandma lived in a one-room house my mom built for her," she said. "She would cook a big pot of soup and fry bread, and the Indians from the reservation would come over to eat."
Growing up in town, she wasn't connected to the Reservation until she went to school. "I remember seeing all these brown-skinned kids at school and thinking 'I want to be friends with them.'"
Mary Anne got expelled from Onamia High for throwing her books across the table and refusing to apologize to the teacher. "I got my GED with no problem," she said.
When her mom's house burned down in the late '60s, Mary Anne moved to Minneapolis, where she met Glen.
Glen worked construction, but Mary Anne didn't need to work. "I told her she didn't have to work if she didn't want," said Glen.
In the early '90s, Mary Anne and Glen quit drinking together. Mary Anne's brother, a few days before he died, said, "I wish you'd sober up, sis," and she did. "I don't think I've slipped up once since I quit," she said. "But I tell you, it's a hard road still."
Glen decided it was also time for him to quit. He attended New Visions in the Cities. "I walked in there and said, 'Here I am! Help me!'" He laughed at the memory.
He's quieter now, but still quick to smile and laugh. "He was the life of the party," joked Mary Anne. "You couldn't get him to stop talking. Now he's sobered up and he's quiet."
"When you quit drinking, you learn about yourself," said Glen. "When you're a drunk, you just don't care, you know?"
Mary Anne agreed. "It's good to have a clear mind," adding with a smile, "but it's not so clear when you get older."
Glen and Mary Anne are favorites of the ALU staff, including Public Health Nurse (and puzzle partner) Jenn Cross, who appreciates the couple's wisdom, and Jeanie Dunkley, who says, "They're the reason I come to work every day!"
This fall they took up gardening, with Jeanie's help. "They were giving out mums at the casino and we got a bunch of them," said Mary Anne. "Jeannie helped us plant them."
They like to work on puzzles and feed the hummingbirds. "I hear they carry good spirits," said Mary Anne. "We just started working on puzzles. They're fun. They keep your mind occupied."