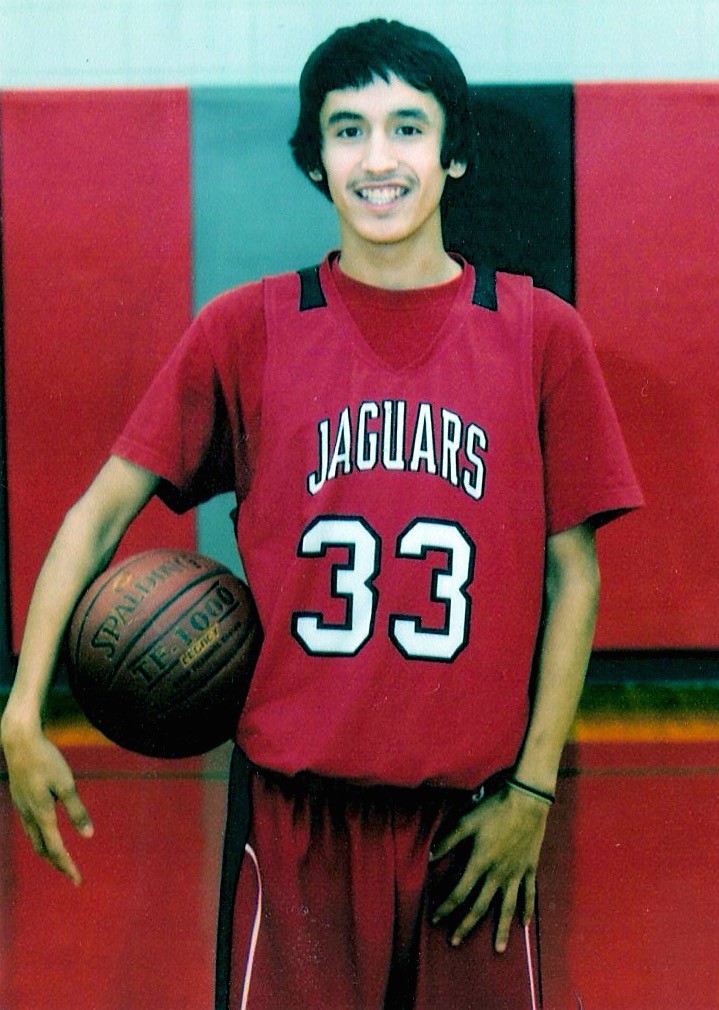 Brett Larson Staff Writer
District III Band member Reuben Gibbs represented the Mille Lacs Band and Minnesota at the Indigenous Games in Toronto in July.
Reuben was also representing his family, who has a history at the Indigenous Games. Reuben's mother and aunt, Vanessa and Deloris Gibbs, both participated in the Indigenous Games in the 1990s.
Reuben's grandma, Diane Gibbs, said, "We've been doing this for a long time. It's in his blood."
Reuben has been playing basketball as long as he can remember, and he started organized ball in elementary school.
His uncle, Ed St. John Jr., and his Aunt Deloris were among his role models.
As a kid he played with Uncle Ed and his buddies, who towered over young Reuben. "He said, 'If you want to play, you gotta hang with the big dogs,'" Reuben recalled. "That's how I developed a shot." In eighth grade Reuben developed a "chip on his shoulder" when another player was promoted ahead of him. By the end of the year, he realized his scoring was improving. "Okay, I'm actually pretty good," he realized. Teammates' parents started encouraging him to keep playing.
He's been improving his skills ever since, playing in tournaments on reservations as well as on the school team. Next year Reuben will be a senior point guard and shooting guard with the Hinckley-Finlayson Jaguars. This year the team had 22 wins and four losses, enough to win the conference championship.
He describes himself as a good shooter whose speed is his greatest asset. He's been a big fan of LeBron James. "He was like my Michael Jordan growing up." Since 2012, he's modeled his game after Russell Westbrook, this year's NBA MVP.
Reuben started dreaming about the Indigenous Games when he was a kid and watched three of his uncles participate.
When the tryouts were announced this year, people shared it on Facebook, and Reuben's grandma asked him if he wanted to try out.
He did, and was eventually notified that he made the team — the only Mille Lacs player on a team composed mostly of Red Lakers.
Prior to departure, he was eager to get to know his team- mates, travel out of the country for the first time and see Toronto, the home of Drake, one of Reuben's favorite musicians.
"I just want to win and have fun," Reuben said. "I'm glad I got this opportunity to play on the team and represent Minnesota."