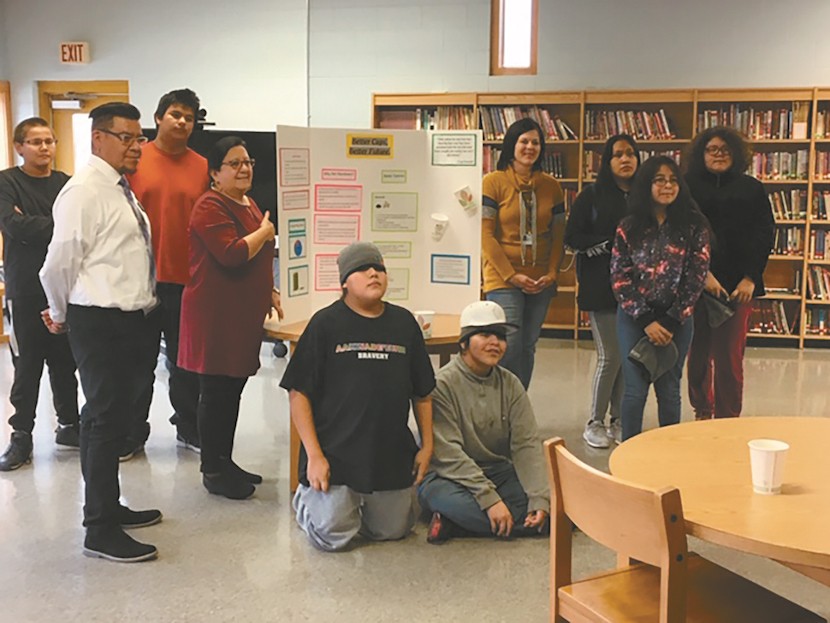 On the afternoon of November 7, guests were invited to watch a presentation at Nay Ah Shing Upper School. Chief Executive Melanie Benjamin, Beth Gruber of Corporate Ventures, community members, Nay Ah Shing Staff members, and family of the students gathered to support the youth. The eighth grade students had been working hard on a project and were ready to share it with the community. Their project, Better Cups, Better Future, is different from most school projects. Instead of just showing what they learned, their project had a specific goal: convincing Grand Casino to stop using styrofoam cups in order to protect the environment.
The eighth grade class has been learning about environmental science with teacher Kayla Nelson as part of a new project-based learning program at Nay Ah Shing. The class consists of seven students: Cailen Blake, William Boyd, Gretchen Nickaboine, Jaxin Nickaboine, Chase Sam, RaeAna Sam-Nickaboine, and Jonathan Shaugobay. The new program focuses on collaboration with many school staff members assisting students with their project, including Tim Lhotka, Megan Nelson, Cheryl Anderson, Diane Fortney, and others.
At the beginning of the project, students were introduced to ecology and the idea that everything in an environment is connected. Students learned how different factors affect populations, why the DNR observes wildlife populations, and how humans impact their surroundings. They gained hands-on experience helping the DNR Fisheries Department monitor the fish populations in Lake Mille Lacs. Once enough background knowledge was gained, it was time to start the project. Students analyzed the different impacts our community has on the environment. Drawing from their personal experience participating in a ditch clean-up each year, the students decided to focus on the environmental impact of the styrofoam cups they found from the casino.
"The school picked up lots of garbage. The type of garbage cleaned up most, though, were styrofoam cups," explained Chase Sam.
The students acknowledged the need for cups at the casino to serve beverages to guests. William Boyd shared this section of the project during the presentation. He explained that the casino bought 2.7 million cups last year. William gained experience writing professional emails to Beth Gruber, office manager at Mille Lacs Corporate Ventures. Beth was able to share some statistics with the students, and she also let the group know that the casino has started offering paper cups along with styrofoam cups.
So what is so bad about styrofoam? As Gretchen and RaeAna explained, there are a number of concerns:
• Cups and other products made from styrofoam take 500 years to break down in a landfill.
• They are made from oil and have chemicals in them such as polystyrene, which can be bad for your health.
• Animals can try to eat the littered cups and become sick or starve when they fill up on eaten plastics.
Jonathan and Cailen described two better cup options to listeners. The paper and plant-based cups they suggested are both hot liquid-friendly and take only six months to break down in a landfill.
Students acknowledged that these options cost a few more cents per cup; however, they feel they are worth the cost. Chase shared examples of other businesses, such as Starbucks and Caribou Coffee, that successfully serve hot liquids in similar cups.
Knowing how important culture is to their community, the students incorporated an American Indian proverb about the environment into their presentation.
"Only when the last tree has died, the last river has been poisoned, and the last fish has been caught, we realize we can't eat money," was read aloud during the presentation by Jaxin.
The message the students wanted to send was simple:
"As the young people in our community, we hope we persuaded you to stop using styrofoam at the casino. We care about our community and our local natural environment."
Photo: From Left: Jonathan Shaugobay, Arlyn Sam, Cailen Blake, Chief Executive Melanie Benjamin, William Boyd, Jaxin Nickaboine, Beth Gruber, Gretchen Nickaboine, Chase Sam, and RaeAna Sam-Nickaboine.