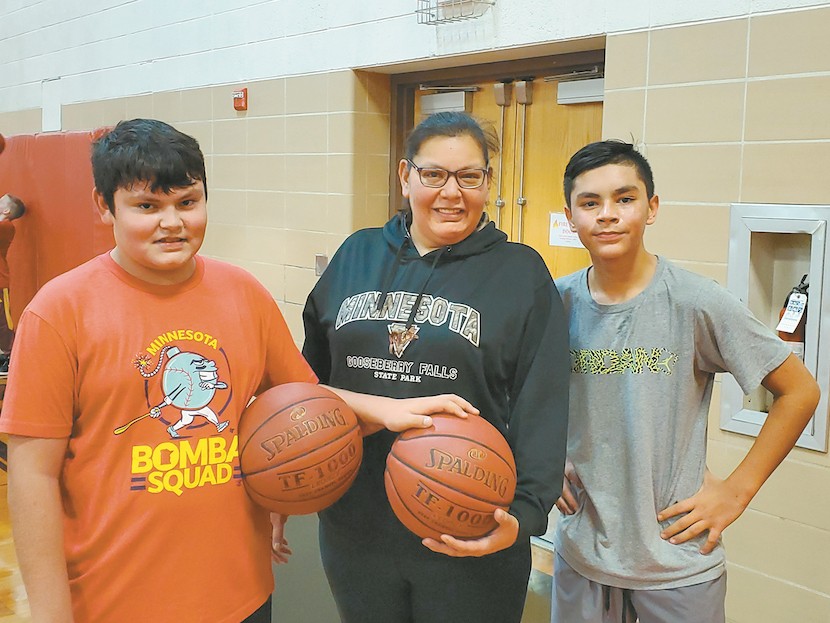 "I wasn't going to coach this year. I really wasn't," Jennifer Gahbow said frankly. "It was the boys who wanted me to. They asked me to come back and coach again, so I did."
Jennifer Gahbow is a Chiminising Band member who is going above and beyond to help her son and her greater community foster their love of basketball. Jen has been a coach now for a total of four years, but she has been with this group of 6th and 7th graders for two years now. Jen's son Wesley is a member of the team that she coaches.
"I wasn't going to coach this year because Wesley is getting older and I didn't want to be overinvolved, but when the boys insisted, I couldn't say no," she continued.
When asked what it's like having his mom as his coach, Wesley said, "It's fun. I never have to report anything back to her because she already knows about it, and she always pushes me to be better."
After watching her in action, one can easily see why the boys asked her back. She is a tough coach, but in between drills, you can find her having one-on-one discussions with her players about technique, skills, and pointing out their positives on the court. "I enjoy spending time with the kids. I really do," Jen said. "Watching them improve is so satisfying to me, because I know that I am helping them to get better at the game."
Jen is no stranger to the game of basketball herself. She had a successful high school basketball career at Isle High School and has stayed a fixture in the community around the sport, coaching, of course, but also attending local games to watch her nieces and nephews, who have come up through the high school ranks over the years.
The team that Jen coaches is combined 6th and 7th graders who are brought up to play a lot of 7th and 8th grade teams due to low numbers of athletes going out for the sport. The boys sharpen their skills by getting action against kids that are taller, faster, and more mature. The team travels to local area schools and has games in the evenings, which Jen says is "the fun part."
Team member Lucas Karels said, "I've played basketball my whole life, and I've always really liked it, so I keep coming back."
Band members and descendants on her current roster this year include Jason Wind, Taylor Beaulieu, Waylon Mitchell, Wesley Gahbow, and team helper Noah Sam-Sablan.
Taylor said, "I wanted to try out for basketball because my brother played it, so I wanted to try it too."
Jen has also played a major part in pushing for the Noah Dahlman basketball clinics that have been offered to Mille Lacs Band youth over the past few summers. "I want the kids to stay active during the summer. Plus, what Noah teaches in those camps goes far beyond the game of basketball."
Miigwech, Jen, for your commitment to the community, the community youth, and to the game of basketball!