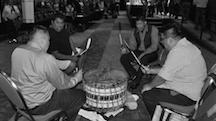 By Brett Larson, June 29, 2015
Mille Lacs Band Chief Executive Melanie Benjamin on June 29 gave a warm and humorous welcome to participants in the midyear conference of the National Congress of American Indians at RiverCentre in St. Paul.
The Mille Lacs Band was also represented by the AmVets Post 53 Honor Guard, who presented the colors, Timber Trails drum group, who sang an Honor Song, and Obizaan (Lee Staples) who gave the opening invocation.
Melanie talked about the history of the 1837 Treaty, when Minnesota land — including St. Paul — was ceded to the U.S., and told the crowd the Mille Lacs Band now owns more than half the hotel rooms in downtown St. Paul.
"I don't want to put the locals into a panic, but I think I can say, at least for today, downtown St. Paul is Indian Country. And it only took us 176 years to get it back. To my good friend Mayor Chris Coleman, we come in peace and friendship."
She thanked Coleman, Gov. Mark Dayton and U.S. Congresswoman Betty McCollum, but she had strong words for Attorney General Lori Swanson: "[W]e have an Attorney General in Minnesota…who insists our reservation no longer exists. You'll notice she's not on the agenda."
Melanie talked about the tribe's success lobbying state government for a change in autopsy laws, and she expressed concerns about "a tar-sands oil pipeline aimed right at some of our most sensitive wild rice watersheds and cultural sites."
Melanie praised the Mille Lacs leaders who came before her: Shawboshkung, Migizi, Sam Yankee, Art Gahbow and Marge Anderson. "On this great day, I just happen to be the leader who now stands on their shoulders," Melanie said.
Melanie was preceded by Norman DesChamp, President of the Minnesota Chippewa Tribe, and followed by additional Minnesota tribal leaders, including Kevin Leecy of Bois Forte, Erma Vizenor of White Earth and Charlie Vig of the Shakopee Mdewakanton Sioux.
Mayor Coleman spoke next, referring back to Melanie's comments in his speech: "This is absolutely Indian country and we are proud to be a part of that," Coleman said. "It is not a thing of the past but a thing of the present."
Governor Mark Dayton praised tribal contributions to the economy and boasted that Minnesota was the first state to negotiate gaming compacts with tribes. He acknowledged that the state differs with the tribes on issues like hunting and fishing rights. "But what is most important is not that we have these differences, but how we address them and resolve them," Dayton said. "It is our shared responsibility to do better. To be better people and to teach others to be better people."
Susan Allen, a Dakota/Anishinaabe from Minneapolis and the first Indian woman elected to the Minnesota State House of Representatives, also addressed the crowd, and Minneapolis Mayor Betsy Hodges sent a video welcome expressing her support for changing racist team names and alluding to her city's replacement of Columbus Day with Indigenous Peoples Day.
U.S. Rep. Betty McCollum of St. Paul was introduced as one of the tribes' best allies in Washington. She advocated for more federal Indian education funding, called for a change to the racist Washington NFL team's name, and expressed support for HR 511, the Tribal Labor Sovereignty Act, which would exempt tribes from the National Labor Relations Act.
The morning session also included reports from NCAI President Brian Cladoosby, Executive Director Jacqueline Johnson Pata, Special Assistant to the President Megan Smith, Assistant Secretary for Indian Affairs Kevin Washburn, Grand Chief Edward John of the Assembly of First Nations, and U.S. Rep. Raul Grijalva of Arizona.
The morning's events concluded with an address by U.S. Sen Al Franken, who reaffirmed his support for tribal sovereignty and federal funding for tribes. The former comedian also got a few laughs with the story of his first powwow.
During the afternoon, participants attended breakout sessions on many topics of concern to tribes. For the complete agenda, click here.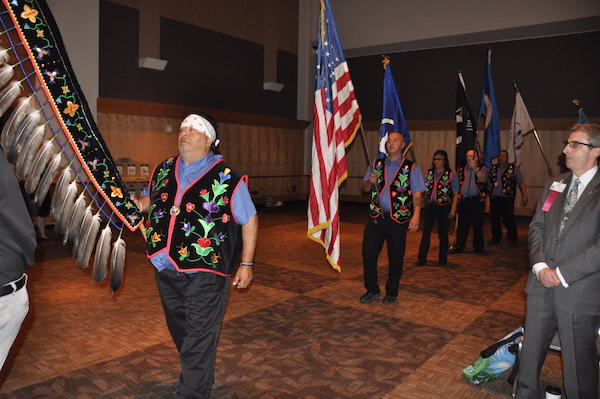 AmVets Post 53 members Marvin Beaulieu, John Reed, Diane Nickaboine, Tony Pike and Allen Weyaus presented the colors Monday morning at the start of the NCAI conference.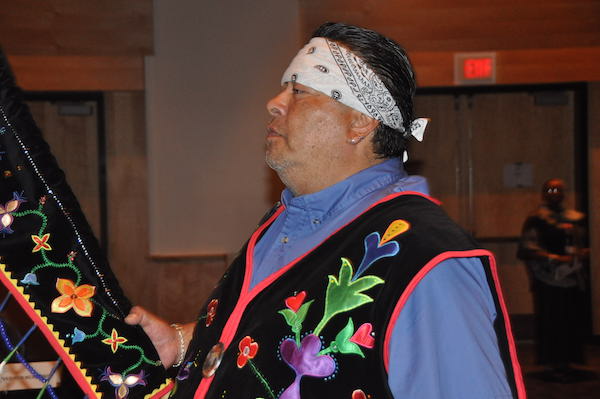 Marvin Beaulieu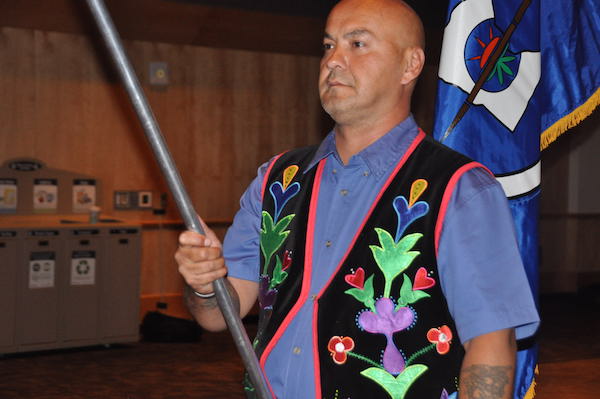 Tony Pike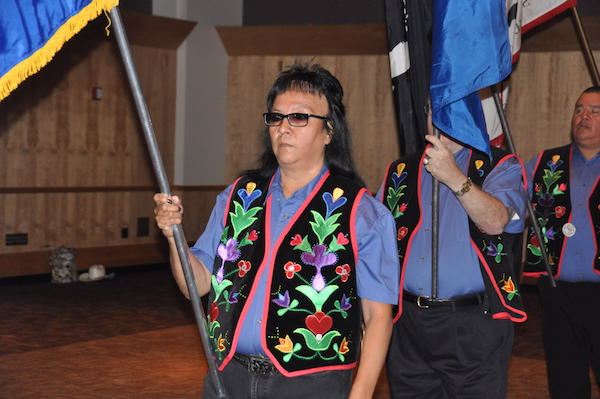 Diane Nickaboine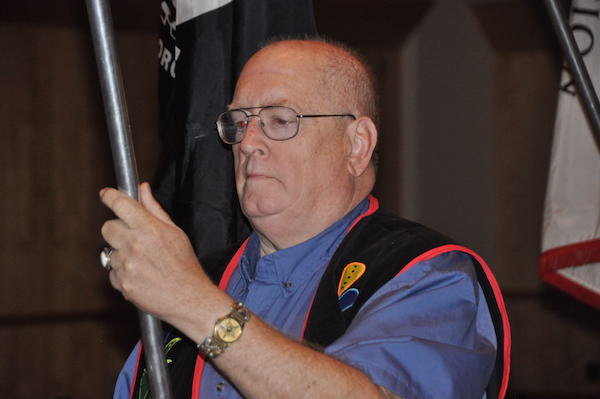 John Reed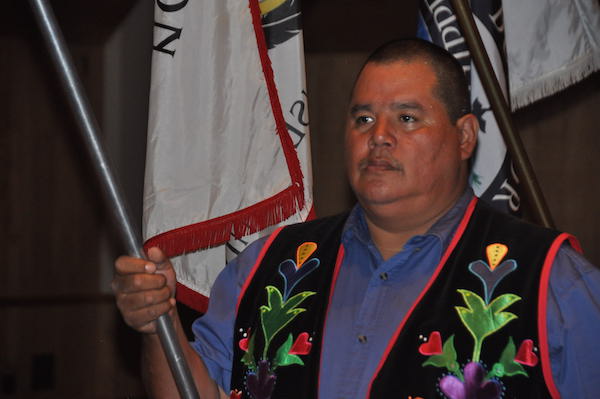 Allen Weyaus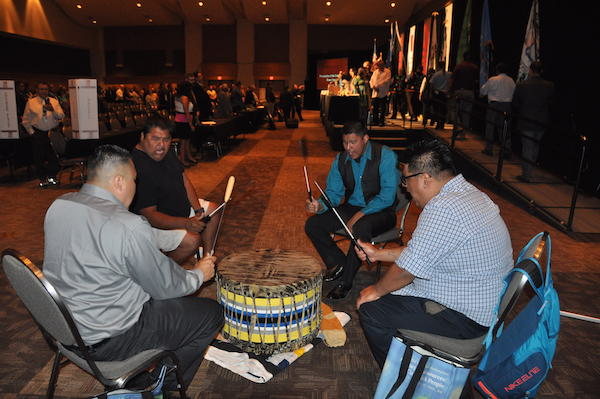 Timber Trails drum group, made up of Percy Benjamin, John Benjamin, Quintin Sam and Chris Gahbow, played the Honor Song.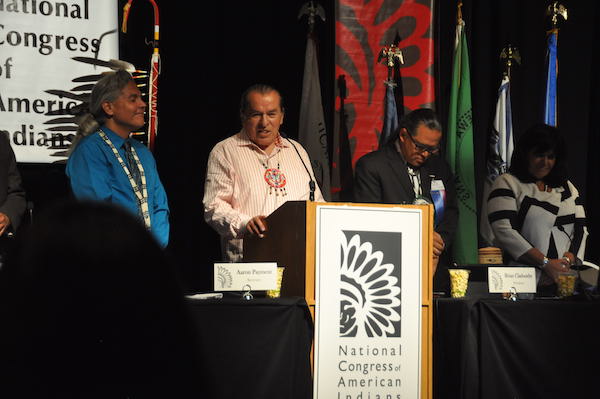 Obizaan (Lee Stapes) gave the opening invocation.
Chief Executive Melanie Benjamin declared downtown St. Paul "Indian Country."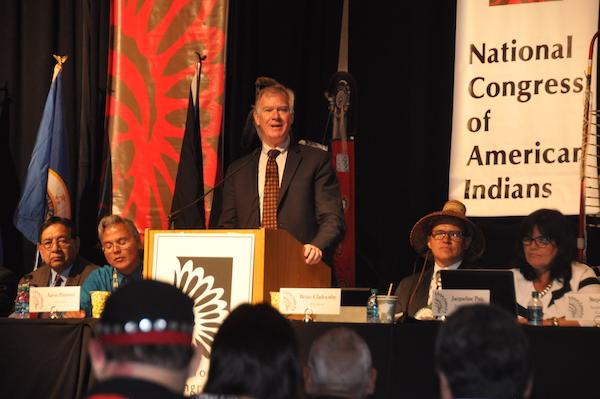 St. Paul Mayor Chris Coleman thanked the Mille Lacs Band for investing in downtown hotels as he welcomed NCAI members to his city.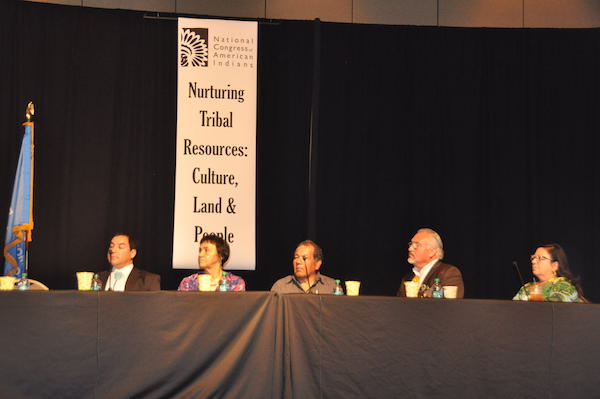 Melanie Benjamin, right, was joined at the head table by other Minnesota tribal leaders: Kevin Leecy, Erma Vizenor, Norman DesChamp and Charlie Vig.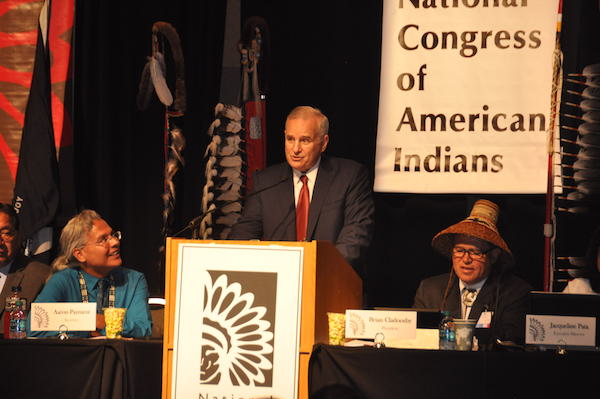 Governor Mark Dayton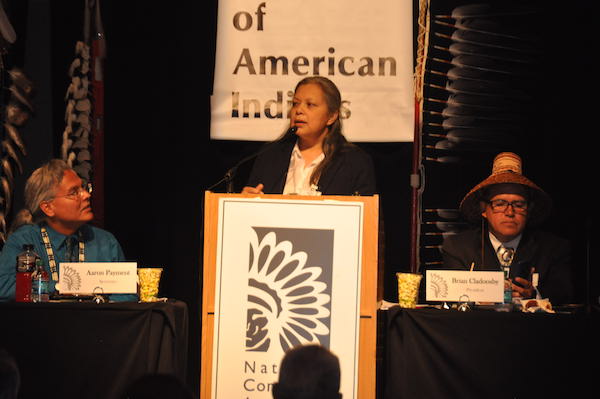 Rep. Susan Allen, the first Indian woman elected to the Minnesota House of Representatives.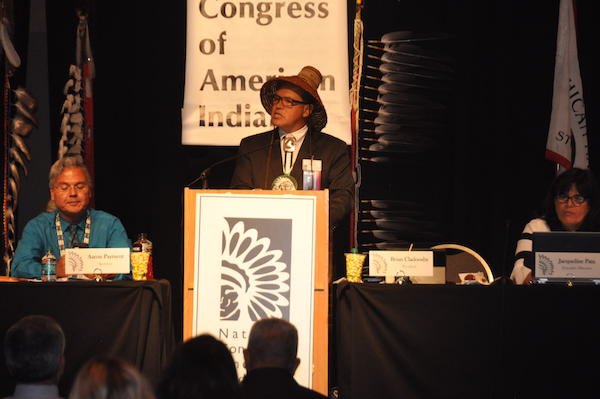 NCAI president Brian Cladoosby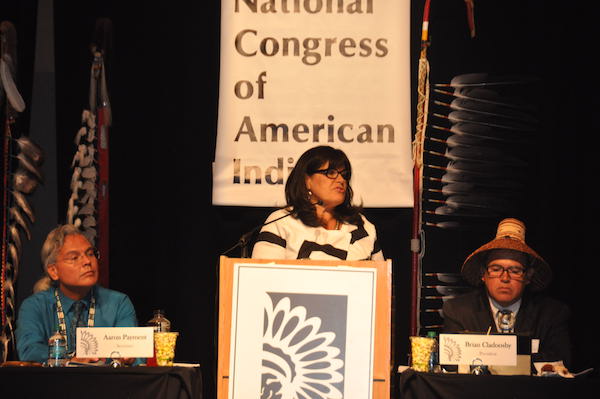 NCAI Executive Director Jacqueline Johnson Pata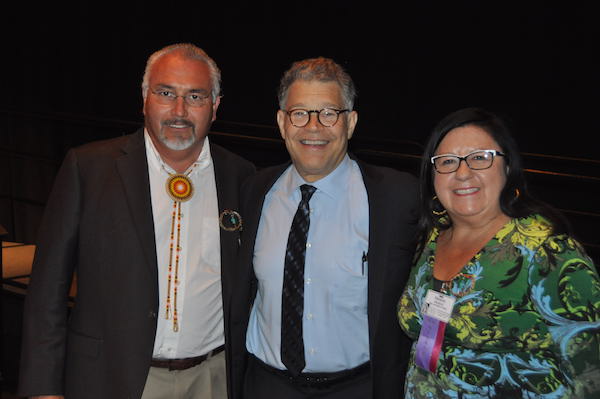 After his address, Sen. Al Franken, center, greeted Shakopee Mdewakanton Chairman Charlie Vig and Mille Lacs Band Chief Executive Melanie Benjamin.