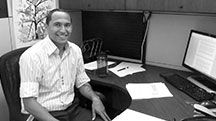 By Toya Stewart Downey, January 6, 2015
When Aarik Robertson and Syngen Kanassatega graduate from law school in May they will be among the very few Band members who have earned law degrees.
That they are graduating after many years of laser-focused dedication to their academic paths is impressive. But what makes the young men even more outstanding is that both plan to practice law to help the Band as well as other tribes.
For 31-year-old Aarik, who attends William Mitchell College of Law in St. Paul, the decision to study law became obvious as he realized the complexity of the history of Native American people in this country.
"Growing up, it became very apparent to me that Native people have a very different status in this country from anyone else. I was curious how this came to be," he said.
Citing examples of why tribes can have casinos or are allowed to net walleye, Aarik said that even those seemingly simple questions have complex answers that ultimately had a legal context.
When Aarik realized that his interest could lead to a law career and the opportunity to study the legal history of Native Americans, he decided that going to law school was his goal.
For Syngen, 28, the idea of becoming an attorney wasn't an option even though his father, Jay Kanassatega, was an attorney who served for several years as the Band's first Solicitor General.
Growing up, Syngen – who attends the University of New Mexico Law School – watched the long hours his dad worked, including nights and weekends, and he decided that wasn't the path he wanted to take.
Then, while he was pursuing a public policy degree at Hamilton College, a small private college in upstate New York, he became more interested in how the government works. Still, the desire to pursue law didn't come until later.
While working for the Chief Executive's office a few years ago, Syngen had an opportunity to hear one of the Band's longtime legal advocates, Marc Slonim, speak to the Band Assembly about the work he was doing on behalf of the tribe. Something clicked for Syngen.
"I didn't know much about the issues that the Band faced, or that other tribes face, but when I met Marc and heard him speak I became very interested in how important laws impact Native Americans."
"I was inspired and I decided then that I wanted to study law so I could help Marc and the Band," Syngen said.
Before both Aarik and Syngen begin their careers in the law they must first pass the Minnesota bar exam – a test that determines if a person is qualified to practice law in the state.
Besides sharing a passion for the law, both young men are interested in working closely with Native Americans. Aarik, who graduated from the University of Minnesota (U of M) with a Bachelor of Arts degree in American Indian Studies with a focus on Ojibwe language, is a frequent volunteer for Band events in the Twin Cities.
He currently serves as the president of his college's Native American Law Student Association, is an associate member of the Minnesota American Indian Bar Association and a national liaison for the National Native American Law Students Association.
"I enjoy being involved with these various groups because it has connected me to so many other Native students and Native lawyers, both locally and nationally," he said. "These are and will be the leaders of their respective communities, and we all offer a support network for each other as Natives in the legal field."
Before entering law school Aarik worked as an admissions counselor and as the American Indian Recruitment Coordinator for the U of M.
Aarik has also worked as a certified student attorney in the Menominee Tribal Court for his college's Law Criminal Defense clinic and served as a public defender in domestic violence criminal cases. He has interned as a law clerk, working primarily with Native Americans in urban and reservation communities to create estate plans.
"While working as a student attorney, I had a chance to work with real clients and gain invaluable experience," said Aarik. "In my internship Mille Lacs was a partner in a project. I even had the chance to work with some of our own Band members."
Aarik's mom is Barb Benjamin-Robertson. Barb's parents are Dorothy Shingobe and Mike Benjamin. Both passed on to the other world.
For Syngen, 28, the idea of becoming an attorney wasn't an option even though his father, Jay Kanassatega, was an attorney who served for several years as the Band's first Solicitor General.
His grandparents are Raining Boyd and Grace Clark on one side, and Fred and Dorothy Sam on the other.
Syngen is also involved with the National Native American Law Students Association. Through his college's American Indian Law Center, he has helped other Native students interested in pursuing a law degree.
Last summer he worked in the Law Center's pre-law school summer institute which was the same program he attended when he first entered law school. He has also worked for Chief Executive Melanie Benjamin's office during a previous term, has worked with Larry "Amik" Smallwood in the Ojibwe language program, and has worked as teaching assistant for other Native American students.
Syngen sits on a few different drums and has learned enough Ojibwe language from Amik to conduct basic ceremonies.
"Amik is a mentor to me and we talk on a regular basis," said Syngen. "We have spoken about writing laws in Ojibwe."
Syngen says taking the Indian law classes has given him tremendous insight into the way the federal government has worked with tribes.
"I've learned how we started out being disadvantaged compared to others and how we are still disadvantaged even with Indian gaming regulations and the revenue it generates. It's still not enough," he said.
Both men have said that the Native American legal community is a small and often close-knit group because there are so few Native attorneys. Those with whom they attend school and interact are their future colleagues, and building meaningful relationships with them now is critical.
Aarik is participating in the Band's Essential Careers Program, which helps fund his tuition. In return he will work for the Band for three years after passing the bar exam.
"I see this as a chance to give back. It will be a great learning experience to see how the tribe operates firsthand," he said.
Syngen, who received a scholarship from the American Indian Graduate Center, said he will explore career options that could include working for the Band or the government.
"Whatever I do, I would like to be involved in helping the Band and other tribes," he said.
Both men are strong advocates for pursuing a higher education and encourage other young people to believe in themselves and pursue their dreams.
"It's the best investment you can make in yourself," said Aarik. "There is no substitute for hard work, and it's also something other people notice and respect. I know firsthand that so much hard work goes into gaining an education, but there is a payoff in the end."
Syngen shares the same perspective.
"There are a lot of Native youth who tend not to believe in themselves. I've seen some kids who think they aren't smart enough to go to college," he said. "But that's not true. I've shared what I'm learning and I've seen them engaged and asking questions. So they are thinking about what I'm saying."