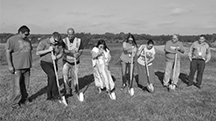 By Brett Larson, October 5, 2015
A 400-acre property in District I will be the site of the largest housing development the Mille Lacs Band has undertaken. The first phase will include 56 homes. The second phase will bring the total number of homes to more than 90.
At a ceremony on Sept. 4, government officials and community members gathered to bless the site. Commissioner of Community Development Percy Benjamin welcomed them to the event and introduced Joe Nayqyonabe Sr.
After a prayer in Ojibwe, Joe said the Band always starts projects like this in a good way, by offering a dish of food and tobacco to the Manidoog, or spirits.
Chief Executive Melanie Benjamin, Secretary/Treasurer Carolyn Beaulieu, District I Rep. Sandi Blake and Roads Supervisor Tony Pike also participated in the groundbreaking.
Planning Director Mike Moilanen described the project, saying construction of roads, water and sewer would begin this fall. A water main will be built to the water tower at Bugg Hill.
Next summer the streets and sidewalks will be paved. Housing construction is expected to begin in the spring of 2017.
The property was purchased with housing initiative money. Archaeology on the site was conducted in 2005.
The general contractor for the road grading work this fall is C&L Excavating from St. Joseph.
Percy Benjamin said afterwards that his department is focused not only on housing but also on activities and recreation facilities that he hopes to integrate into new developments. He thanked the elected officials for allowing Community Development to move forward with plans that have been taking shape for many years.
"Our vision is to look into the future and bring other amenities to the community that help promote health and wellness to our youth," Percy said.