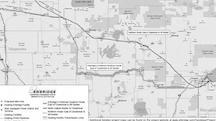 By Brett Larson, June 4, 2015
The Band is convening a hearing at 10 a.m. Friday, June 5, at the East Lake Community Center to gather testimony from tribal members and other experts about the proposed Sandpiper Pipeline.
Niigaan transportation has offered to provide transportation to this event, and will leave the following locations at the designated times:
DI – Government Center: 8:45 a.m.
DIIa-Chiminising: 9 a.m.
DIII- Lake Lena: 8:45 a.m.
Due to limited seats, please call Nadine Wade at extension #7851 to sign up. At this time there will be no mileage reimbursement for the event.
The Band government is encouraging band member/employee participation, and asks those who want to participate to please submit a request for leave to their immediate supervisor. A determination will be made on attendance. Please keep in mind any grant funded positions, or staffing issues may not allow your attendance.
Enbridge's preferred route crosses the Rice Lake and Big Sandy Lake watersheds. The Band is concerned about the consequences of a spill from this pipeline. It would forever change our way of life, ecology, and waters for future generations.
It is vital our tribal community is heard, and this is an opportunity for you to testify on record opposing the proposed pipeline. A detailed report from all our testimony will be submitted to Minnesota Public Utilities Commission, among other entities that have a role in this pipeline decision.