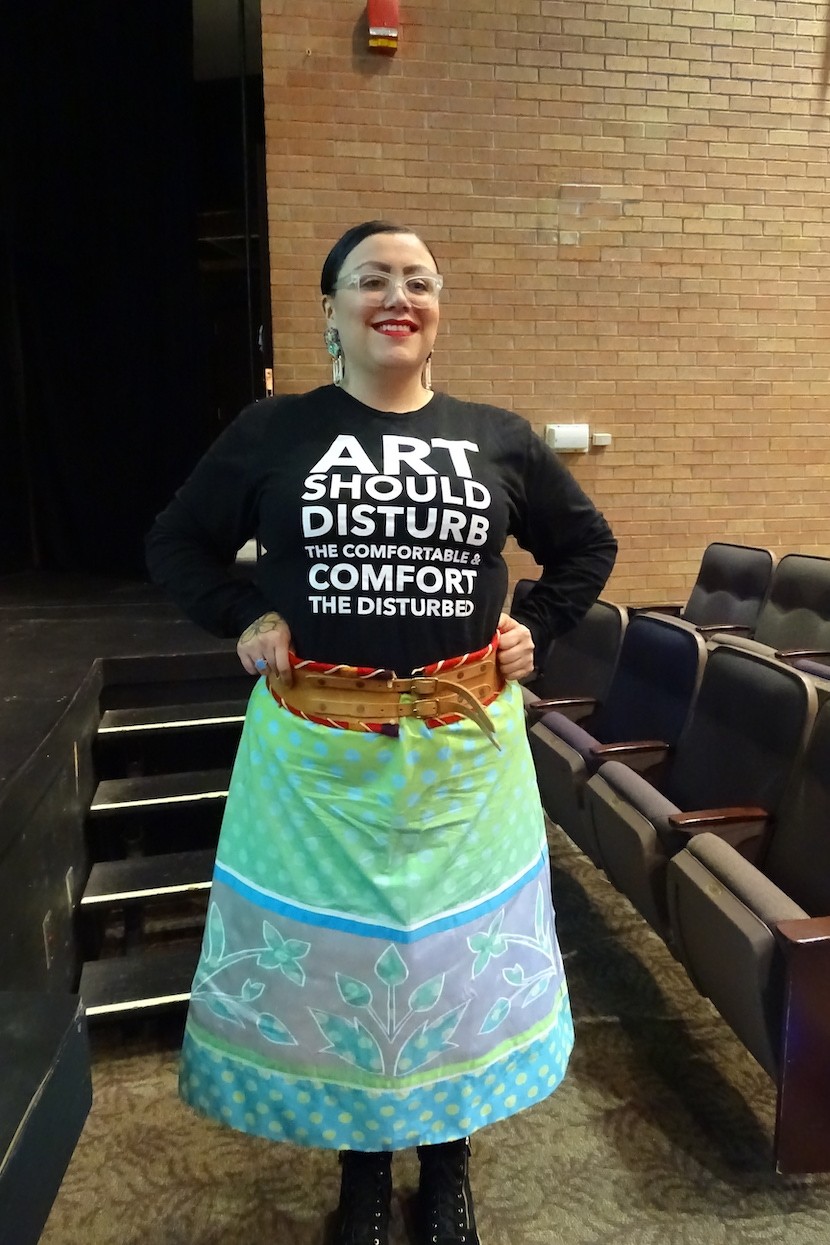 By Li Boyd Mille Lacs Band Member
Band member Adrienne Benjamin continues to build her reputation as an artist and educator by using her skills to foster understanding among communities that are not familiar with Anishinaabe culture. Adrienne made a presentation at Central Lakes College in the Chalberg Theater on November 14, sharing the Mille Lacs story of the origins of the ziibaaska'iganagooday (jingle dress). The event was free and open to all.
Adrienne talked about her work with dress-making, which she tried for the first time when she was barely a teenager. Adrienne's dress work has come a long way since then, and many of her dresses are featured in an exhibit celebrating the jingle dress at the Mille Lacs Indian Museum. Adrienne also sews beautiful ribbon skirts and shirts but says she was taught that sewing should only be done when a person's spirit is in a good place. It's not good to sew while feeling negative, especially when making items for others.
Adrienne worked closely with Larry "Amik" Smallwood and carries his wisdom forward. She even shares the name Amik with him and so is careful to use the proper name "Amikoban" for someone who has passed on. Adrienne still relies on Amikoban as the best person to tell the story of the jingle dress and uses excerpts from the Jingle Dress Tradition film in which Amikoban tells the Mille Lacs Band version of the origin story.
The Mille Lacs story tells of a dress and dance coming to a man in a dream. He shares the details of the dream with his wife, including the four different colored dresses, the metal trinkets that made sound from each dress, and the particular steps each of the dancers made while wearing the dresses. The man's wife gathers other women to make the dresses, and they bring the dresses and new dance to the community. The jingles make the sound of falling rain, and a young girl who has been too sick to move sits up at the sound. By the end of the evening, she is dancing with the jingle dress dancers. This is how the jingle dress became known as the healing dress.
Jingle dress dancing has evolved since that time in the 1920s when it first appeared. Interestingly, federal legislation known as the Dance Order was developed at the same time and was designed to end traditional dance and Native religious and cultural practices. However, jingle dress dancing only grew in popularity.
Presently, there are different styles of jingle dresses and dances, and a dress made in 1925 or 1950 would look very different from what might be seen in an arena today. Adrienne likes to make old-style dresses.
According to Adrienne, Amikoban used to say, "Those old ones used to take me out to the woods and show me medicines and all kinds of things. At 10, 12 years old, do you think I was paying attention?"
That is how knowledge disappears — through simple neglect. Amikoban knew it, and so does Adrienne, which is why she carries his knowledge forward today. The evening following Adrienne's presentation, Central Lakes College held its Wiidookodaadiwag Powwow (We Are Helping One Another).
Adrienne encouraged people to attend and take part in intertribal dances, saying, "These dances are for everyone, and if someone tries to shame you for not having an outfit or not knowing the steps, that's not cool."
Sharing traditions in this way may be one of the most effec- tive methods of cultural preservation. At the very least, it is the first step in building understanding and strong relationships between communities.