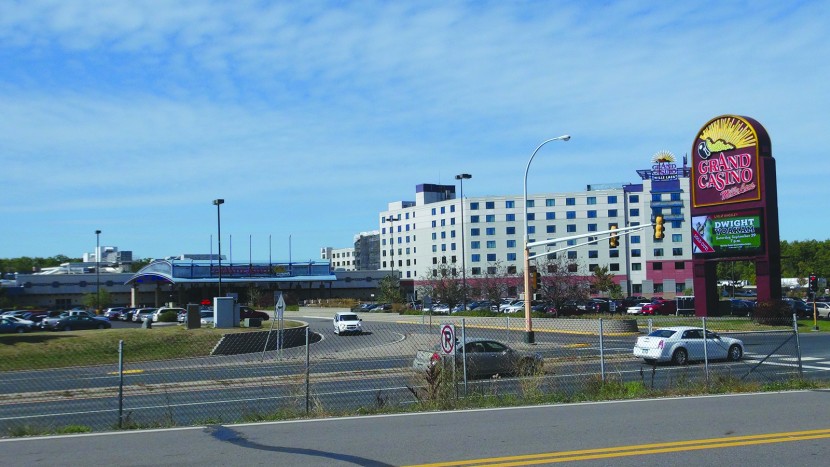 By Alyssa Enno Corporate Director of Brand Strategy and Mille Lacs Band Member
April 5, 1991, is a historic day for the Mille Lacs Band community and surrounding communities in the Mille Lacs area. On this day, 30 years ago, Grand Casino Mille Lacs opened its doors to the public. The story has been shared that our parking lot was a complete mud pit, but that didn't stop people from coming. Guests couldn't have been more excited to experience Grand Casino Mille Lacs that they were standing in a line 10- to 20-people deep just to get to play on a slot machine.
Since that day, Grand Casino Mille Lacs has been building a legacy. The property has grown from a modest bingo hall to an amenity-rich property, with over 66,000 gaming square feet of the latest and greatest games, a 494-room hotel, multiple restaurants, meeting and convention space, and an entertainment facility.
Throughout the years, Grand Casino Mille Lacs has kept Guest experience top-of-mind, ensuring to provide the best Guest Service to keep them coming back. Recently, in 2018, the property completed a two-year property improvement plan that optimized the facility's offerings to better suit the Associate and Guest experience.
The Mille Lacs Band had a vision for Grand Casino Mille Lacs, and the reality exceeded expectations. No one knew what the not-so-distant future would hold. The Band hoped that Grand Casino Mille Lacs' modest facility would create a few hundred jobs and give the reservation a small economic lift; however, it did much more.
In the last 30 years, Grand Casino Mille Lacs has been a top employer in the central Minnesota region, an industry leader among fellow tribally owned casinos, all while contributing significantly to the Mille Lacs Band and surrounding Mille Lacs area. The casino has helped attract new residents to the area, which has dramatically increased tourism over the years, resulting in new businesses across the region.
With the immediate success of Grand Casino Mille Lacs, the Mille Lacs Band worked to open doors to the sister property, Grand Casino Hinckley, in 1992.
Casino revenues are a steady stream of income for the Mille Lacs Band, providing direct benefits to Mille Lacs Band tribal members, our different district communities, and a variety of programs and services. The Mille Lacs Band has utilized casino revenues to help build and improve schools, health care facilities, community centers, a water treatment facility, ceremonial buildings, roads, and more. It has brought economic vitality to the region, which has helped tens of thousands of people.
There is a lot to be proud of. Looking back at past milestones and the opening of Grand Casino Mille Lacs, we see the visions our tribal leaders have set for the Band and our businesses, and we see demonstrated progress every step of the way. As we progress and continue to maintain a strong presence in the tribal gaming and hospitality industries, our tribe will continue to be an economic force in the region. The fact that there is more to come is the best part of our story.
From the Archives
From the April 2011 issue of Ojibwe Inaajimowin on the 20th anniversary of the opening of Grand Casino Mille Lacs
The year was 1988. The Mille Lacs Reservation was a place of overwhelming poverty. After generations of going without what most Americans would consider the basics, hope was a hard thing to hold onto.
"We were barely making payroll, and we didn't have a school. We taught students wherever there was room," said Chief Executive Marge Anderson, who was Secretary-Treasurer at the time.
On October 17, 1988, Congress passed the Indian Gaming Regulatory Act. That was the big opportunity we had been waiting for.
The late Art Gahbow, who was Mille Lacs Band Chairman at the time, led the tribal government in negotiating gaming compacts with the State of Minnesota. Governor Rudy Perpich signed the Band's gaming compacts in 1989.
Now it was time to make gaming a reality on the Mille Lacs Reservation.
"When the Indian Gaming Regulatory Act was passed, we couldn't find a bank that would help us build a casino," Marge recalled. "Local banks nixed the idea. But then this firm (later known as Grand Casinos, Inc.) offered to help."
Built around the Band's bingo hall, Grand Casino Mille Lacs opened on April 4, 1991. Grand Casino was a hit from day one, with hundreds of people lining up to play the 200 machines that had been installed.
"We had a handful of employees, and we were in a tin building," Marge said. "We had customers coming in and getting mad because they couldn't find a machine. We decided to expand right then."
Molly Judkins was a phone operator at Grand Casino Mille Lacs when it opened.
"When the casino first started, there were no other businesses around. I would have never imagined it as big as it is now," said Molly, adding that five of her six children have worked at Grand Casinos over the past two decades.
"We had a blackjack tent outside," Molly said, "and when it rained it was cold and wet, but people still came and played. Also, we didn't have a paved parking lot, so people would get stuck."
Marge and Molly have bittersweet memories of the casino's early days. One of the earliest joys was seeing the trucks come to collect the casino's first earnings.
But sadly, the joy was overshadowed by the death of Art Gahbow. He passed away unexpectedly on April 11, 1991, shortly after the casino opened.
"He had been our leader for almost 20 years, and he had led the way in getting everything built," Marge said. "But Art got to see us take our first steps along a better path. I'm proud that Art got to see this dream come true."
The casino shut its doors for 24 hours as the community mourned Art's death. Until the pandemic of 2020, it was the only time in the casino's history that it has been closed.
Grand Casino Mille Lacs provided the Band with desperately needed revenue, said Marge, remembering how excited she felt when the first check arrived.
"I took that check and held onto it, because we had to figure out what we should do with it. We didn't have enough money to do everything we wanted to do," Marge said.
Within months of opening Grand Casino Mille Lacs, the Band became the first tribe in the nation to issue community improvement bonds backed by casino revenues. These bonds funded reservation construction projects. The first facilities to be completed were a new water treatment plant and the Hinckley powwow grounds in 1992, as well as the Ne-Ia- Shing Clinic, Nay Ah Shing School, District I water tower, and District I ceremonial building in 1993.
As casino revenues continued to grow — both from Grand Casino Mille Lacs and from Grand Casino Hinckley, which opened in 1992 — the Band was able to repay the loan and continue to pursue opportunities that would continue to impact the community in a positive way.
All of this growth has allowed the Band to continue to chip away at the decades of poverty that Band members have endured.
"We made a decision early on that we would use gaming revenues to provide jobs, invest in economic development and community infrastructure, provide programs and services to Band members, and reach other long-overdue goals," Marge said.
"Because of casino revenues, our people have better lives and more opportunities. I never want to see our situation revert to how it used to be. In the first 20 years, we've helped people find jobs, access health care, drink cleaner water, and live in quality homes. We want to be in a position to continue the work that we've started over the next 20 years."