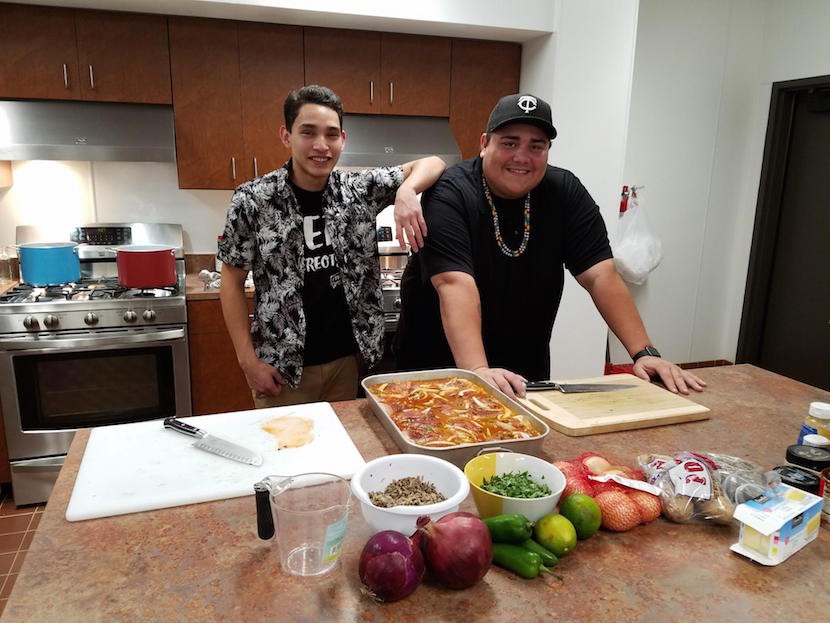 Amikogaabawiikwe Adrienne Benjamin Mille Lacs Band Member
Tony Buckanaga is known in the Minisinaakwaang community for many different talents. He's an accomplished bead worker, a powwow fashion designer, and an esteemed pow wow singer. However, there is one talent that is especially near and dear to Tony's heart: cooking. If you have ever been lucky enough to attend an East Lake community meeting, or one of the many other events that Tony has catered in the community, you are sure to be a fan. He is known for his wild rice soup, risotto, steak, chicken alfredo, Brussels sprouts, wild rice meatballs, shrimp, lemon pepper walleye, and pulled pork, to name a few. His incredible food also comes with a great story.
"After high school, my career choices were a coin toss between Wyo Tech (Mechanics and Automotive) and Le Cordon Bleu (Culinary Arts), but I chose Le Cordon Bleu because my grandpa always talked about cooking. He said that somebody should get good at it in our family and be a professional chef," Tony thoughtfully remembered. "Of course that's what I did."
Tony went further into his nostalgia and shared a funny story about high school. He talked about a day in high school that his culinary dreams were almost derailed. During his senior year, he was not allowed to attend the class field trip to Le Cordon Bleu, because he had been in trouble the day before for throwing a marker across the room at another classmate.
"I even remember that the marker was a brown Crayola washable one. I'll never forget it," he lamented.
Thankfully, Tony ended up at Le Cordon Bleu and had quite the learning experience there. One of the most surprising things he learned was that ducks are force-fed by tubes to fatten up their liver for an elegant dish called "foie gras" — a luxury product made from the liver of a duck or a goose that has been specially fattened using these force-feeding techniques.
His learning didn't come without moments of failure. Tony shared a triumphant story: "I was making Osso Buco one time, and it was like our midterm or a final, and it was a timed challenge. I remember I was rushing around, and I had an oven mitt in one hand, and I went to take the Osso Buco out of the oven and it was in a covered pot. When I put it on the stove, I used the wrong hand to take off the lid. I didn't realize until I set the lid down and tried to open my hand that I had burnt my hand so bad that it was branded all the way across. The Osso Buco turned out great, however, and it was worth the burn!"
Tony's biggest moment in his culinary career later came when the owner of a restaurant that he was working for asked him to present a menu with a unique and creative vegan theme for a possible catering event. Two days later, his boss told him that his menu was submitted on behalf of the restaurant for the Pizza Luce chain's annual corporate event, and that his menu was selected. The event was for 400 people, and he got to use his own sous chef and another chef of his choosing to complete the event.
Tony makes it a point to share his culinary success with his family. He takes his little brother Jeffrey along with him on nearly every cooking gig.
When asked why this is so important for him to teach culinary skills to his younger brother, he responded, "Because Indian women can't cook anymore." He chuckled wildly and joked, "No, but really a long time ago there was an Elder that told me, 'When you leave the rez, you don't have to leave forever. When people leave they should leave to gain knowledge and experience to bring back to their communities and share with their people... for that is why we are here.' I feel that, if nothing else, my little brother now has a solid skill to fall back on."
Tony offered this to anyone who may be thinking of a career in the culinary arts: "Call me up. Volunteer to help me cook at a community meeting. Read recipe books and practice at home. I would tell them to experiment with foods. You can be a picky eater, but not a picky taster. You're not cooking for yourself, you're cooking for other people. I wouldn't shy away from starting from the bottom at any kitchen, because any experience in the kitchen is good experience. If there's one thing that school didn't prepare me for in the real-world restaurants, it would be cooking to order and the fast pace of a high-volume atmosphere."
Tony's Tips for Successful Cooking
"Mise en place" Everything in its place. It keeps you organized, it keeps you efficient, keeps up your speed, and makes the job seem effortless.

Knife skills — they're critical.

Cleanliness and sanitary prep. Happy cooking!
Photo: Tony Buckanaga, right, cooking with his brother Jeffrey.