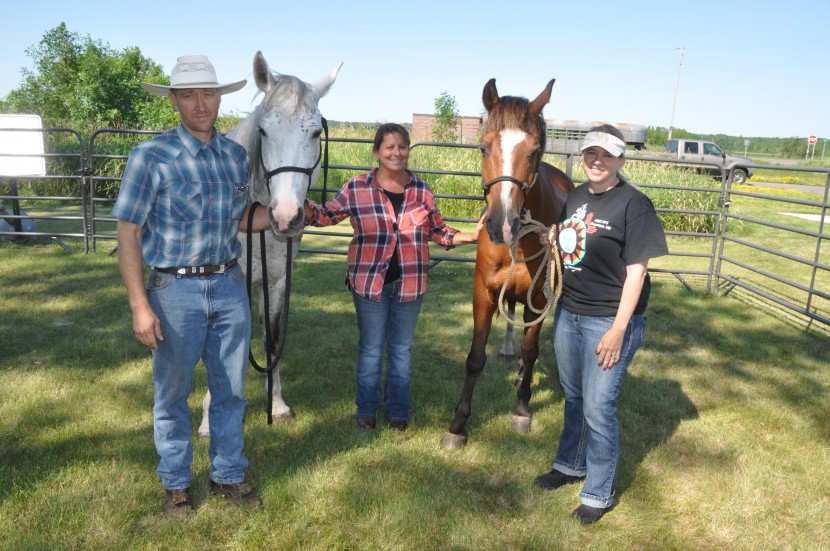 Toya Stewart Downey Staff Writer
Most people who own pets will say their animals sense their emotions or can tell when they aren't feeling well. They may also say their pets make them happy, can comfort them and bring them a sense of joy.
It's no wonder why animal assisted therapy is becoming more common and accepted as a way to help humans feel better.
Beginning in May, the Band's Behavioral Health Department began offering Equine-Assisted Psychotherapy as another way to assist their clients.
"Initially, we provided services as an adjunct to our Batterer's Intervention Program," said Kate Theisz, who is a licensed Psychologist and Clinical Supervisor for the Band's mental health department. "Currently, we are bringing horses in on Tuesdays and offering group and individual sessions."
In July, about 40 people attended the department's open house to learn more about the Equine-Assisted Psychotherapy Program and how it could bene t those who participate in it.
"I think it went very well," said Kate. "We had community members as well as departments come with lots of questions and curiosity.
"Some went in and interacted with the horses and some observed from outside the corral. We received a lot of positive feedback."
Equine-assisted psychotherapy can be used to address trauma, addiction, anxiety, depression, relationship issues and more. It can be done individually, in a family setting or in group therapy.
The idea of using horses for treatment isn't uncommon, but it's not widely practiced either.
"It's gaining speed in the therapy world, but we are definitely in the forefront," said Kate. "There are several tribes across the country who utilize this type of therapy. And there are places in the Twin Cities who specialize in it, but it's not accessible to everyone."
Currently, the therapy is only available in District I, but if there is an interest in other districts then the department will begin to provide it. However, they are limited in the number of certified staff who can offer it, and this is just one small part of the department's mental health programming responsibilities.
The department would like to offer the therapy as long as the community is receptive to it and finds it beneficial to the Mille Lacs Band.
So far, the interest is great, and while it's only offered one day a week, they are considering expanding to add an additional day.
The therapy happens outside, and in the colder months it will likely be limited due to the extreme temperatures that come with winter, Kate said.
Though it is a successful therapy method, some may not be convinced of its value or may not find it beneficial.
"I think, like many things, you have to believe in the therapy you are providing," said Kate. "If someone doesn't believe this is beneficial, they likely won't refer people to us."
The method being used by the Behavioral Health Department is called the Equine Assisted Growth and Learning Association (EAGALA) model. It is the global standard for Equine Assisted Psychotherapy. The program currently has three providers who are certified in EAGALA: Kate Theisz, Desiree Montonye and Shaylor Alley.
The four components of EAGALA are:
– Team approach which includes a mental health professional (primary responsibility is for the people), an equine specialist (primary responsibility is for the horses), and the horse(s).
– Focus on the ground which means people don't mount the horses. This has been shown to be more effective with clients and is safer.
– Solution-oriented which means clients have their own best solutions if just given the opportunity to discover them.
– Code of Ethics is followed and means that all members of the team are expected to maintain professionalism and work toward the overall health and wellness of the client.
Working with horses, or other animals, offers a lot of positives that can't often be quantified, but does prove to be therapeutic, say experts in the field. This kind of therapy is an "experiential process" and is different than sitting in an office, Kate said.
Horses are calming and intuitive, and help people recognize things in themselves, relationships and surroundings that they may not have recognized before. It can be an opportunity to connect with a horse and develop a healthy relationship, which some people have not experienced previously.
"In order to interact with horses, we have to trust them, and they have to trust us," said Kate. "That doesn't just happen immediately — it is something that develops."
"Sometimes people can talk to the horses when they can't talk to people," she continued. "Some clients share things with horses that they have never talked to anyone about."
Finally, horses are prey animals, and because they always have to be on alert, they are very in tune with people's behavior. Because of this, it helps make people aware of how they are approaching the horses, which is also often how they are approaching people. Clients often state that they feel like horses are mirroring what they feel, Kate said.
Those who are interested in exploring this type of psycho- therapy can contact Kate or anyone on the Behavioral Health team to schedule an appointment for a diagnostic assessment. As part of the diagnostic assessment they will create a treatment plan to understand what the client wants to accomplish in their work with horses. If an assessment has been done by an outside agency within the past year, then it can be used with the Band's behavioral health department, Kate said.