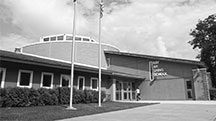 By Brett Larson, January 1, 2015
On the first Monday of every month, students at both the upper and lower Nay Ah Shing schools participate in an ancient and important ceremony: pipe and dish.
Joycelyn Shingobe, Executive Director of Education, said, "One of the missions of the schools is to instill in the students respect for the culture and who we are as Anishinaabe people. The weekly and monthly ceremonies are an important part of that."
The ceremony begins with students and staff offering tobacco to give thanks and ask for help, which is followed by the passing of the pipe and a prayer in the Ojibwe language. A student, chosen based on good behavior, assists with the tobacco offering and the pipe. Students and adults have the option of smoking or acknowledging the pipe. Most acknowledge the pipe but don't smoke it.
At the upper school on Dec. 2, John Benjamin, who learned the prayers for the pipe ceremony from Amik (Larry Smallwood), offered the tobacco and food to the Creator and all his helpers.
John speaks to the Gitchi Manidoo on behalf of the students and ends with an expression of wishes for a successful week and month.
At the Abinoojiyag (lower school), the ceremony ends with students and staff lining up to eat. After the prayer at the upper school, students present a plate of food to each of the adults in the room and then come forward for their own.
Jodell Meyer, Ojibwe Language Coordinator for District I schools, said, "This is something the Anishinaabe people have done since the beginning of time. Coming together in the circle reminds us that we're here for each other, to work together."
She said exposing the children to the pipe and dish ceremony is an important part of the educational process at Nay Ah Shing schools.
Joycelyn said the ceremony has been a part of the weekly and monthly routine since the founding of the schools. Before the decision was made to open the schools, Elders were consulted and ceremonies were performed to ask for help and success.
"Any time we've done something new as a Band, we've always met with Elders and asked for help in a good way, so that what we're doing is for the good of the people," she said.
The school's mission statement expresses the importance of culture and traditions – an emphasis that was there from the beginning and continues today: The mission of Nay Ah Shing School is to teach Ojibwe Language, Culture, Tradition, History, and Skills to live in two Cultures by:
Educating Students academically, socially, emotionally, and physically in a safe and supportive
environment.
Building relationships and socializing skills by teaching respect for themselves, for Elders and for
all individuals.
Creating a strong partnership with parents.
Accommodation of learning styles and teaching life skills.