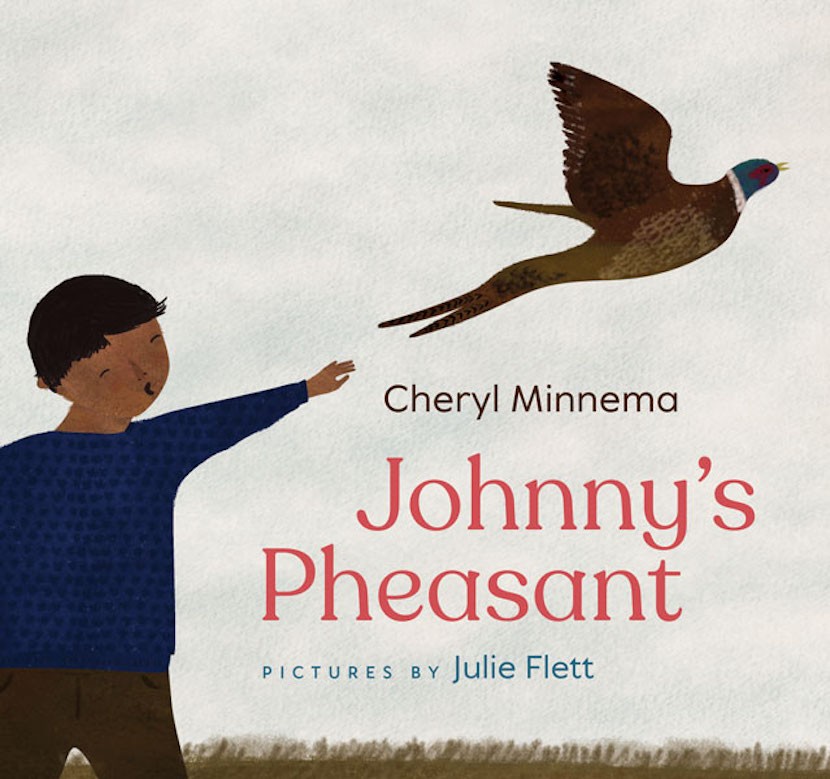 By Toya Stewart Downey Mille Lacs Band Member
In Band member Cheryl Minnema's newest children's book, Johnny's Pheasant, she tells the story of a young boy and his grandma and their adventure with a sleeping bird.
This is her second book, and Cheryl's younger brother, Johnny, is back as a main character. So is her grandmother, Lucy "Omadwebigaashiikwe" Clark.
The humor-filled book highlights the close relationship between Johnny and his grandma along with their mutual respect for nature and a bird that has unexpectedly come into their lives.
"I have two more Johnny stories waiting in the wings," said Cheryl. "I'd love to retire as a writer and doing beadwork."
On a recent November Sunday, Cheryl spent time in a Minneapolis bookstore reading the book to an attentive audience and interacting with them as they created Native-themed art projects. She's scheduled to be at Zenith Bookstore at 1 p.m. on Saturday, Dec. 7. The locally-owned store is located at 318 N. Central Ave in Duluth.
Cree-Metis author and artist Julie Flett illustrated Johnny's Pheasant.
Cheryl "Waabaanakwadookwe" wrote her first children's book, Hungry Johnny, in 2014. The book was based on Cheryl's childhood memories of her younger brother, John Benjamin, who passed away in 2007 when he was just 27 years old.
"The books are dedicated to his life and memory," Cheryl said. "It helps to keep his spirit alive when he was little, and Grandma, too. We were all so close to her. And there was so much humor in her home."
"A lot of people continue to be raised by their grandparents and the connection we have with them is so important," she added.
To write her books, Cheryl takes the memories and then gets creative to add more to the stories she writes.
Cheryl plans to continue writing books and has some other concepts for a teen book and a picture book about a grand- mother and her granddaughter. Cheryl graduated from Hamline University in 2015 with a Master of Fine Arts in Writing with a focus on writing for children and young adults.
She can frequently be seen jotting notes down, or putting notes on her phone before she begins a writing project.
"I write whenever I can," said Cheryl, adding that she writes longhand on a tablet rather than writing on a computer. She'll use the computer for editing and taking notes but prefers to write by hand as she gets started.
She is also highly sought after for her gorgeous beadwork and bandolier bags. And while she loves sewing, she turns a lot of people down, based on the number of requests and the time each project takes.
For the past year, Cheryl has taught a moccasin-making class, which was funded by a grant from the Tiwahe Foundation.
"I taught people how to make moccasins, which is what my mom did," she said. "She would tell people, 'I'll teach you.'"
She has worked with about 18 people, mostly Band members, over the past year who had the interest in learning how to make moccasins because she enjoys teaching others.
Cheryl has been a recipient of the prestigious Arts Learning Grant from the Minnesota State Arts Board. Thanks to the grant funding, Cheryl was able do to a beadwork project called Mino Bimaadiziwin (Good Life).
She made four beaded velvet bandolier bags (Gashkibidaagan) that have seasonal themes representing Minnesota's natural resources, including wild rice, maple sugar, berries, venison, and walleye.
Throughout her life, she has focused on the tradition of beading floral designs, a pattern that the Ojibwe became known for, dating back to the days when beads were first introduced through trade.
Still, while she's been successful in getting high-profile grants, she's been turned down many times. That's why she tells people to remain diligent and encourages them not to give up.
"I want people to work hard and keep being persistent when they apply," she said. "Minnesota is so supportive of artists and awarding grants."