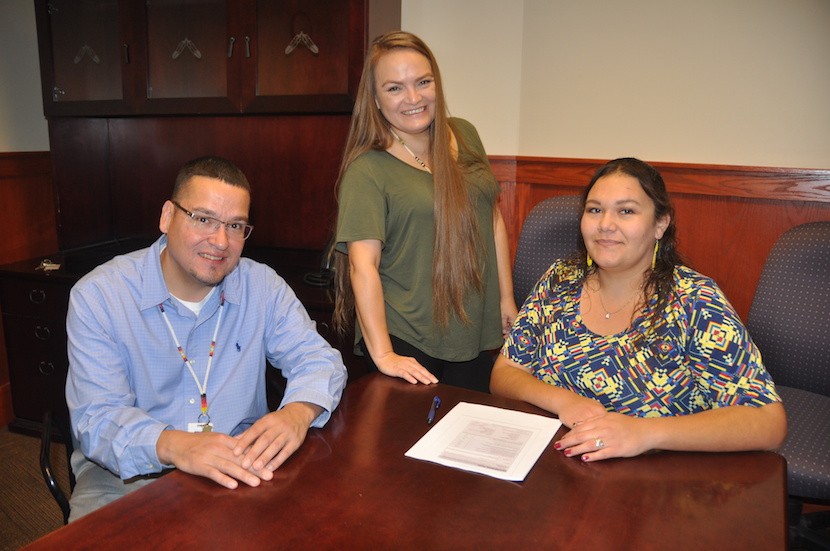 It's easy to assume that most of the Band's programs and services are funded by casino revenue. Easy, but not accurate.
Behind the scenes at the government center is a dedicated group of employees who bring in revenue from a variety of federal, state and local sources: the Grants Department.
"A lot of the work we do is with the front-line departments who work firsthand with tribal members," said Grants Director Ramona Bird.
The department consists of Ramona, Grant Writer Mike Fahey and Compliance Officer Brittany Wind.
The Grants Department is part of the Department of Administration, which is under the leadership of the Commissioner and Assistant Commissioner of Administration.
Most tribes have a single grant writer if they're lucky, but Mille Lacs Band leaders decided to create the Grants Department to ensure that the tribe was in compliance with existing grants and also to pursue additional funding.
Ramona has been Grants Director for two and a half years and was a grant writer before that. She is Ojibwe/Cree originally from Manitoba, Canada, and is a tribal member of the Peguis First Nation. She spent 10 years as a senior policy analyst with the Manitoba Department of Conservation working on aboriginal and treaty rights, where she honed her writing skills preparing briefing notes, speaking notes and advisory notes for the Minis- ter of Conservation — the equivalent of the DNR Commissioner in Minnesota.
Mike is a MLBO Band member who brings experience from years of employment as the Band's AanjiBimaadizing Youth Program Manager. His expertise includes developing youth programming that is high quality, safe and operated in accordance to grant award. The AanjiBimaadizing Youth Program is designed to help youth deal successfully with the challenges of adolescence and prepare them for the independence and responsibilities of being an adult, and one day becoming parents.
Brittany is also a MLBO Band member who brings to the Grants team years of experience from her previous position with the Soo Line Trail Campground as the Site Manager. Her expertise include property management and operations, continued profitability of the resort, administrative activities, marketing, leasing and sales of sites, property maintenance, budgeting, human resource management and, most importantly, resident and guest relations.
The list of programs funded by grants is a long one. In the public safety arena, grants fund emergency services, tribal officer training, purchase of new tribal police vehicles, the child seat program and courtroom safety enhancements.
In community development, grants fund home awareness programs, renovations, financial literacy courses and emergency generators for MLBO Community Centers. Grant funds will soon be used to extend sidewalks around District I to enhance safety for school kids and create a more walkable community.
In the field of education, grant funds supplement the Niigaan Youth Program and the 21st Century Grant funds after-school programming, regalia making, tutoring and summer school.
Most of the grants are in health and human services. Traditional tobacco promotion, family violence prevention and batterers intervention are just a few of the HHS programs funded by grants. Another is the diabetes program, which helps fund fitness instructors in all districts as well as nutrition education.
To determine what grants to go after, the department consults with program managers and directors as well as the Band's strategic plan. They look at needs in the community and keep their eyes peeled for opportunities to meet those needs.
The work they do in the Grants Department can be stressful since staff may be working on grants in several areas at the same time. "The way we need to multi-task is just crazy," said Ramona.
Writers need to be detail-oriented and well organized. They need to know the expectations of the grant funding agency, as well as the workings of tribal government, since many grants require signatures of commissioners, a resolution from Band Assembly, or consultation with attorneys from the Office of the Solicitor General.
Once all the t's are crossed and i's dotted, it's time to submit. The staff goes through the checklists, double-checks and triple-checks the application materials, and finally someone hits "enter" on a keyboard.
"It gets intense as we sit and wait for confirmation," said Ramona. "When it comes, we sit back and go 'whew.'"
When a grant application proves successful, it's cause for celebration, with high fives all around. "And then we keep going, because we have another grant due."
Once a grant is awarded, it becomes the responsibility of the compliance officers, who make sure all the necessary reporting is done and the conditions of the grant are met.
Adding to the stress is the fact that many grants are in response to problems in the community. That can mean researching and compiling data on issues like addiction, crime, illness and poverty. "When we're writing, the programs are to meet a need that's not entirely positive," said Ramona. "The things we need to write about really hit home."
However, the work grant writers and compliance officers do makes a difference in the community while developing skills that will serve them well throughout their careers.
"I'm fortunate that in my department, my co-workers are all young Band members, so all the work they're doing is for their community," Ramona said. "They'll be doing this longer than I will, and they'll be doing it for their kids, their community. I always try to build them up because they do an incredible job. I tell them, 'Remember what you're doing to make things better. You're really providing for a positive change in the community. You have a hand in developing something that is going to be positive, not just now, but seven generations ahead.'"
Photo: Mike Fahey, Ramona Bird and Brittany Wind.