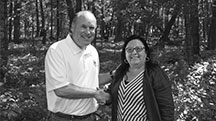 By Brett Larson, July 13, 2015
The nation's smallest wildlife refuge celebrated its biggest birthday on Thursday, June 11, with a party including hot dogs, cake and scores of visitors.
The Mille Lacs Wildlife Refuge, composed of Hennepin and Spirit Islands in Mille Lacs Lake, is only about half an acre in size, but it is significant because it is home to one of a small number of nesting colonies of common terns. The species is threatened in Minnesota.
Melanie Benjamin and wildlife biologist Kelly Applegate were among the speakers at the centennial event. Melanie said, "The Mille Lacs Band is very proud of our role in protecting the common tern. What I am most proud of, however, is the partnership between the U.S. Fish and Wildlife Service and the Mille Lacs Band of Ojibwe."
She then recounted how the Mille Lacs Band entered into the partnership with the U.S. Fish and Wildlife Service based on a simple handshake agreement.
Charles Wooley, deputy director of the USFWS Midwest Region, acknowledged Melanie's memory in his own speech, saying, "As Chief Executive Benjamin mentioned, 20 years ago our two governments discussed the need to conserve, protect and enhance Mille Lacs National Wildlife Refuge. Out of that came a hand shake symbolizing trust, respect and a commitment to conservation. Madam Benjamin, I appreciate your close collaboration and I would like to shake your hand as a commitment to another 20 years of this successful partnership."
With that he left the podium and walked to Melanie's picnic table for a reenactment of that historic handshake.
Kelly Applegate talked about the "international impact" of the common terns that nest on Hennepin Island — and which are not common at all. Kelly and his colleagues are banding birds to attempt to see if they are affected by the BP oil spill in the gulf as they migrate from Mille Lacs all the way to the coast of Peru.
Other speakers included Father Hennepin State Park manager Kris Erickson, DNR nongame wildlife program director Carroll Henderson, a representative from Congressman Rick Nolan's office, and Mille Lacs Wildlife Refuge manager Walt Ford, who also manages Rice Lake Wildlife Refuge near East Lake. "Our management of common terns would not be possible without our partnership with the Mille Lacs Band of Ojibwe," Walt said. "My hat's off to the Mille Lacs Band for assisting us."
Speakers explained how the Mille Lacs Band helps pay for pea gravel to be trucked to Hennepin Island during the winter. The gravel is a good bed for tern nests and replaces rock that washes away from wave action. A grid made of string is set up each year to keep away ring-billed gulls that otherwise might scare off the terns.
Niigaan kids also came to the event, enjoying lunch, the playground, the swimming beach, arts and crafts, bird banding, and bat house building.