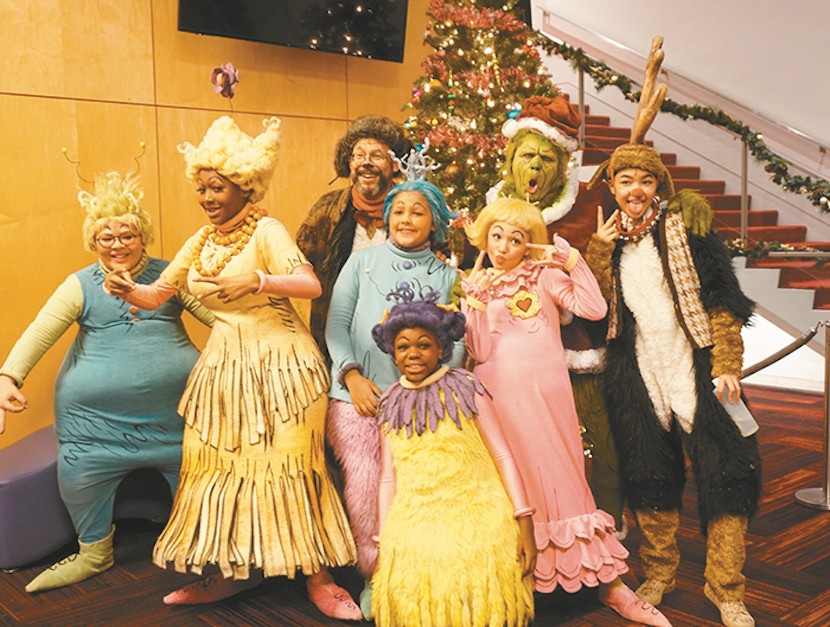 Story by Amikogaabawiikwe Mille Lacs Band Member
Dallas Downey is 11 years old and only in 6th grade, but he is already an incredibly accomplished young actor and model. He is the son of Band member and Inaajimowin staff writer Toya Stewart Downey. His most recent accomplishment was being chosen for the part of Levi Who in the Children's Theatre Company's rendition of How the Grinch Stole Christmas.
Dallas sees himself as a "natural-born performer." He started out doing theater camps when he was younger, but the love for acting in his own heart grew three sizes when a nearby high school set out to cast six or seven kids for parts in Seussical the Musical. Dallas auditioned and got a part. From there, he knew exactly what it was that he wanted to do.
He then auditioned for Mary Poppins at the Stages Theater Company and made it to call-back. He didn't get in, but that didn't keep Dallas down for long. He auditioned for How the Grinch Stole Christmas at Children's Theatre Company, received a call-back, but then received a letter saying that the part was offered to another actor. To his gleeful surprise, a short time later, his mother received an email saying that the part was turned down by the other actor because of scheduling conflicts, and that the part now belonged to Dallas. He was nothing less than thrilled and incredibly grateful.
Dallas shared about the audition process for acting. "When auditioning for plays, they usually bring you into a dance studio with a group of other actors. We will all do warm-ups together, and then the coaches teach us a song. Each person is then required to sing it one by one. We then learn choreography from a dance coach, and again have to perform it one by one. From that point, you wait to see if you get a call-back. Getting a call-back means that the directors and coaches want to see more of you. They will bring you back in and ask you to sing again and usually will do acting exercises so that they can better see your range of facial expressions."
While Dallas is early in his acting career, he's already an accomplished model as well. He has done a print ad for Target Corporation. He has also done video advertisements for Blue Cross Blue Shield MN and Landscape Structures (a national playground equipment company).
Dallas shared what his modeling auditions are like, saying, "For Target, I was asked to do an array of different camera poses, which was really fun. For Landscape Structures, a group of kids and I were asked to pretend that we were diving off of a diving board and that we were terrified. Auditioning for Blue Cross Blue Shield was a standard interview, like for a job, where they asked me a lot of different questions."
His latest gig in The Grinch has really taught Dallas responsibility. He has practice times, show times, and time set aside specifically for homework. "I email my teachers constantly to keep up with my homework." He said. He has 90 shows to perform in two months during the run of the show. Some performances are in the morning, some in the afternoon, and some in the evening. "The beginning of the run has been difficult just trying to figure it all out, but I think it'll get easier as we go along because I'll know what to expect." Dallas added.
Dallas says that most of all he just really likes being on stage, and really enjoys performing. He has dreams of attending the Perpich Center for Arts Education, and plans to apply. The Perpich Center was founded in 1985 and is an agency of the State of Minnesota that seeks to advance K-12 education throughout the state by teaching in and through the arts.
Furthermore, Dallas has his eyes on the next theater seasons at the Children's Theatre Company, Stages Theatre Company, the Guthrie Theater, and at the Ordway. His biggest theater dream is to be on Broadway. He has been inspired by his own favorite musicals: Hamilton: An American Musical, The Lion King, and Aladdin.
For any youth who may be interested in pursuing their own acting or modeling career, Dallas shared three tips:
Stay true to yourself. Don't change your personal character (unless they tell you to for a role, of course!)

Always be polite and kind.

Try your hardest. If it's something that you're truly passionate about, then try your best.
I got the chance to catch Dallas in the play, and he was phenomenal! Whoville is a magical place, and the Grinch is, well...Grinchy! The play is great for children of any age, and the cast is highly interactive with the audience. There are plenty of great snacks and fun souvenirs to purchase before and after the show as well. You may even be lucky enough to catch Dallas and "The Grinch" after the show for a meet-and-greet!
How the Grinch Stole Christmas is at the Children's Theatre Company in Minneapolis through January 6, 2019. Tickets can be purchased by visiting childrenstheatre.org or calling 612- 874-0400. Dallas also added that he would greatly appreciate your attendance and support!
Above: Dallas Downey, far left, is playing Levi Who at Children's Theatre in Minneapolis this holiday season.
Below: Dallas signing autographs.