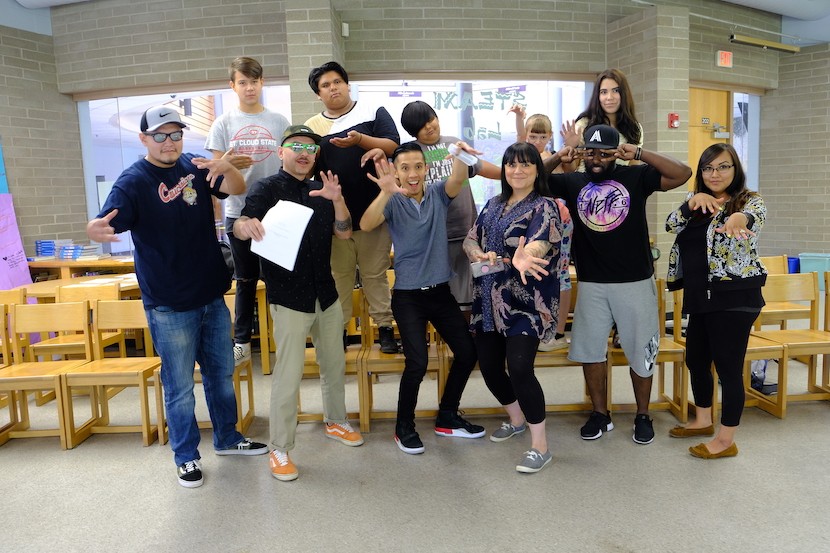 Reservation youth don't have the same opportunities as their urban peers to participate in the arts. Band member Adrienne Benjamin made tremendous strides to change that this summer with the launch of Project Mezinichigejig.
Adrienne has traveled widely in recent years thanks to several grants and fellowships she's been awarded. Along the way, she has made many connections with artists and activists of all ethnicities.
"We can't bring our kids everywhere, but we can bring artists here," said Adrienne.
And bring them she has! The list of events held this summer is impressive:
June 13: Youth field trip to Walker Art Center for a Gender Fluid Indigenous Fashion Show,
June 16: A youth trip to the Hinckley Powwow to learn from Nichole Ray, owner/founder of Pow Wow Fabrics,
June 18: Walker Art Center and Sculpture Garden tour,
June 20: Minneapolis College of Art and Design and Minneapolis Institute of Art tour,
June 22-23: Ribbon skirt/shirt making class in District III with Buckanaga Social Club,
June 25-27: Silver jewelry workshop in District I and II with Jodi Webster,
June 29-30: Poetry workshop with Somali poet Nimo Farah,
July 8-12: Youth playwriting workshop with Claro De Los Reyes of Atlantic Pacific Theatre,
July 16-19: Community Mural Week in District II with Charmaine Shivers,
July 22-26: Community Mural Week at Nay Ah Shing High School with Jonathan Thunder,
August 2: Field trip to Fiddler on the Roof at the Orpheum Theatre in Minneapolis,
August 7-8: Belt workshop with Tony Buckanaga at Nay Ah Shing,
August 10-11: Ribbon skirt/shirt panel making class with Buckanaga Social Club,
August 14-16: Foraging/Nature Art with Scott Shigeoka and Linda Black Elk,
August 19-23: Poetry workshop with Tish Jones at Big Sandy Lodge and Resort.
As you can see, it's been an incredibly busy and inspirational summer for Adrienne and the Project Mezinichigejig staff.
More importantly, it's been a learning and growing experience for the artists, youth, and families who have been involved.
Claro De Los Reyes, who met Adrienne during a National Arts Strategies fellowship, was impressed with the community after spending a week working with students and Ojibwe language teachers Waabishkigaabaw and Naawakwe.
"I love the fact that there was a strong component of uplifting the local culture," said Claro, who is of Filipino descent. "Adrienne has a clear objective to uplift the local voice, and it's been beautiful for me to hear the language and work with the students to assert their identity."
Naawakwe said, "It's been great to be here to work on this project and make sure our language is alive, and being used, and being honored."
After only a week, students and staff held a staged reading of short plays by playwrights Manook Wilson, Henry Sam, DeAngelo Sam, Taliya Hansen, and Louis Whiteman.
Above: Claro De Los Reyes led students and adults in writing and acting workshops in July and August. Five students wrote plays that were shared in a staged reading. Back, left to right: Louis Whiteman, DeAngelo Sam, Henry Sam, Taliya Hansen, and Manook Whiteman. Front: Charlie Smith, Naawakwe, Claro De Los Reyes, Adrienne Benjamin, Ace Collie, Charmaine Shivers.
Below: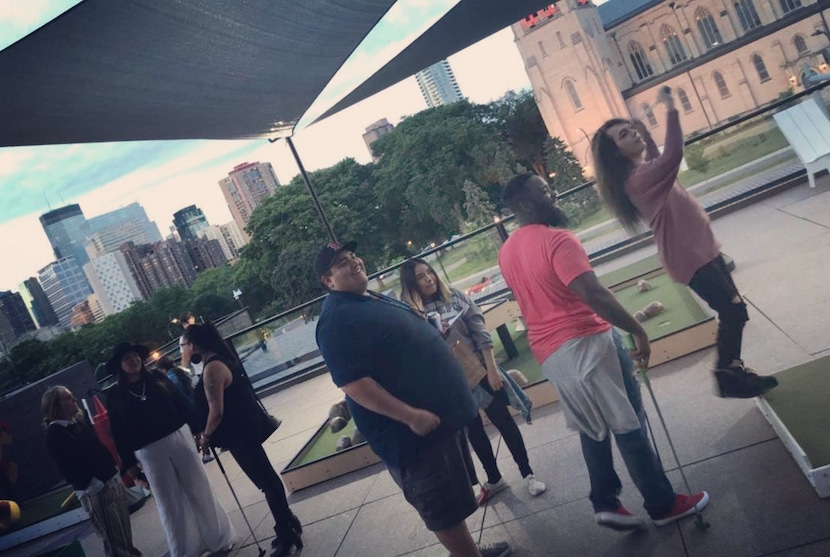 The Project has taken students on several field trips during the summer.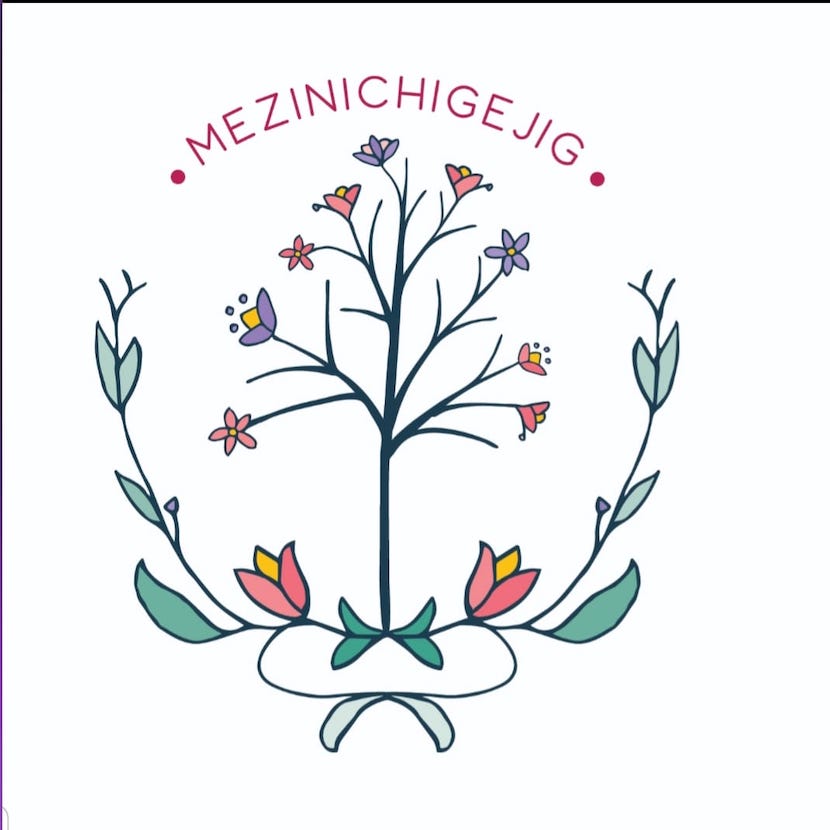 The Project Mezinichigejig logo was created by Lucie Skjefte.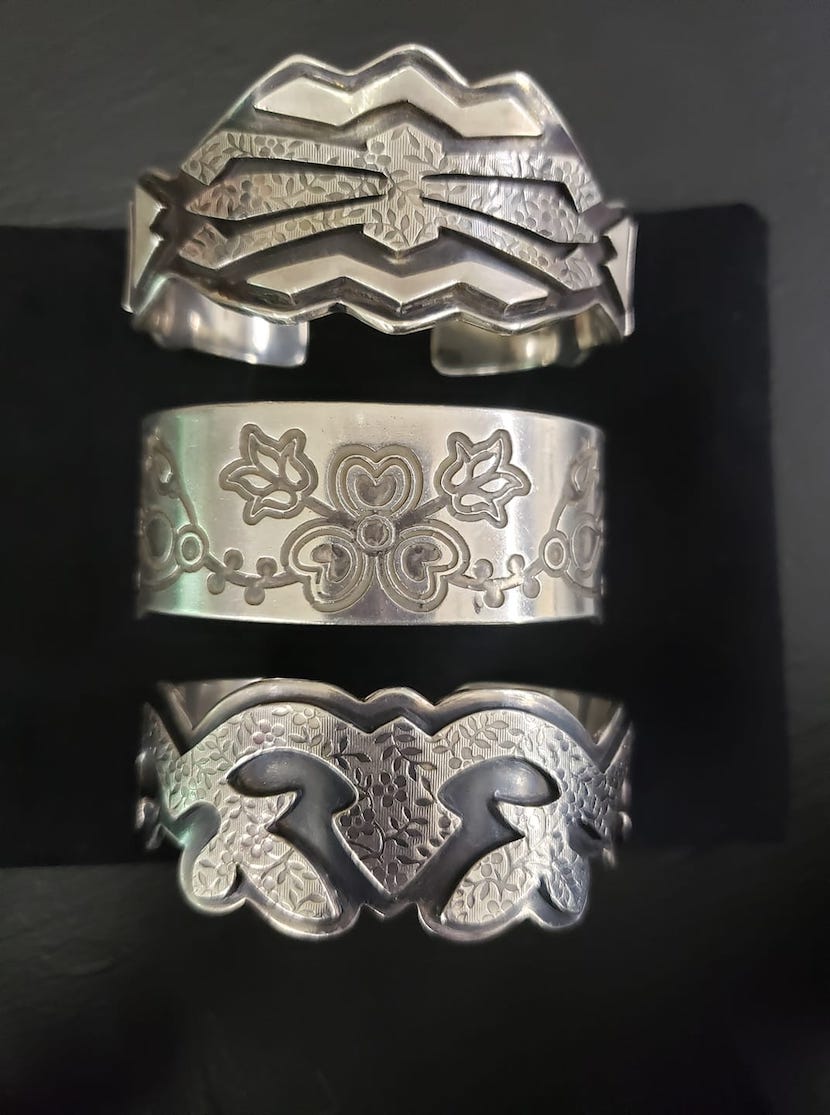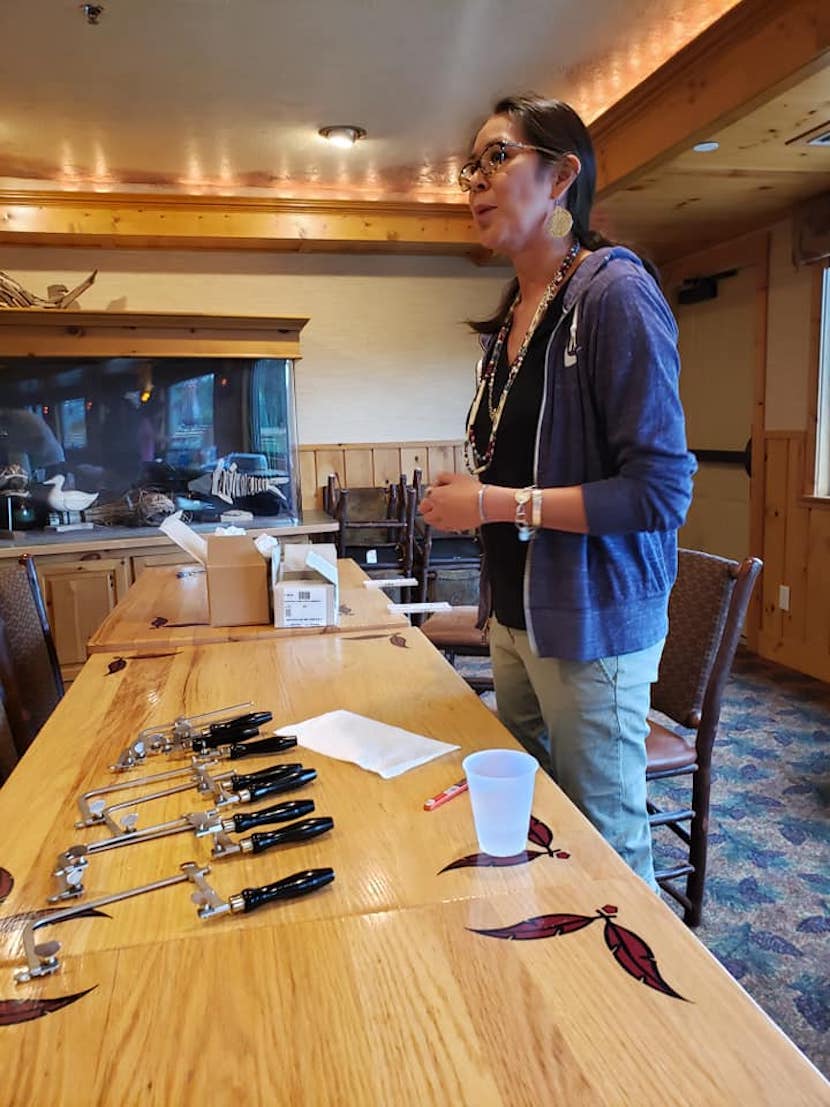 Artist Jodi Webster led a jewelry workshop at Big Sandy Lodge and Resort in June.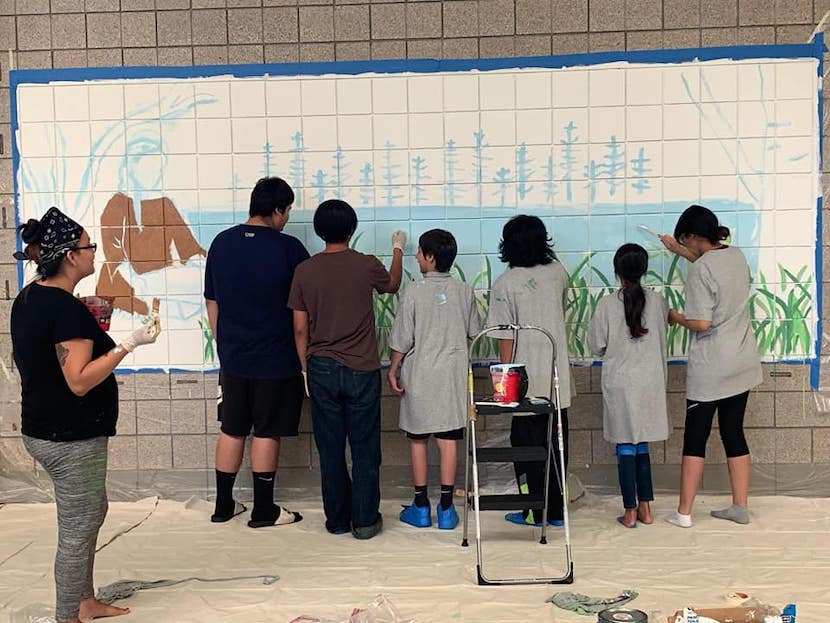 Charmaine Shivers worked with the students to create a mural at Minisinaakwaang Leadership Academy.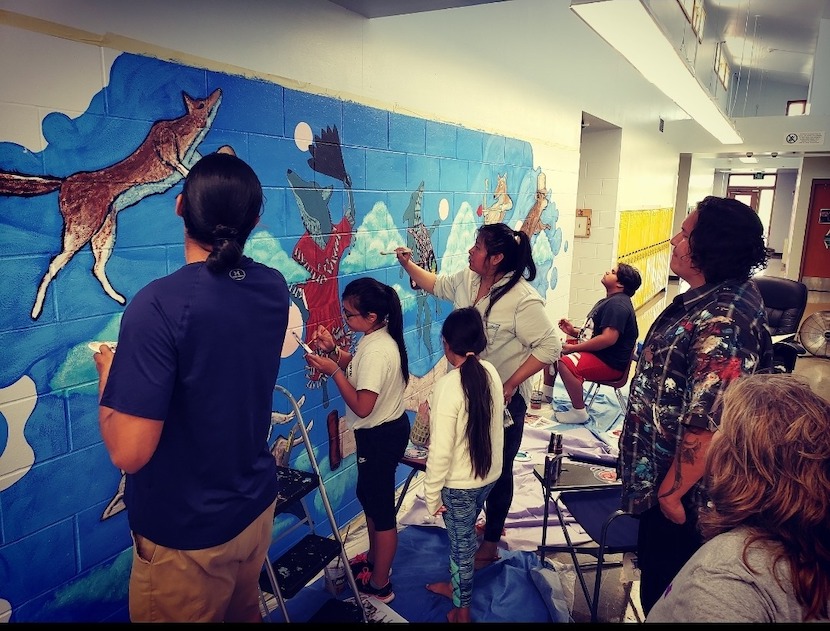 Jonathan Thunder worked with Nay Ah Shing students, staff, and families on a mural at Nay Ah Shing Upper School.