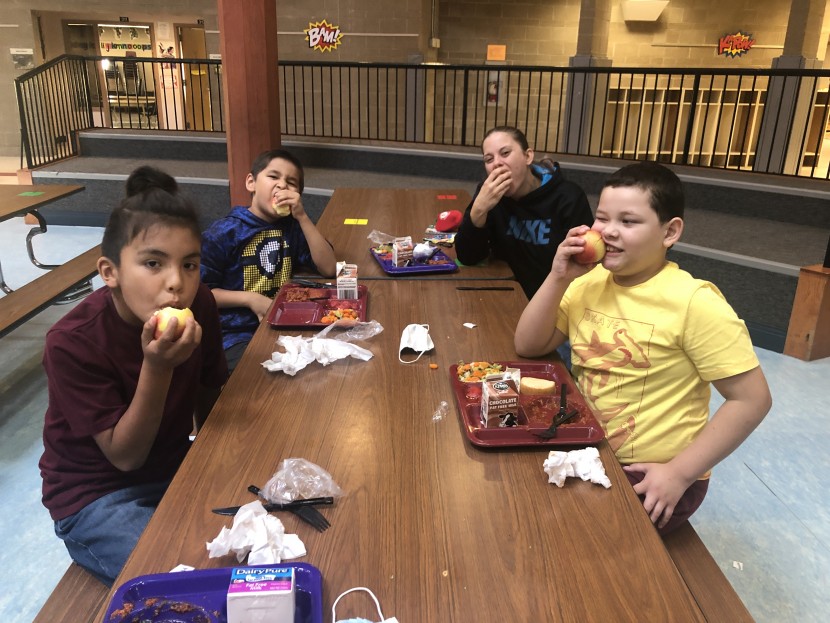 Nay Ah Shing and Pine Grove students celebrated National Farm to School Month by crunching into locally and regionally grown apples on Thursday, October 8. Pine Grove students joined their Nay Ah Shing colleagues via interactive TV. K-12 schools from Minnesota, Wisconsin, Illinois, Indiana, Michigan, and Ohio participated in lunchrooms, classrooms, and online. On October 1, 2019, 815,331 students, children, teachers, and good food supporters across the region crunched together to recognize the importance of healthy, local foods. Nay Ah Shing/Pine Grove Nutrition Services Coordinator Deborah Foye coordinated the effort in our schools, with help from Mary Pyawasit. Miigwech, Deb and Mary!
The apples — as well as the pouches and cookbooks students also received — were donations from the SHIP, SNAP-Ed, and Diabetes Programs.
Nay Ah Shing's commitment to healthy fruits, vegetables, and meats goes well beyond the annual apple crunch. Both Nay Ah Shing and Pine Grove have school gardens, where the students help with starting seeds, transplanting them into larger containers as needed, and planting them up into the gardens after the last frost. During the summer, students help with the garden, and once school resumes, classes ghelp harvest produce, which is used in school meals.
The schools also purchase produce from local farms, and Deb is in the process of building a new relationship with another farm which can provide students with beef, eggs, lamb, and produce.
Photos: Students from Pine Grove and Nay Ah Shing Schools enjoyed sinking their teeth into locally grown apples on October 9.
Sixth-grader Ali Bouvette at the Upper School did her impression of the Wicked Queen in Snow White.