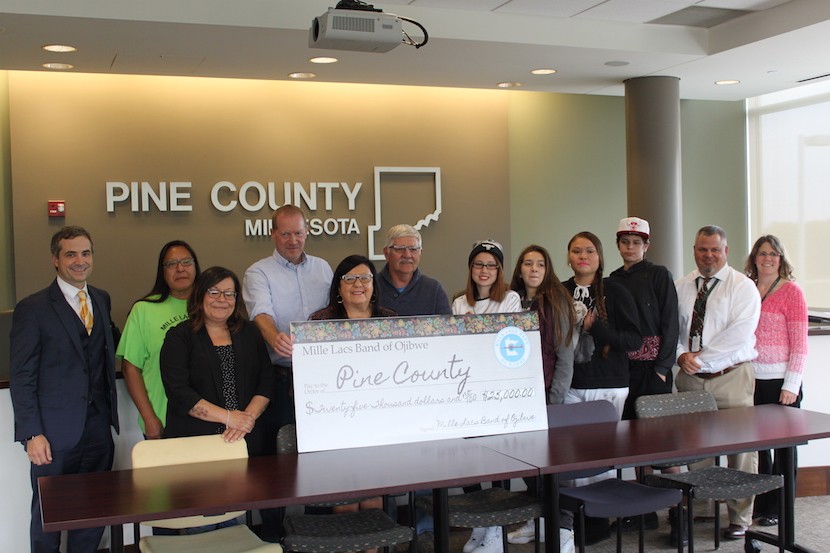 The Mille Lacs Band matched a $25,000 investment by Pine County to hire a "community coach" to help reduce the incidence of truancy and improve relationships between Band members and schools.
Chief Executive Melanie Benjamin, Government Affairs Director Katie Draper and students from the WiiDu program delivered the donation to Pine County officials at the government center in Pine City on Friday, Oct. 6.
Pine County Commissioner Steve Hallan welcomed the guests, saying, "I'm pretty excited about this day." He gave credit to Probation Director Terry Fawcett for the community coach idea. "It seemed like a good idea, so we sold it to our board," said Commissioner Hallan. "I think it's a great thing. We're looking for good results, and we know that might not happen right off the bat. We're in this for the long run."
Terry thanked the County Board and the Band for supporting the project. He said he worked with community coaches in the Arrowhead region, where the positions were funded by the federal government. "This to me is not only the first of its kind but really the best model, a partnership between the County and the Band," he said.
Melanie talked about the Band's focus on "7 generations" and "minobimaadiziwin" — living a
good life. She said the goal of the project is to keep young people out of "the
system." Early brushes with the law, she said, can label a person for life.
"I see our kids, how talented they are, how intelligent they are, how gifted they are," Melanie said. "But sometimes they get on the wrong path."
Working together, she said, can get them back on track, adding that the Anishinaabe are very powerful people.
"When you take all that power and you work together with everybody — Wow! It's amazing what can happen."
Pine County is encouraging Band members to apply for the community coach position.