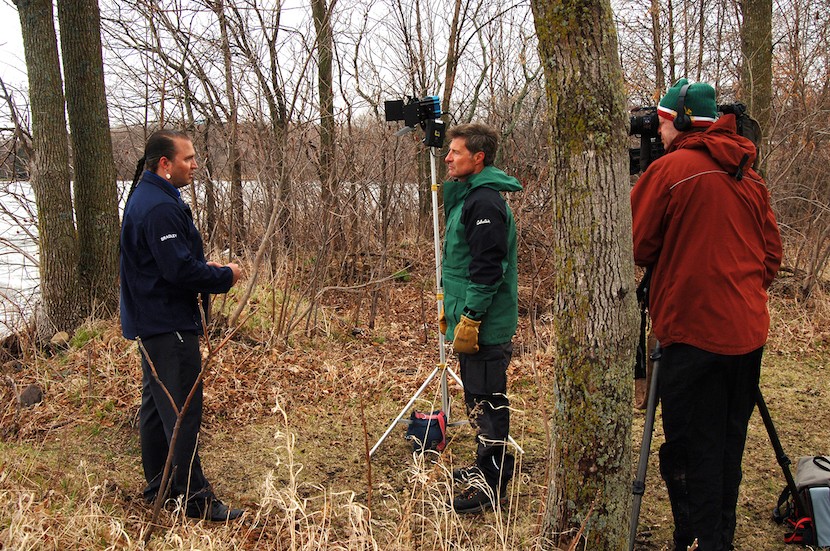 "From where they have come" focuses on preservation of cultural traditions, resources
Fox 9 News recently showcased several traditions of the Mille Lacs Band of Ojibwe in a five-part series titled "From where they have come." It took over a year for the initial idea to come to fruition. By most accounts, the series was a success.
Randy Meier is a news anchor for Fox 9 News out of Minneapolis. "It clicked with me one night while anchoring one of our own newscasts," said Randy. "I was reading a negative story about a netting incident on Mille Lacs, and I realized in my nearly 30 years of covering news in the Twin Cities very few positive or informational stories had been done with the Mille Lacs Band of Ojibwe community." That thought set the wheels in motion. He wanted to create a documentary-style program that would introduce the public to the traditions and culture of the Band with education as his primary goal.
"My objective in doing the series was really to educate the general public on how important tradition and culture is to the Anishinaabe," said Randy. "Doing so meant a level of discovery for me too. Ojibwe do not 'take' from nature. Ricing, sugarbush, spearing, netting, they're all ways to reconnect with their ancestry. My experience is that most Band members give away or share what is harvested."
The five-part series began on Sunday, May 12, and ran consecutive nights through Thursday, May 16, during the 9 p.m. broadcast. Each evening showcased a different tradition of the Mille Lacs Band and featured Band members practicing traditional ways of harvesting and gathering passed down through the centuries from their ancestors.
The series highlighted Band members from youth to Elders who are sharing traditions to preserve the Ojibwe culture for the future. "For Anishinaabe, our language, our religion, and our cultural practices are all gifts from the Creator, and we have a duty to preserve them and pass them down to future generations," said Commissioner of Natural Resources Bradley Harrington. "I am excited that this video series has documented a few of these practices, and more importantly, that the series captures the spirit in which we practice these traditions, with respect to the manidoog. I am pleased that Randy Meier and his team demonstrated sincere appreciation for, and a desire to understand, our culture. My hope is that these videos will be a useful tool to create a deeper understanding of our traditions for all who see them."
After the series had concluded, Randy Meier was asked what it meant to him as a journalist to create the series. "Shooting the series sometimes felt invasive for my photojournalist and me. Our Ojibwe hosts certainly didn't make us feel that way. All were very welcoming and open. But to do the series justice, we had to put a television camera in places and situations that rarely, if ever, see a camera. I find the Ojibwe people much more open and willing to share the story of their ancestors, their own personal lives, and their hopes for their children than I would have thought. I also think many have a wonderful sense of humor."
Series segments
Part 1: 'Spiritual currency:' The Ojibwe's special bond with wild rice production
Part 2: Medicinal power of plants connects Ojibwe tribe's past with future
Part 3: From sap to syrup, Ojibwe sugarbush tradition connects generations.
Part 4: Passed down father to son, Ojibwe walleye spearing tradition lives on
Part 5: Fish netting connects Ojibwe with ancient roots
The Fox 9 news team has pulled all of the parts together to make one half-hour special. That special ran on June 1 at 8:30 a.m. on Fox 9.