THIS WEEK'S NEWS
Biden nominates Haaland for Secretary of the Interior
On December 4, a group of Native women urged President-elect Biden and Vice President-elect Harris to nominate Representative Deb Haaland for the post of Secretary of the Interior. On Thursday, December 17, it became official: Haaland is the first Native American nominated for a cabinet post and if confirmed will be the first Native American to oversee the department that has the most impact on the lives of Indigenous Americans. To read the letters signed by Native women, including Chief Executive Melanie Benjamin, see https://millelacsband.com/news/native-women-call-for-indigenous-representation-in-biden-administration.
For more on Representative Haaland, and the reaction from Indian Country, see https://indiancountrytoday.com/news/happy-tears-indian-country-cheers-interior-pick-npyb7DzZhEe-EzqHbtICYg.
Vaccines begin to arrive at Mille Lacs
The first doses of COVID-19 vaccine began arriving at Mille Lacs on December 15. Vaccines will go first to our Elders in assisted living units and then to Elders with the most compromised immune systems, followed by front-line health care staff. Watch Facebook and millelacsband.com for updates. Chief Executive Melanie Benjamin was among the first to receive the vaccine. For a video of her experience, see https://www.youtube.com/watch?v=0o8HrTdAFIg.
The vaccine is not expected to bring a quick end to the COVID-19 pandemic, so Band members are asked to continue with the prevention measures that have been in place since spring: stay home as much as possible, limit contact with those outside your household, wear a mask when out in public, and wash your hands often.
Revisor's Office bill signed into law
On December 2, 2020, the Mille Lacs Band of Ojibwe Band Assembly approved Bill 19-02-08-21, establishing a Revisor of Statutes within Mille Lacs Band government. The Chief Executive signed the bill into law on December 3, 2020. The new law is now available within Mille Lacs Band Statutes as Title 25. The stated purposes of the Revisor's Code are to (1) establish an independent Revisor's Office to ensure the annual compilation, updating, and publication of Band laws and official acts; (2) provide confidential drafting services of proposed legislation and policy revisions to District Representatives; and (3) establish a Tribal Register for the publication of Band statutes and policies, Executive Orders, Secretarial Orders, Commissioner's Orders, Legislative Orders, Chief Justice Orders, and other official notices. For more on the bill, see https://millelacsband.com/news/revisor-s-office-bill-signed-into-law
Housing improvement grants available
The Band's Housing Program is encouraging Band members to apply for a federal program that provides assistance for repairs and renovations of existing homes, and construction of new and replacement homes. For information see below, go to https://www.bia.gov/bia/ois/dhs/housing-improvement-program, or call Housing at 320-532-7448.
You can also download the application and instructions at https://millelacsband.com/news/housing-improvement-grants-available.
District I Representative gives video update
On Wednesday, December 16, District I Representative Virgil Wind provided an update for constituents of District I and Urban area with important information regarding holiday distributions. You can find the video at https://www.youtube.com/watch?fbclid=IwAR0RjB1sn6tuCjqbSyqK5ZoEl1qA-CrM4YbBl66pSpykW-KZNcEKZwuImiw&v=9-nEH8mK6Mw&feature=youtu.be.
Band member wins reelection to hospital board
Catherine Colsrud, a District III Band member, won re-election to her local hospital board on November 3, 2020, with 74.7 percent of the votes. This is her second term on the North Pine Area Hospital District Board of Directors (NPAHD). She represents the Sandstone Township area on the Board. As a member of the board, Catherine will help to ensure access to quality rural health care. Congratulations to Caterine, and miigwech for serving your community! https://millelacsband.com/news/band-member-reelected-to-hospital-board
Urban meal distribution is Monday, December 21
Come to the Urban Office on Monday, December 21, between 10 a.m. and 5 p.m. to pick up a $25 Walmart gift card and a holiday food package. One gift card per Band member and one food package per household. Strict mask and social distancing protocols will be in place. You must have a tribal or state ID to pick up your gift cards, along with medical cards or school grades for dependents.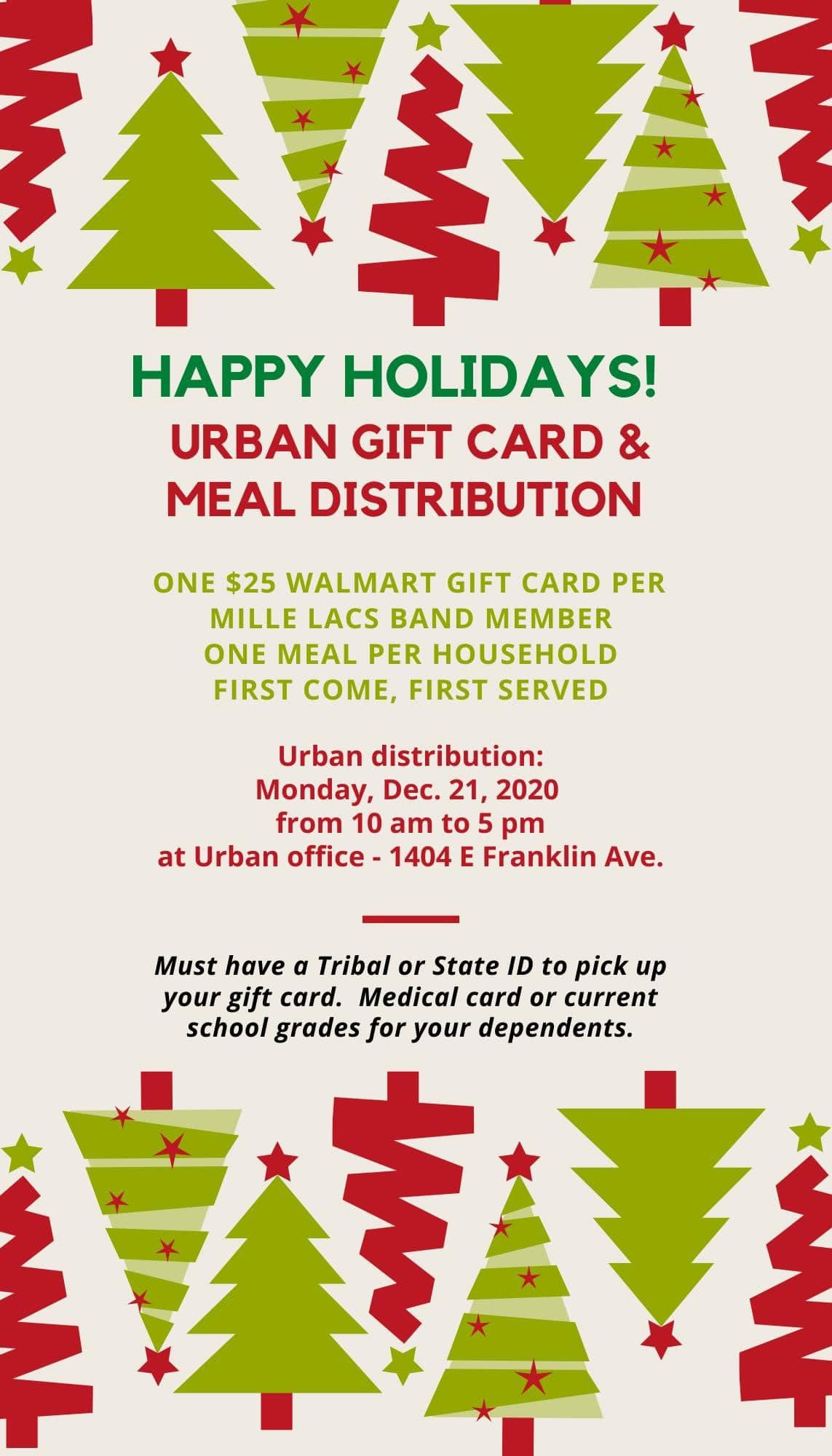 CHIEF EXECUTIVE'S VIDEO UPDATES
Tuesday, December 15, 2020 — Chief Executive Melanie Benjamin provides a COVID-19 update for Band members. She also provided updates from various other departments. The Band's Housing Program is encouraging Band members to apply for a federal program that provides assistance for repairs and renovations of existing homes, and construction of new and replacement homes. (See above for more information.) The Next Elder Food Distribution is set for January 13 and 14. (See the flyer below for more information.) If you have prescriptions filled at the Ne-Ia-Shing pharmacy and are running low please call for a refill. Please plan ahead for the holiday weekend and call by December 18 to allow enough time to get your prescriptions filled before the holiday. DNR Staff has been harvesting Mashkiki packs for the ALU and delivered Chaga, Cedar, and Sage. The Woodland group is processing wood and making deliveries.
https://youtu.be/fxTSMtLFs_U
Wednesday, December 16, 2020 — Mille Lacs Band of Ojibwe Chief Executive Melanie Benjamin provides an important message to Band members regarding the Pfizer COVID vaccine. Indian Health Services delivered vials of the vaccine on December 15. Upon arrival at the District I Health and Human Services building the nursing staff identified that the vaccine temperature was out of range and had been for over one hour. Per Pfizer COVID recommendations that batch of vaccines should not be used as it was outside the identified temperature range and was compromised. After consultation with Mille Lacs Band Lead Physician and the vaccination team, the recommendations are not to administer this vaccine. IHS has been contacted. A second batch of vaccines should be arriving today and ready for use on December 17. The first batch of vaccinations will be for Mille Lacs Band healthcare workers, Elders in ALU, Elders with compromised immune systems. https://youtu.be/WzBTeTklGr8
Thursday, December 17, 2020 — Tag along as as Mille Lakes Band of Ojibwe Chief Executive Melanie Benjamin demonstrates receiving the COVID-19 Vaccination at Ne-Ia-Shing Clinic. Today is the first day of the roll out of the vaccination to Mille Lacs Band Elders and Healthcare workers. Recipients of the vaccination may experience mild to moderate side affects. These are normal signs that your body is building protection. These side effects may include pain or swelling at the injection sight, fever, chills, tiredness, headache. To reduce pain and discomfort apply a clean, cool, wet washcloth to the injection area, exercise your arm, drink plenty of fluids, dress lightly. According to the CDC, the vaccination alone will not stop the pandemic. It is important for everyone to continue using all of the tools available as we learn more about COVID-19. Continue to wear a mask when around others, stay at least 6 feet away from others, avoid crowds, and wash your hands often.https://www.youtube.com/watch?v=0o8HrTdAFIg
MORE LEGISLATIVE BRANCH NEWS
Band Assembly Weekly Update, December 7-11
For the complete update, see legislative-weekly-update-12-11-20-draft
On Wednesday, December 9, Band Assembly occurred through conference call and Zoom. A confirmation hearing was held for District III Associate Justice nominee Sylvia Wise. After introductions and questions, the nomination was confirmed. Melissa "Baabiitaw" Boyd, Commissioner of Administration, provided an Aanjibimaadizing Update and Year-end Report. The report included program data, budget information, FY comparison data, community services, TANF data, WEX data, Youth Band Assembly, Training & Education plans, and a success story. Band Assembly passed two appropriations bills and approved several contracts.
To download the complete update, click here: legislative-weekly-update-12-11-20-draft
LOOKING FOR WORK?
Current job openings with the Mille Lacs Band of Ojibwe tribal government can be found at https://millelacsband.com/jobs. Among the new postings: Wildland Technician, Registered Nurse, Clinical Lab Assistant, SUD Counselor, District III Early Ed Coordinator, Client Access Coordinator, District III Fitness Coordinator, Early Ed Float Teacher, Chemical Health Counselor, Early Ed Maintenance Worker, Registered Nurse, Food Shelf Warehouse Technician, Emergency Services Coordinator, Solid Waste Driver, Chemical Health Counselor Aide, Early Learning Literacy Coach, and District II Community Service Crew Leader. You can request information about jobs by emailing hr@millelacsband.com or calling 320-532-7460. To apply for a job, please submit an application, cover letter, and resume to the HR email by the closing date.
Grand Market is seeking a Deli Associate and a Stocker. For openings at Grand Market, Grand Makwa, Super Stop, Taco John's, and East Lake Convenience Store, email sbayliss@grcasinos.com or call 320-532-8143.
For openings at Grand Casino Mille Lacs and Hinckley properties or Eddy's Resort, visit: grandcasinomn.com/careers. For openings with Mille Lacs Corporate Ventures, visit mlcv.com/career-opportunities. For openings at Grindstone Laundry or Crossroads Convenience Store, email enelson@grcasinos.com or call 320-384-4722. Applications are also available at the main receptionist desk of the Corporate Commission building at 700 Grand Avenue, adjacent to the Grand Casino Mille Lacs Events and Convention Center.
IN CASE YOU MISSED IT
Sign up for State of the Band updates
A virtual State of the Band event is being planned for January 12, 2012. To sign up for updates on the event, go to https://millelacsband.com/services/sotb-2021.
Transportation survey responses needed
The East Central Regional Transportation Coordinating Council in tandem with Tri-CAP and Mille Lacs Health are looking for your ideas about transportation – specifically, extending public transit within northern Mille Lacs County. We are exploring the possibility of bringing convenient, handicap accessible, affordable transportation options to the Vineland area. There is no guarantee that public transit services will be developed, but we want to understand the need for transit in an effort to explore existing and future opportunities. Your answers will help guide our work. To fill out this short survey, please visit https://www.surveymonkey.com/r/VinelandMLCo. It would be of great help to us – You Transit Team!
You're invited to participate in tobacco survey
The Band is working with the American Indian Cancer Foundation (AICAF) on the Tribal Tobacco Use Project II (TTUP II). This is a survey that covers both commercial and traditional tobacco use. We need our community to participate to make this survey successful. A $20 gift card is given to all who participate. To set up a time to do an interview, to find out if you are eligible, or if you have any questions/concerns, please call Colleen McKinney at 320- 362-4705. Miigwech!
Survey subjects are chosen from a random list of community members.
INAAJIMOWIN ONLINE
The December issue of Ojibwe Inaajimowin can be found at https://millelacsband.com/content/8-news/inaajimowin-archive/2012-inaajimowin.pdf. The January issue will be in the mail on December 22 and will being to arrive at homes on December 23.
Among January's stories:
— Elder Letitia Mitchell reflects on a lifetime of work and family after retiring at age 81
— Familiar faces in new roles with tribal government: Carmen Kalk and Loretta Hansen
— Legislative Branch hires new attorney
— Ge-niiganizijig Program launches Youth Assembly
You can also find stories from the newsletter at https://millelacsband.com/news.
The Inaajimowin is sent to Band members who are identified as heads of household by the Enrollments Department. If you are a Band member head of household and are not receiving the Inaajimowin, please contact Enrollments. If you are not a Band member head of household and would like to receive the Inaajimowin, send your name and address to news@millelacsband.com.
News from Indian Country
You can also find links to stories from around Indian Country at https://millelacsband.com/news.
Among this week's headlines:
— The year that killed the Native mascot: https://newrepublic.com/article/160549/year-killed-native-mascot
— First doses of COVID-19 vaccine arrive in Indian Country: https://nativenewsonline.net/currents/first-doses-of-covid-19-vaccine-arrive-in-indian-country
— Indigenous groups stage protests as pipeline construction begins: https://www.startribune.com/protesters-climb-trees-to-block-enbridge-pipeline-construction/573291351/
UPCOMING EVENTS
New Year's meal giveaway December 29-30
The Health and Human Services Department is teaming up with MLCV to bring a New Year's meal to Band members on December 29 and 30. Ring in the New Year with ham, mashed potatoes, gravy, green beans, buns, and apple and pecan pie! See the flyer for time and location.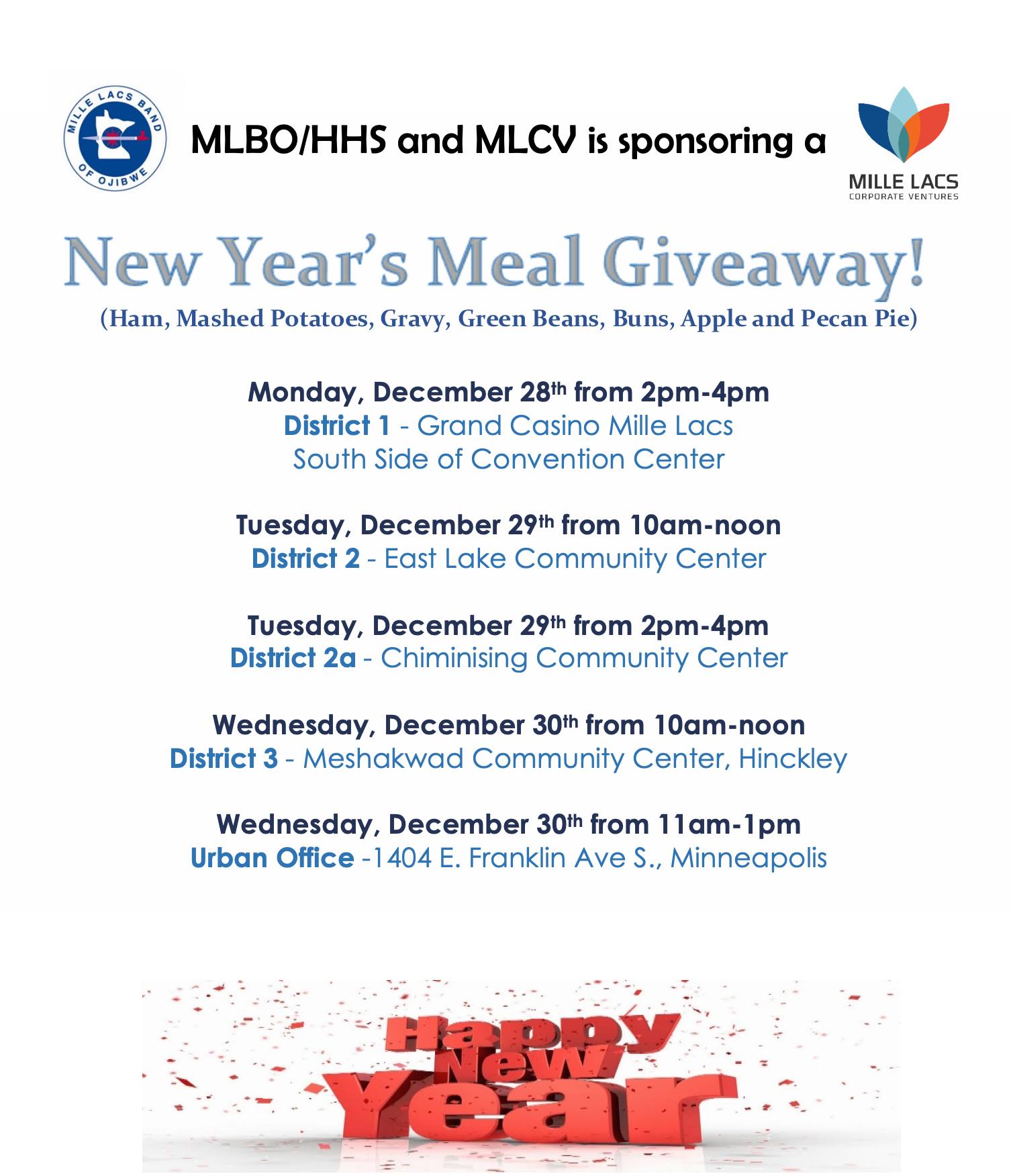 Help with distance learning
The Mille Lacs Band's Family Services Department is joining forces with Nay Ah Shing and Onamia Public Schools to hold a technology/academic session at the old District I community center from 10 a.m. to 2 p.m. on January 4. Students, parents, and guardians are encouraged to attend.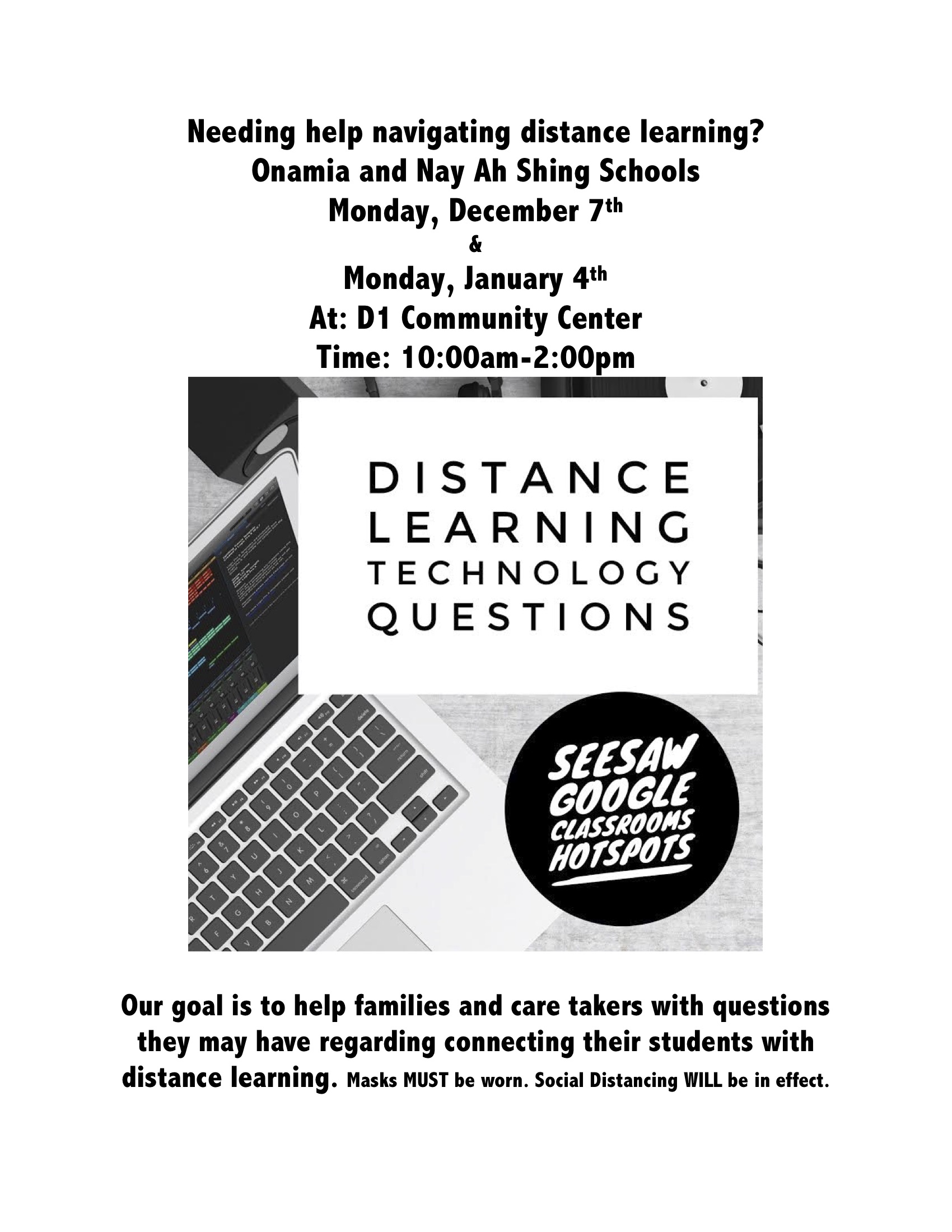 Elder food distribution January 13 and 14
The next Mille Lacs Band Elder food distribution will take place in District I, II, and III on Wednesday, January 13, from 1 to 3 p.m. and on Thursday, January 14, from 1 to 3 p.m. at the Urban Office at 1404 E Franklin Ave, Minneapolis. Elders who need delivery service in DI, DII, DIIa, or DIII can contact Renee Bayerle at 320-362-4988 by 5 p.m. Monday, January 11. District I and IIa Band members can pick up food at the south side of the Grand Casino Mille Lacs Convention Center. District II distribution will take place at Minisinaakwaang Community Center, and District III distribution at Grand Northern Inn in Hinckley. Items will include coffee, fresh fruit, potatoes, cheese, bread, frozen veggies, and a pork prime.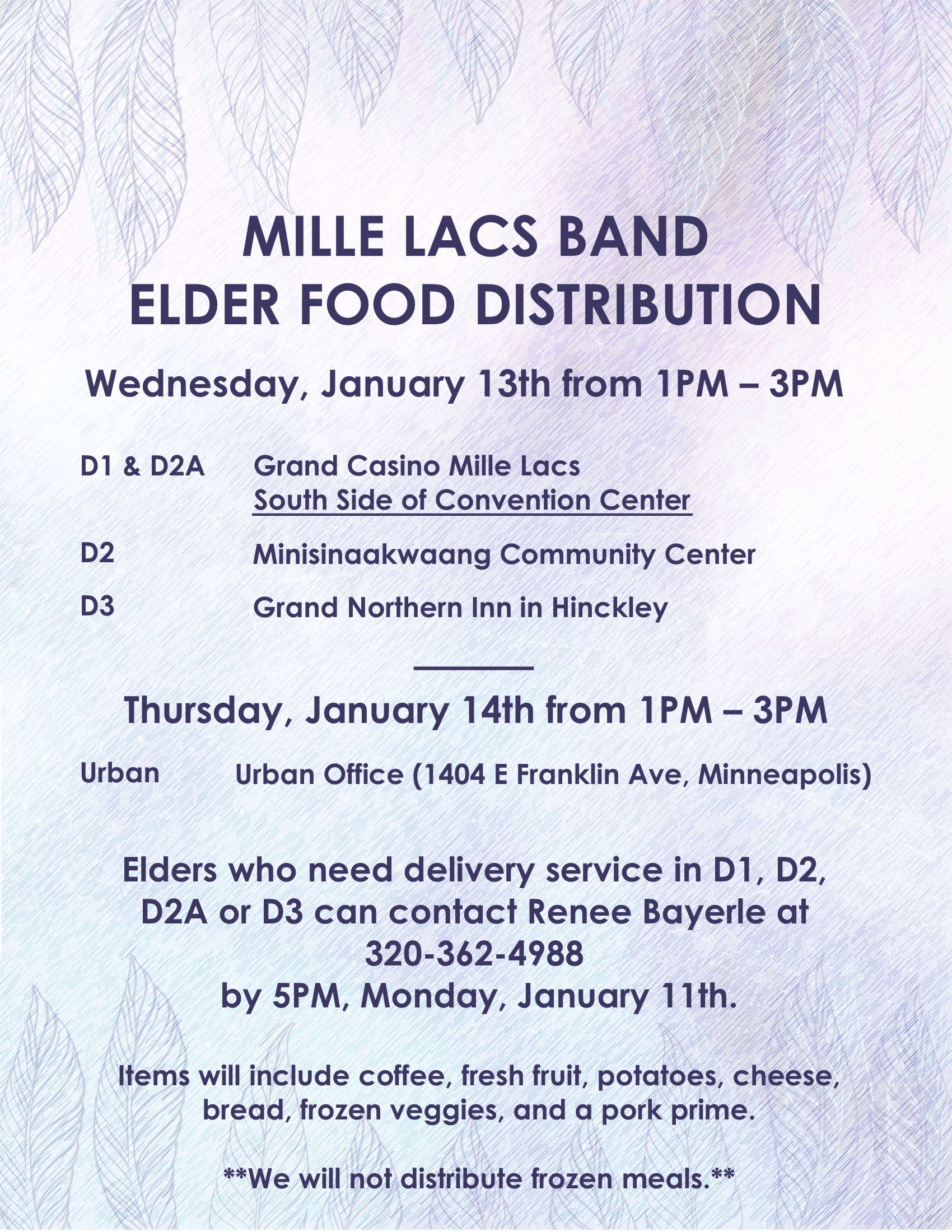 Recovery Group Meetings
Recovery meetings are also held via Zoom conference during the COVID-19 pandemic. The Monday night Migizi meeting ID is 856 8473 0121, and the password is 56359. The Wednesday night Red Brick meeting ID is 895 631 97923, and the password is 56359. The nightly Zooming Towards Recovery code is 601-532-2869, and the password is zoom800.
Reminder: Fall and winter events are canceled
The Tribal Emergency Response Committee (TERC) on October 27 announced the cancellation of in-person fall and winter events, including the Mille Lacs Corporate Ventures Fall Feast, District holiday parties, and the State of the Band Address. A notice signed by six Commissioners who are members of the TERC said the approaching flu season and lack of abatement of the COVID-19 crisis made the decision necessary.
Mark your calendar
Midwinter Break: December 24 and 25. Government offices closed.
January 1: New Year's Day, government offices closed.
January 12: State of the Band. This event will be held online. Stay tuned to this site and Facebook for details.
January 18, Civil Rights Day, government offices closed.
EXPLORE OUR WEBSITE!
Did you know there is a website calendar with flyers and information on events in our communities? If you have events to share, send an email to brett.larson@millelacsband.com or call 320-237-6851. You can find the calendar at https://millelacsband.com/calendar. For a wealth of news and information about the Band, tribal government, programs, and services, go to millelacsband.com and start clicking! Click the Government or Services menu for information on departments and government programs. You can also access the site from your phone's web browser.
DRUG TIP HOTLINE
The Mille Lacs Band Tribal Police Department's anonymous drug tip line is 320-630-2458. Feel free to leave voicemails and/or text messages. If you would like a call back, be sure to leave your name and phone number. In case of emergency, dial 911.
JOIN OUR EMAIL LIST
The Government Affairs Department, which is in charge of communications with Band members, is compiling a list of email addresses so we can send news summaries and breaking news updates to Band members. To sign up, go to https://millelacsband.com/services/mailing-list.