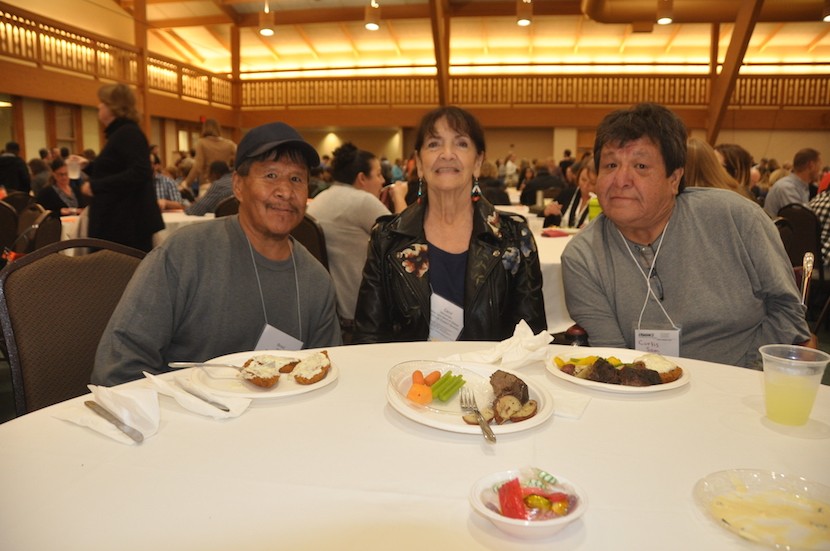 Several employees in the Health and Human Services Wrap- around Program attended the annual conference of the Minnesota Coalition for the Homeless at Cragun's Resort near Brainerd Sept. 26 and 27 — and they were accompanied by two Band members who have experienced homelessness.
Curtis Sam and Brad Jones shared their stories and insight on homelessness while attending breakout sessions, the keynote forum, and the awards presentation with Wraparound Coordinator Tammy Moreland and Wraparound Facilitators Carol Hernandez and Pete Charpentier.
Brad talked about living in a tent for 18 years in the Twin Cities, Brainerd and Walker. He has been living at Mille Lacs for a year — the first time he's lived on his home reservation.
Curtis said transportation is a major barrier for those on the reservation experiencing homelessness — especially those with disabilities. Curtis suffered heat stroke, which affected his speech. "It's more difficult to gain employment when people think there's something wrong with you," said Curtis.
Curtis thinks the Band and Casinos would benefit from hiring more people with disabilities because it would show they believe in equal opportunity and can see past a person's physical condition.
Unfortunately, people without transportation are often taken advantage of, Carol said. Those with cars will charge $60 for a trip to Brainerd, and if you give them money to pick up some groceries, they may not come back.
Both Curtis and Brad now live at the Minobimaadiziwin Hotel, which is several miles from the government center and casino. There's a shuttle, but it doesn't run very often.
At lunch on Sept. 26, Brad, Curtis and the Wraparound team heard from Bois Forte Housing Director Gordon Adams Jr., who talked about homelessness on Indian reservations and in urban Indian communities.
Gordon said homelessness on reservations can include people living outside or in condemned buildings, but it often means "doubling up" with friends or family. "Indian families very welcoming to friends, neighbors and especially family when they need help," said Gordon. "You'll find two or three families under one roof, people sleeping in basements, keeping one step ahead of social services."
He said homelessness has a long-lasting impact on children. "It breaks my heart to see these kids feeling they're not wanted, that they don't have what other children have: a place of their own."
Curtis and Brad have high praise for the Minobimaadiziwin staff as well as the Wraparound program. Curtis said, "I'm glad they've got these gals in the Wraparound. They go beyond their duties."
To contact the Wraparound program, call 320-532-8923.
The 33rd Annual Minnesota Homeless Memorial March and Service will take place on Thursday, Dec. 21, to honor those who have died while homeless in Minnesota. The event begins with a vigil and silent march at the Hennepin County Government Center, followed by a Service of Remembrance at Simpson United Methodist Church, and a community meal at Simpson Shelter. A shuttle will take marchers to the government center from Kmart at Lake St. and 1st Ave. at 4 p.m.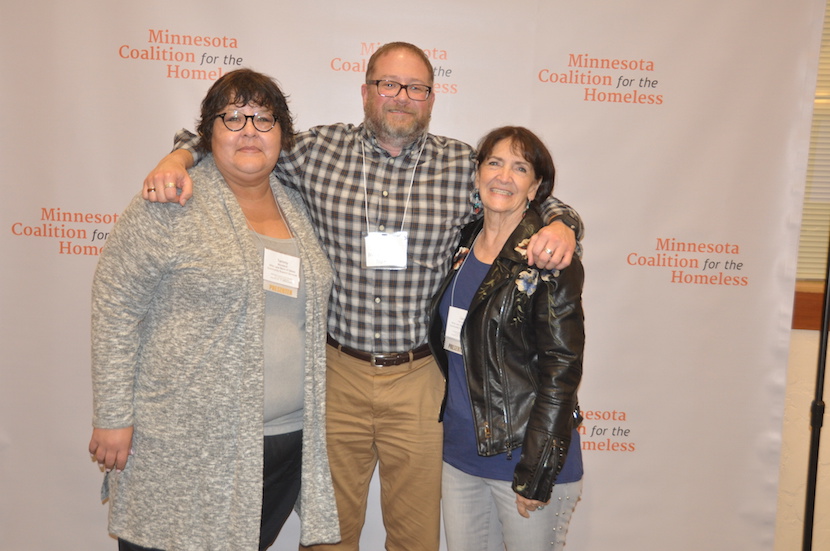 Wraparound Coordinator Tammy Moreland and Facilitators Pete Charpentier and Carol Hernandez.
Top: Band members Brad Jones, left, and Curtis Sam, right, joined Carol for lunch at the homelessness conference.