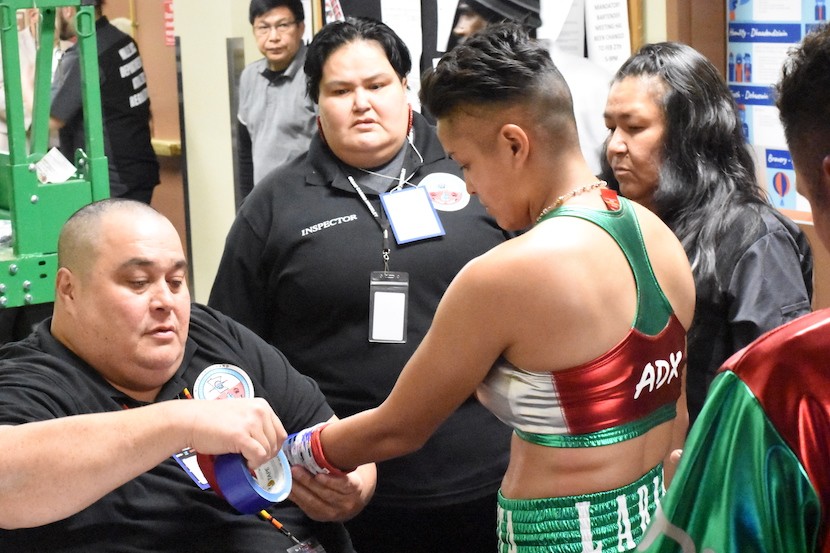 Photos and Story by Bradley Roache Jr. Mille Lacs Band Member
The Mille Lacs Band Department of Athletic Regulation and Grand Casino Hinckley hosted a world championship bout on Friday, February 15, and Band members played a variety of roles to make the night a phenomenal success.
From the Boxing Commission of the Department of Athletic Regulation, to boxing inspectors, security, and hospitality workers, Band members were part of the vision and implementation at every step in the process.
Commissioner of Corporate Affairs Joe Nayquonabe said, "Hosting a world championship broadcast on ESPN was significant for both the tribe and Grand Casino Hinckley. The event drew in nearly 1,500 spectators and had thousands of viewers tuning in on ESPN+. Our collective ability to execute these live, televised events allows us to continue to introduce our property – and the work of the Department of Athletic Regulation – to an incredibly passionate audience."
WBA middleweight champion Rob Brant successfully defended his title, beating Khasan Baysangurov in an 11th round technical knockout. Brant said he wanted his first title defense to be at Grand Casino Hinckley, calling it his "professional boxing home" after fighting their 11 times as an up-and-coming pro.
Boxing Commissioner Percy Benjamin pointed out that there were actually four world champions in the room that night: Brant, WBO welterweight champ Terance Crawford, and retired champs Andre Ward and Timothy Bradley.
The fights were promoted by Top Rank, which is owned by Bob Arum, one of the top promoters in the sport who has worked with everyone from Muhammad Ali to Floyd Mayweather.
Bob has an interesting connection to the Mille Lacs Band: Bob's son John was one of the attorneys who worked on the 1837 Treaty case. In a recent interview, attorney Marc Slonim gave John much of the credit for the Band's victory in the case.
John passed away in a climbing accident in the state of Washington in 2010, but he will always be remembered with gratitude and great respect by the Band.