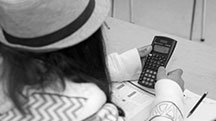 By Brett Larson, January 5, 2015
Commissioner of Administration Catherine Colsrud is encouraging Band members to make education goals now – and to shoot for the stars.
"I recently heard about opportunities for low and middle income families to send their kids to Harvard tuition free," Catherine said. "I'd love to see some of our Band members graduate from Harvard in the next few years."
If a move to Massachusetts is not what you're looking for, many additional options can help Band members gain the skills and knowledge they need to be successful. Catherine said the Band finds it difficult to staff many positions with Band members because of the specialized training required. She wants that to change.
Band members looking to get started can consider Anishinaabe College in District I, with ITV programs planned for Districts II and III.
Camille Naslund, the Band's Higher Education Director, said many scholarship opportunities are out there, starting with the Mille Lacs Band's scholarships. Band members in undergraduate programs are eligible for $4,500 per semester.
Many two- and four-year colleges around the state have additional scholarship opportunities. For example, the Band has a partnership with Augsburg College in Minneapolis providing a 10 percent tuition discount, and the University of Minnesota – Morris waives tuition for Band members or any other student with a parent or grandparent who was a Native American. Camille said the financial aid office at any school is a great resource for information.
Band members who already have a Bachelor's degree should be thinking about a Master's, a law degree, medical school, a Ph.D, or other advanced training. Additional scholarships are available for graduate school – including $6,000 per semester from the Mille Lacs Band.
"We all have a responsibility to help our Band survive, and one of the best ways we can do that is by pursuing educational opportunities," Catherine said. "Bringing that knowledge back to the Band will ensure our continued success."
Scholarship opportunities
Mille Lacs Band of Ojibwe
millelacsband.com/programs-services-home/education/scholarships
Band members are eligible for up to $4,500 per semester of undergraduate tuition or $6,000 for graduate tuition per year.
Catching the Dream, Native American Scholarship Fund
catchingthedream.org
CTD has helped 827 Native students to earn degrees since 1986.
U of M Morris tuition waiver
morris.umn.edu/financialaid/scholarshipswaivers/americanindiantuition
The University of Minnesota-Morris will admit American Indian students qualified for admission free of charge for tuition, as mandated in federal law and state statute.
Native American Finance Officers Association
nafoa.org/education_3.html
In 2012, the NAFOA awarded three scholarships to an outstanding MBA, undergraduate and tribal college student.
American Indian College Fund:
collegefund.org
Scholarships are open to U.S. citizens who are enrolled full-time at a public or private, non-tribal-affiliated school and are registered members of a recognized tribe or with at least one grandparent or parent who was registered.
Lagrant Foundation Scholarships
lagrantfoundation.org/Scholarship%20Program
Twenty undergraduate ethnically diverse minority undergraduate students will receive scholarships of $2,500 each and 20 graduate students will receive scholarships of $5,000 each. Students must be attending four-year accredited institutions in the U.S. and pursuing careers in the fields of advertising, marketing or public relations.
Microsoft Technical Scholarships for Minorities and Women
careers.microsoft.com/careers/en/us/university-programs.aspx
Anyone can apply, but preference is given to applicants who are female, belong to a minority group, or have a disability.
Xerox Minority Scholarship
xerox.com/jobs/minority-scholarships/enus.html
Technical Minority Scholarships award between $1,000 and $10,000 to qualified minorities enrolled in a technical degree program at the bachelor level or above.
A story on the Harvard initiative to attract low-income students
nonprofitquarterly.org/policysocial-context/23214-harvard-initiative-to-attract-low-income-students-includes-free-tuition.htmlMany more scholarships are available. Contact the financial aid office at the school where you are enrolled or thinking about enrolling.