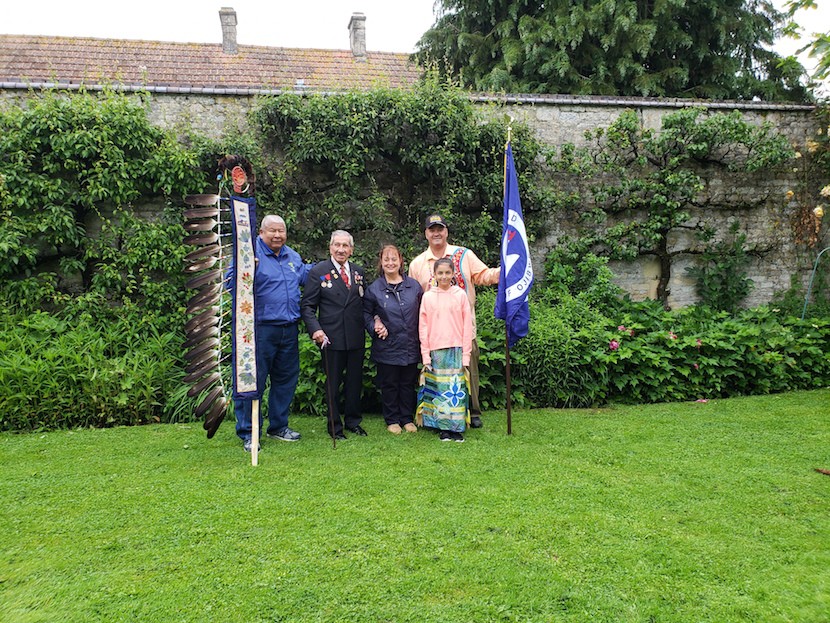 Seventy-four years ago, 19-year-old Charles Shay, a Penobscot Indian from Maine, found himself running ashore alongside thousands of other Americans at Omaha Beach, France — one of the landing sites for the Normandy Invasion on June 6, 1944. Best known as D-Day, that date and place have become synonymous with sacrifice.
Seventy-three years later, Charles was back at Omaha for a ceremony dedicating a memorial to Charles and approximately 500 other Native veterans who fought in the battle that marked the turning point in World War II.
Charles returned this year to mark the one-year anniversary of the memorial, and among those who joined him for the ceremony were two Mille Lacs Band members: Joe Nayquonabe Sr., a decorated Vietnam Vet, and Tony Pike, a 23-year member of the Army National Guard who was deployed overseas several times during his long career.
For Joe, the visit to Omaha and Utah beaches and several cemeteries and museums around France were especially meaningful. "Being a veteran and seeing all those vets — 10,500 at one cemetery and 4,500 at another — looking at those stones, most of those guys were 18, 19 years old. When I think of it now, they're babies."
The memory that stands out for Tony was visiting the grave of Charles Corbine of Lac Courte Oreilles, the uncle of District III community member Patty Sam.
Tony called Patty from the grave and let her listen to sights and sounds of the cemetery as he and Joe put down tobacco and said a prayer for Charles. The week leading up to this year's D-Day anniversary was a whirlwind of activity for Joe, Tony, Tony's daughter Christina, and the other Native vets who had made the long journey to France.
On Friday, June 1, a welcoming of the delegation took place in Bretteville, followed by a ceremony in Carentan and a World War II film festival at the Utah Beach Museum.
The next day included a visit to the Dead Man's Corner Museum, a ceremony honoring Native Americans, and a Liberty March in Carentan. At the museum, Joe and Tony were struck by a photograph of the 101st paratroopers, including one Native American wearing war paint and a Mohawk.
On Sunday, June 3, Joe and Tony joined a military parade in Sainte-Mere-Eglise, and on Monday they visited the Colleville U.S. Normandy Cemetery and the St. James U.S. Brittany Cemetery for a historic program and ceremonies.
On Tuesday, June 5, the group visited the Charles Shay Indian Memorial at Omaha Beach near the town of St. Laurent sur Mer. Charles helped dedicate the monument last year in honor of Native American veterans. The memorial includes a sculpture of a turtle representing Turtle Island — a Native American name for America.
At the time of the dedication, Charles Shay was quoted as saying, "There were mothers across Turtle Island [North America] praying for their brave sons. My heart breaks for those women who were never able to welcome their sons home again."
The ceremonies concluded on June 6, the D-Day anniversary, at the 1st U.S. Infantry Division Monument in Colleville sur Mer and the Ranville Gun Battery in Merville-Franceville-Plage.
"Everyplace we went we got treated like VIPs," said Joe. He and the other vets always had front row seats, and many people wanted photographs with them — including the daughter of General George Patton.
"It was good to see the French people's appreciation of our efforts," Tony said. "Each time the Natives walked in, we got an ovation."
The eagle staff carried by Joe and Tony received a great deal of attention. Tony created a new staff for the event with help from three Mille Lacs community members: Band member Steve Premo, whose floral design was used; Band member Terry Kemper, who harvested and shaped the wood; and Tony's partner Ramona Bird, who did the sewing. Tony wrapped 19 eagle feathers, representing the wars the nation has fought, the four branches of the service, Purple Heart recipients (including Joe), POW/MIAs, and the Mille Lacs Band.
Joe and Tony were told of the event by Band member Bill Schaaf, who heard about it from Joe Podlasek, an LCO Band member who runs Trickster Art Gallery in Schaumburg, Illinois, and was Tony and Joe's main contact stateside, letting them know what they needed to bring and what to expect, as he attended the ceremonies there last year.
Another highlight for Tony was bringing his daughter Christina along. Father and daughter visited the Eiffel Tower, the Louvre, and other sites around the city, including Disneyland, which Christina was able to experience on her 12th birthday.
"She took care of us out there," said Joe. "She kept us in line."
Joe was impressed by Notre Dame, but also the French countryside and villages, and even the food. "The first day it was unusual, but by the end of the trip I was pigging out," said Joe. "I couldn't tell you what the dishes were, but it was good. And the desserts are incredible."
Joe and Tony are grateful to Chief Executive Melanie Benjamin who gave a donation allowing them to make their journey to France. They plan to return next year for the 75th anniversary of the D-Day invasion. They're buying their own tickets and hoping donations will cover the expenses of two more Mille Lacs Band veterans to join them.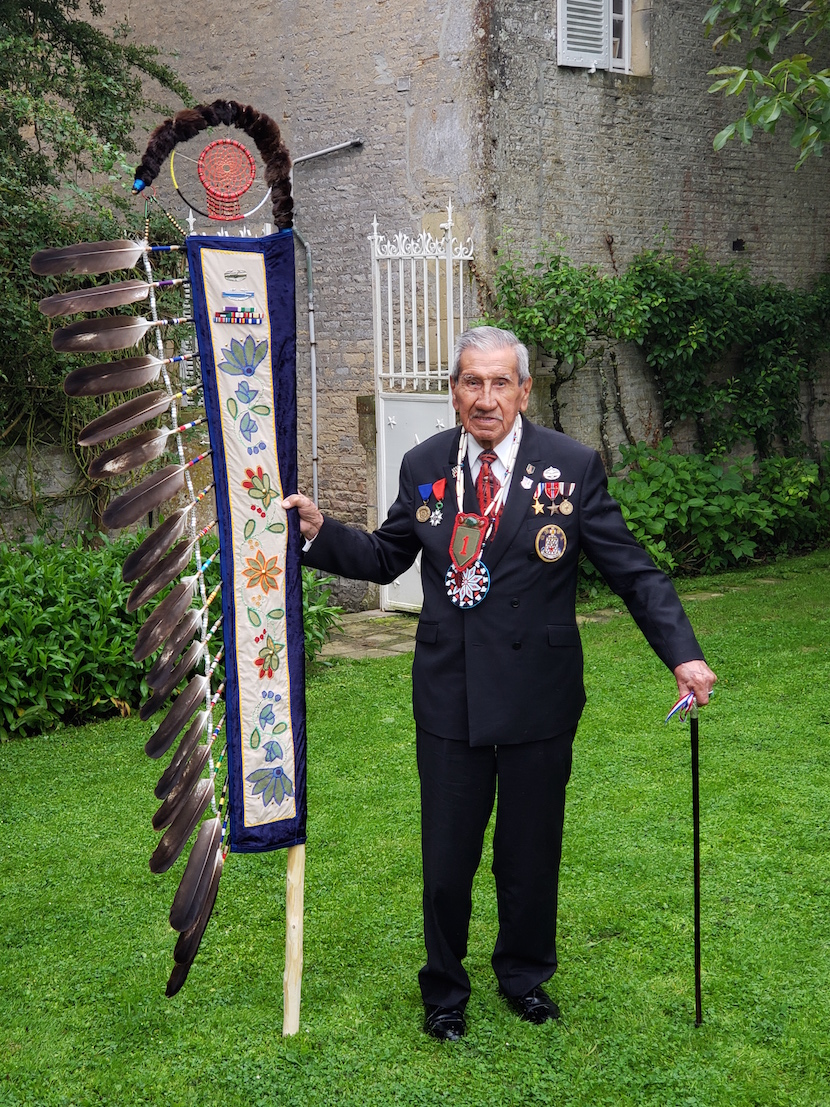 Charles Norman Shay
Charles Shay was a Penobscot Indian from Old Town, Maine, who was drafted into the U.S. Army in 1943 and trained as a combat medic. He was as- signed to an assault battalion in the first wave of the D-Day attack on June 6, 1944. He received the Silver Star for his valor in rescuing drowning comrades under fire. He was later captured and held as a prisoner of war until April 18, 1945, following which he received four Bronze Battle Stars. Facing unemployment on his reservation, he reenlisted as a medic and received the Bronze Star for service in the Korean War. He remained in the service until 1964.
Photos:
Above: Joe, Tony, and Christina posed with Charles Shay and Marie-Pascale Legrand, the French host of the Native delegation.
Below: Joe, Tony, and Christina visited the grave of Lac Courte Oreilles member Charles Corbine.
Tony carried an Eagle Staff at ceremony at several parades and ceremonies, including one at the Charles Shay Native American Memorial at Omaha Beach.
Tony, Christina, and Joe were also able to enjoy some of the tourist attractions on their journey.