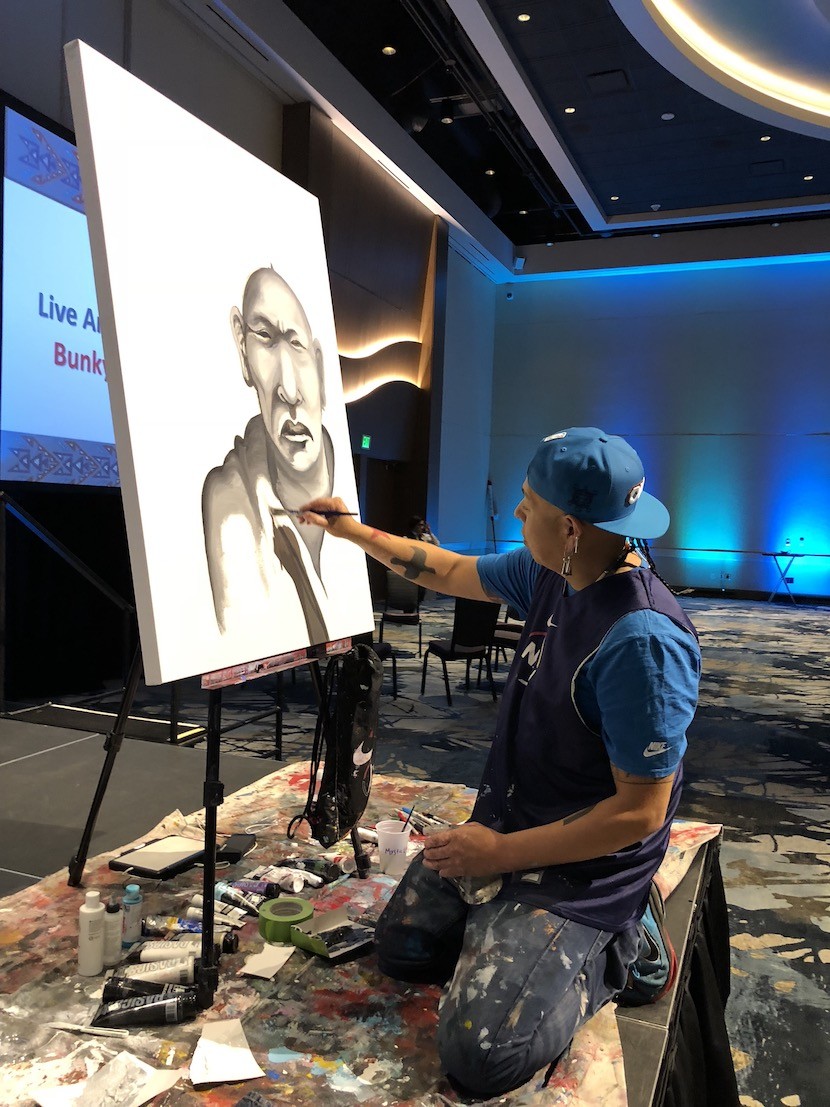 The Mille Lacs Band of Ojibwe played a significant role at the annual dinner of the Minnesota American Indian Chamber of Commerce (MAICC) at Mystic Lake Casino on November 29. The master of ceremonies was Commissioner of Corporate Affairs Joe Nayquonabe, the drum group was Red Willow, and the color guard included Band members Tony Pike, Allen Weyaus, Quintin Sam, and Jamie Short.
Shena Matrious, who is the interim chair of the MAICC board, gave a warm welcome to the hundreds of guests.
In addition, the Legislative Branch, Executive Branch, Corporate Commission, and Department of Athletic Regulation sponsored tables populated primarily by Band members and employees.
The event included a live painting performance by Bunky Echo-Hawk and a presentation by artists Louie Gong and Sara Agaton Howes. The event concluded with an auction for Eighth Generation blankets and the painting created by Echo-Hawk.
Louie Gong (Nooksack) is an artist, entrepreneur, and educator who founded the Seattle-based company Eighth Generation in 2008 as a way to sell the shoes he was customizing with cultural art on his living room floor. The company is now the first Native-owned company to produce wool blankets — with a flagship retail store in Seattle's iconic Pike Place Market.
Through the Inspired Natives Project, which Louie launched in 2014, Eighth Generation creates opportunities for cultural artists who struggle to meet demand for their handmade cultural art.
Sarah, one of the Inspired Natives artists, is an Anishinaabe artist, teacher, and community organizer from the Fond du Lac Reservation in Minnesota. Widely known for her handmade regalia and moccasins featuring Ojibwe floral designs, Sarah owns and operates her own business, House of Howes. She shares her knowledge by teaching beadwork in her community and beyond through classes and video tutorials. Sarah has been an Inspired Natives collaborator since 2015.
*Above: Bunky Echo-Hawk's performance painting was auctioned off for $5,000 with proceeds going to MAICC.
Below: Joe Nayquonabe and Shena Matrious spoke at the Chamber dinner, and Jamie Edwards was one of the models for the Eighth Generation wool blankets. *