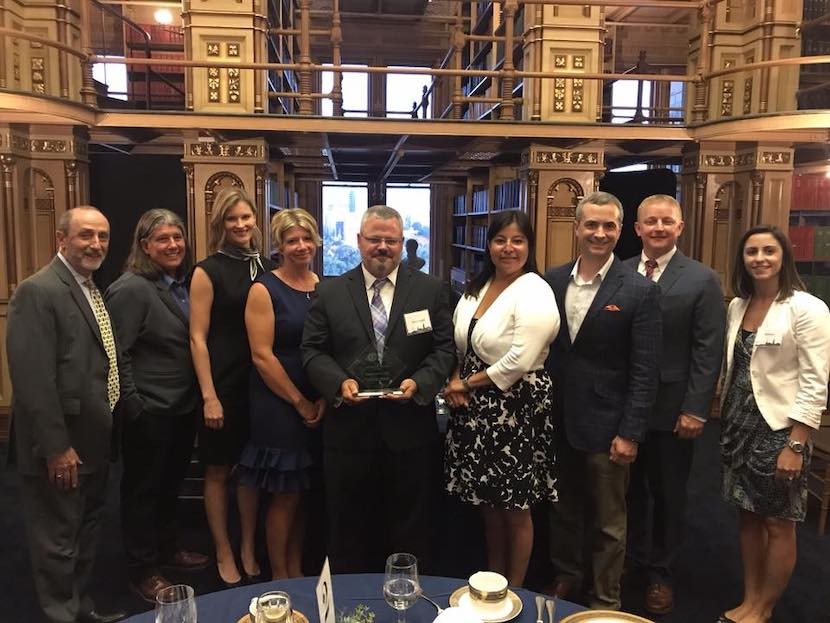 Band members Carla Big Bear and Sara Rice attended a July 15 awards ceremony in Washington D.C., where Pine County's juvenile justice program, Project R.I.S.E., received the 2018 Capstone of the Year Award from Georgetown University. The ceremony was held in the historic Riggs Library at Georgetown University.
Carla and Sara were instrumental in the development of Project R.I.S.E.
Project R.I.S.E. was created by a team from Pine County, East Central Schools, and the Mille Lacs Band of Ojibwe. The goal of the project, according to Pine County Attorney Reese Frederickson, is to keep juveniles in the county systems from becoming adults in the criminal system.
The team spearheaded many initiatives, including juvenile restorative justice, in-school truancy court, hiring a cultural community coach, writing data-sharing protocols, rewriting school discipline policies, identifying and addressing the needs of cross-system youth, and forming an evening reporting center.
Other jurisdictions have wanted to learn about the success of Project R.I.S.E. Reese and Probation Director Terry Fawcett have spoken about the program around Minnesota and in other states. "I've considered my involvement in Project R.I.S.E. as one my proudest accomplishments," said Reese. "It's been a lot of work, but it's also been an adventure — one where we've changed lives and I've formed many great friendships with team members."
He expressed thanks to the community, the schools, the Band, and the county.
Photo: Left to right: Shay Bilchik, Director of the Center for Juvenile Justice Reform at Georgetown University's McCourt School of Public Policy; Stefanie Youngberg, East Central High School Principal; Sydney Silko, Assistant Pine County Attorney; Heather M. Wynn, District Court Judge; Terry Fawcett, Pine County Probation Director; Carla Big Bear, Mille Lacs Band of Ojibwe; Reese Frederickson, Pine County Attorney; Andrew Almos, East Central Schools Superintendent; Jill H. Adams, Senior Research Fellow with the Center for Juvenile Justice Reform. Not pictured: Mille Lacs Tribal Police Chief Sara Rice.