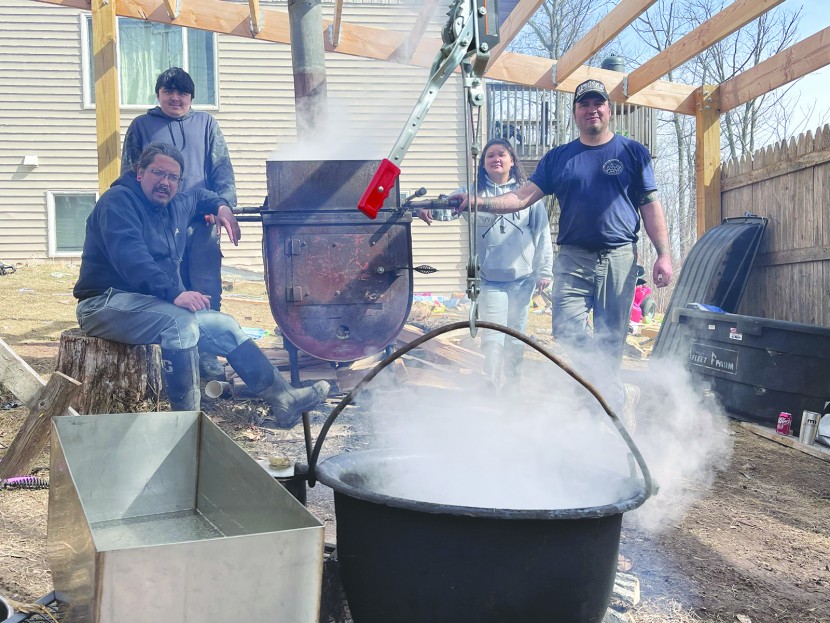 By Rhonda Mitchell Mille Lacs Band Member
Brad Harrington is a Mille Lacs Band member who has turned back to his traditional ways, including iskigamizige — tapping maple trees to make syrup and sugar cakes.
Brad started tapping trees as a child, but he stopped about eight or nine years of age. As he became a teenager and grew into adulthood, he made some wrong choices, but the second time he was in prison, he decided to change his life. He wanted to do things the Anishinaabe way.
"Sapping was one of the ways that I remembered from when I was a boy, so I started sapping when I got out in 2013," said Brad. "My teacher and mentor was my Papa Ernie, who showed me how to boil. I don't remember much, but when I got out of prison, Doug Sam, Russ Boyd, and the Blake family taught me a lot about sapping."
"We watch for birds like crows and swans as a sign that spring is beginning," Brad said. When the snow starts to start pulling away from the bottom of the maples, it's time to start tapping.
"We give it a few days, depending on how good it is running." Last year, his kettle broke, and he couldn't find a new one, so he got an evaporator that works well. "Last week, we had 50 gallons, and it took us 12 hours to get it down to candy and sugar."
Brad stops when the frogs start to croak. He will then begin to get all his bags off the maple trees before it starts to mold. "After a long hard winter, Manidoo must have thought we needed a little sugar to give us a boost to carry us into the spearing season," Brad said. "Also, the trees themselves are spirits and are giving us spiritual foods. We take it in and not only do we get the physical nutrients, but we get the spiritual nutrients as well."
After learning from his mentors, Brad brought their teachings home to his boys, who have been sapping for eight years now. "They notice things a lot better than I do," said Brad. "Like this one time we were boiling candy, they said, 'It's time now,' and I said, 'Let it boil some more,' and I ended up burning that batch because I didn't listen. When you burn it, you ruin the whole batch, so a whole day of boiling was gone because I didn't listen to my partners."