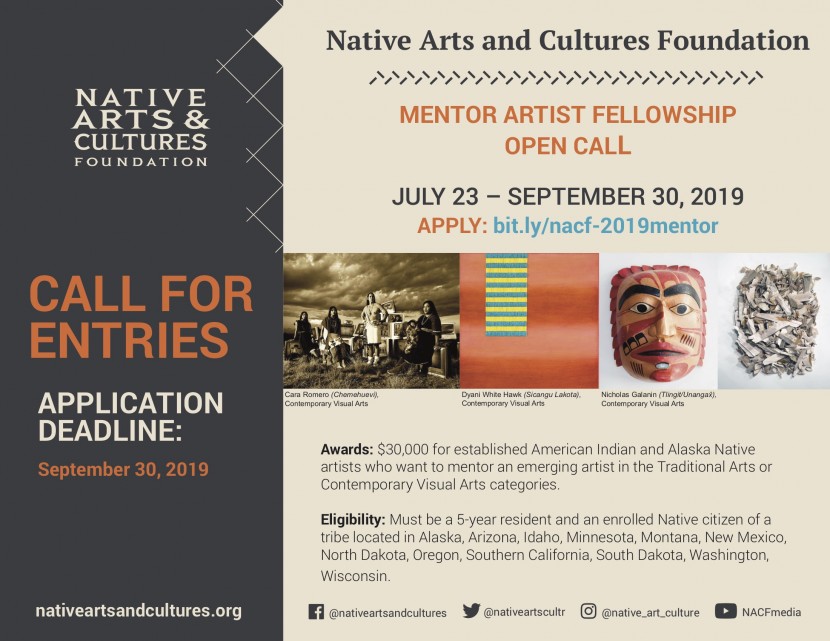 The Native Arts and Cultures Foundation's (NACF) Mentor Artist Fellowship is a regional individual artist project award that focuses on artistic mentoring in the Upper Midwest, Pacific Northwest, and Southwest regions. The Fellowship is open to eligible, established American Indian and Alaska Native artists of 10 years or more who want to mentor an emerging American Indian or Alaska Native artist apprentice in either the Traditional or Contemporary Visual Arts categories for a period of fifteen months, beginning April 1, 2020 and ending June 30, 2021.
The call for submissions for the NACF Mentor Artist Fellowship is now open until Monday, September 30, 2019 at 5:00 p.m. Pacific time. Notifications will be sent by March 2020.
Mentor Artist Fellowship is a $30,000 award distributed to the mentor artist. The award will be divided as follows: $20,000 for the mentor, $5,000 for the joint art project, and $5,000 for the apprentice's participation (travel expenses, supplies, stipend, etc.).
MENTOR ARTIST FELLOWSHIP REQUIREMENTS
Be enrolled in a federally or state-recognized American Indian tribe or Alaska Native corporation that is located in one of the following states: Alaska, Arizona, Idaho, Minnesota, Montana, New Mexico, North Dakota, Oregon, South Dakota, Southern California (Imperial, Kern, Los Angeles, Orange, Riverside, San Bernardino, San Diego, San Luis Obispo, Santa Barbara, and Ventura counties), Washington, or Wisconsin.
Be at least a five-year resident of one of the states mentioned above.
Be an established individual artist of ten years or more who practices in the traditional or contemporary visual arts, listed as follows:
TRADITIONAL ARTS may include pottery, basket and fabric weaving, stone or wood carving, leather and hide work, regalia making, silversmith, jewelry, beadwork, and other traditional art disciplines. NACF cannot consider dance or song.
CONTEMPORARY VISUAL ARTS may include fashion design, 2D painting, printmaking, illustration, photography, mixed media 3D sculpture, mixed media, or installation interdisciplinary visual arts. NACF cannot consider graphic design.
NOT BE an enrolled student in a school, college, or higher education classes during the 15-month mentoring period.
NOT BE a previous NACF fellow within the past two years, or since 2018.
Select an emerging American Indian or Alaska Native artist as an apprentice to mentor.