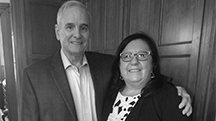 By Toya Stewart Downey, October 2, 2015
In the world of politics it's of the utmost importance to have allies, to collaborate and to build strong relationships.
Those things are especially true when it comes to local politics and government-to-government relationships as in the case of the Mille Lacs Band and the State of Minnesota.
In recent months, Chief Executive Melanie Benjamin and Minnesota Governor Mark Dayton have greatly strengthened their bond as they've discussed critical topics such as the Band's decision to suspend netting, reservation boundaries, and Sandpiper.
Beyond developing a stronger personal relationship and an ally, the greater benefit is the impact of these interactions on the Band as a whole.
In the last several weeks, the Chief has either met with or talked to the Governor multiple times to share concerns on behalf of the Band, or to make him aware of issues such as the opiate crisis or to discuss how to promote tourism in Indian Country.
In August, Lieutenant Governor Tina Smith visited Mille Lacs and attended the 49th Annual Mille Lacs Band Traditional Powwow. The Lt. Governor is scheduled to meet with the Chief in coming weeks to continue the tourism discussion.
Jamie Edwards, the Band's director of Government Affairs, said that it's critical that the state's elected leaders have strong relationships. He's attended the meetings between Melanie and the Governor and has been able observe the strengthened bond.
"Governor Dayton's Executive Order 13-05 created a framework for better relations between the state and tribal governments," he said. "With training for state employees and government-to-government consultation policies now required for all cabinet level agencies, Minnesota's approach could become a national model."
As leader know, forging strong relationships becomes even more critical when there are highly-charged or highly-visible issues, such as the State's decision to close walleye fishing on Lake Mille Lacs. That issue alone garnered local and national media attention and became the talk of the state.
It became an even broader conversation when the Band's Drumkeepers decided that the Band should temporarily sus-pend netting. Melanie told the Governor that she broadly communicated what the Mille Lacs Band was doing with other tribes and told Gov. Dayton that she would keep him in the loop as to what other tribes who had 1837 Treaty Rights on Lake Mille Lacs.
She shared with the Governor the work that the Band was doing with local area businesses and partners to diversify the economy in the Mille Lacs region.