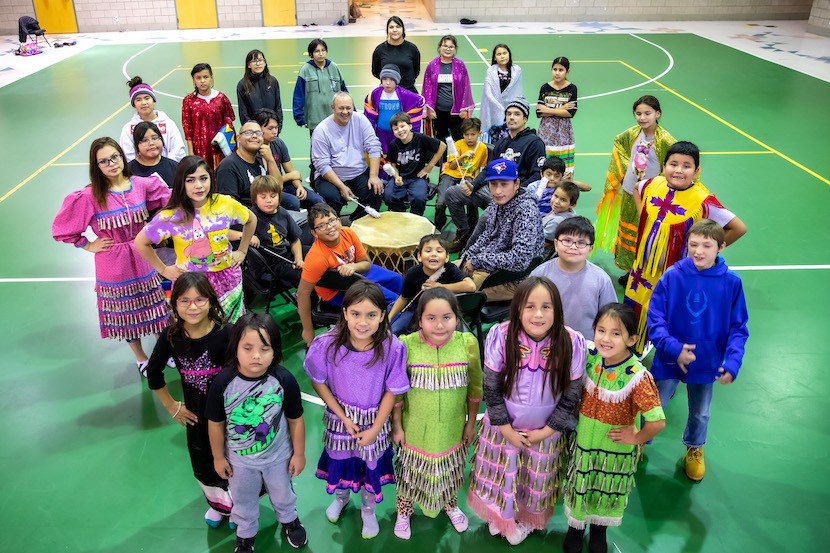 By Alyssa Enno Mille Lacs Band Member
The youth who attend the Niigaan after-school program in the Minisinaakwang (District II) area were curious about dancing and wanted to learn more, so Niigaan Program Coordinator Cheyanne Peet was inspired to take those requests and form a plan. The result: Drum and Dance class every Wednesday at the East Lake Community Center. Cheyanne saw that she had the community involvement and support needed for the program, and she made the necessary contacts to launch the class. "Getting community involvement was easy," said Cheyanne. "The instructors wanted to volunteer from the beginning and were a huge help in getting this started."
The instructors look forward to the program expanding. They believe this is a healthy outlet, not only for the youth at Niigaan but for the community as a whole. "Our vision for the program is pretty big," said Cheyanne. "The hope is that this will lead to other opportunities now and further down the road." Aside from learning about drum and dance, the youth will develop skills like working in teams, learning how to sew and make regalia, and learning to be comfortable and confident in front of others. By having community involvement with drum and dance, the youth will have the chance to learn from their peers and other community members.
District II has held three drum and dance events for the youth in Minisinaakwang. Dancing is led by Taria White and Morningstar Goodsky, while singing is led by Elbert White and Harvey Goodsky.
"I couldn't be more excited about this," said Cheyanne. "I think it's something that could be very beneficial to a lot of youth in more ways than one."