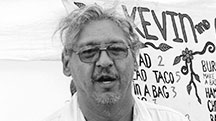 By Toya Stewart Downey, September 7, 2015
As the powwow season winds down, so too will Band member Kevin Schaaf's traveling restaurant, Kevin and Grams Frybread Diner.
Each year, beginning in February and going through September, Kevin and his team spend weekends traveling from powwow to powwow serving up a variety of frybread-inspired combinations. From frybread pizza pockets to frybread spam and cheese sandwiches to frybread-wrapped snacks like corndogs or cheese curds, the menu at the diner is all about the delicious doughy goodness.
"We make traditional frybread that doesn't call for yeast because yeast isn't traditional," said Kevin during a conversation at the 49th Annual Mille Lacs Traditional Powwow that was held Aug. 21-23. "We also fry it at a lower temperature so it rises."
The recipe came from Liz Wakanabo's grandma. Liz, a member of the Leech Lake Band, is Kevin's girlfriend and partner in the business — hence the name Kevin and Grams.
In 2013, the frybread was dubbed the "best frybread in Wisconsin," which was a coup considering that was the first year of the business.
During the powwow season the team's routine is the same — grocery shop on Mondays, cook and pack on Tuesdays and drive to the powwow location on Wednesdays. They spend Thursdays getting set up and then when it's time, they open the diner to the hordes of people who line up to purchase the traditional frybread and other delights.
"We buy 120-150 lbs. of burgers and about 200-300 lbs. of fries for each powwow and if we run out during the weekend, we go to the store to get more," he said. "Our best seller isn't fry bread, it's the cheese fries."
The couple also buys its ham and cheese from a vendor in Michigan, so sometimes when they run out, they have to wait until they can get more.
Though it's outside, the diner has a touch of style that is both inviting and welcoming. Decorative chandeliers hang over the tables that are set up for customers to enjoy their meals and protect them from the sun, or as in the case during the Mille Lacs powwow, the wind and rain.
Exquisite beaded earrings are created and sold by one of the team members, Erik Johnson, who runs the front of the diner by taking orders, overseeing candy and beverage sales as well as answering questions about the menu.
"We need five people to make sure it runs smoothly, but we can do it with three people," Kevin said.
They rely on a core group of people, some of whom work part-time as well as their grandchildren, who help out when it's busy.
Liz works behind the scenes making sure the traveling kitchen is operating smoothly, while Kevin does most of his work on the front end and back end setting up and taking the diner down when they're done.
"I forget things and that's why I don't work in the back," said Kevin, who was diagnosed with multiple sclerosis 27 years ago. "Because of my MS, I forget things really easily and I could be in the middle of something and forget what I was doing. I get in the way when I'm back in the kitchen because of my forgetfulness."
When the powwow season ends, Kevin and his crew take a break from the business. Kevin spends the off-season months relaxing and recharging. This year he will also spend a lot of time with Liz's granddaughter, who the couple is raising.
They had expected to retire from the business in five years, but are now waiting until their granddaughter is done with high school. They will then pass the business along to their grandchildren.
Kevin grew up in northern Minnesota and currently resides in Mora. He learned about the frybread business when he worked with his uncle, Al Schaaf, during the mid-1990's. He would volunteer in the summers and all the while learning tricks of the trade. He also worked with his mom, Nancy Arnous, who had a frybread stand. His mom passed away last year.
For many years Kevin worked as a painter. When he learned about his multiple sclerosis diagnosis and wasn't feeling well, he painted part time or sometimes not at all. He has also worked for a courier services as a driver and at one time had his own construction business.
His son, Kevin Jr., who is known by his nickname "Sport," works at the Mille Lacs casino and recently became a dad, making Kevin Sr. a grandfather – a role he's excited about.
Since they opened in 2013, the prices have remained the same and they will continue to remain the same starting at $2 for a piece of frybread.
"I'll never raise the prices because this isn't about us making a bunch of money. We're in this for the families and the people with kids who go to powwows," Kevin said.
"We want families to have good food that they can afford and that's traditional," he added. "Our prices are this way so people can feed their whole family. If the prices are too high, you can't feed a family of eight."
Over the next few weeks Kevin and Grams Frybread Diner will be at the Cass Lake Powwow during the Labor Day weekend, at the Naytahwaush Harvest Festival and then will end the season at Sugar Point.
If they have leftover food, they will have a customer appreciation sale in Ball Club, which is six miles west of Deer River. Food will be sold at half price. Follow the diner on Facebook at KevinandGrams Frybread Diner.