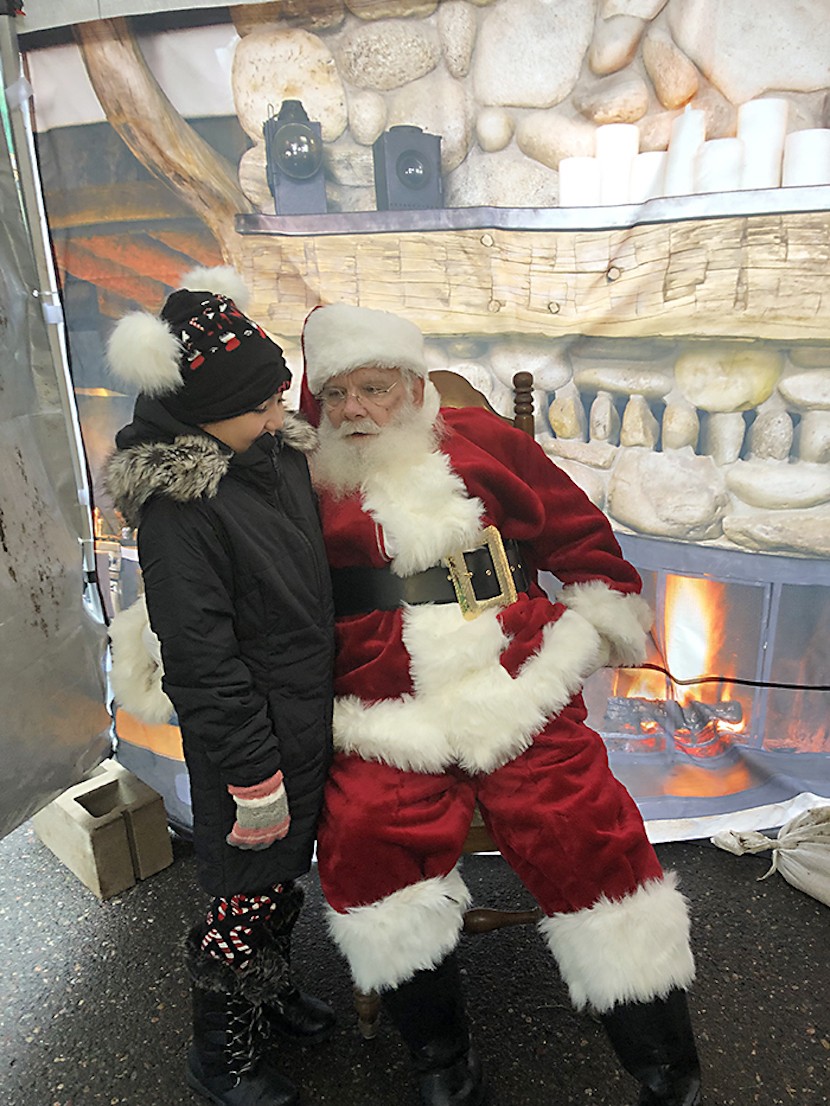 Toya Steward Downey Mille Lacs Band Member
When Arianna Sam sat down to write her letter to Santa this year, she didn't ask for books, Barbies, or a bicycle.
Instead, the 9-year-old had just one important request. She asked Santa to make a special trip to heaven to see her dad, Herb Sam. She wanted St. Nick to give her dad the letter she wrote — along with the message that she loves and misses him.
Herb, who was a Band Elder and spiritual advisor, passed away in September from liver cancer.
What happened next was the kind of thing that movies are made of and can make even the die-hard skeptics believe in the magic of the holidays.
"I went shopping in Pine City and saw Santa at the store. I knew that Arianna wanted to visit with him," said her mom, Patty Sam. "I was going to pick her up, but Santa was about to leave. So, I asked if I could take a picture of him for her."
Patty also had a chance to tell him about her daughter's letters. Santa listened to Patty talk about her husband and her daughter's letters. He then wrote down her name, asked her to describe her daughter and asked Patty to bring Arianna to see him in Mora. He said he might have a surprise for her if she came to see him.
The following weekend the pair made a trip to Mora and joined the other families who stood in the long line to meet Santa. When it was Arianna's turn to greet him Santa told her, "I have something for you. I went to Heaven and saw your daddy." He then gave her a letter and candy.
The little girl was both stunned and happy. She quickly kissed Santa's cheek before she left. Later, in the car, as she read the letter she cried.
"Please don't be sad when you think of me. Heaven is a beautiful place…" read part of the letter. "I want you to know I am with you always…Remember how much I love you…I am always watching over you."
Included in the letter was a small gift of an "angel sweetheart" that her dad sent down from heaven.
For Patty the kindness of a stranger was both unexpected and appreciated.
"It's not every day you meet someone who will go out of his way to make a little girl happy or do something so thoughtful for a stranger," said Patty. "I felt good because it helped her.
"We both miss him so much, and our lives aren't the same without him. And all Arianna wanted to know is that her dad is OK, and she was really happy with the letter."
Since then, the pair have celebrated Herb's December 16th birthday, and Arianna has written another letter to him addressed to "Herb Sam in Heaven."