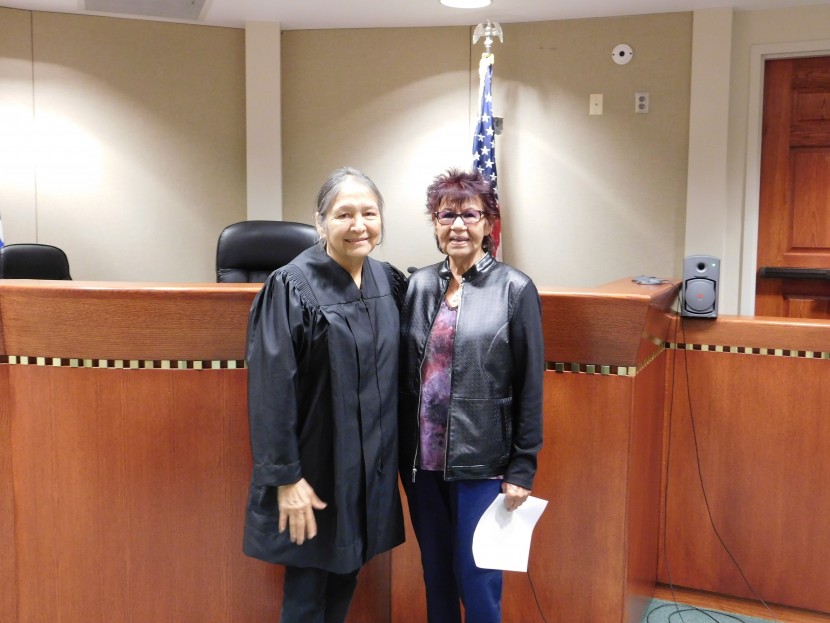 **Toya Stewart Downey **Staff Writer
Band member Ramona Applegate is taking on a new role as the District II Associate Justice for the Court of Appeals. Ramona was sworn in by Chief Justice Rayna Churchill on June 26.
The appointment is for the remainder of a six-year term, which ends in August 2022.
"I felt very honored that Chief Melanie nominated me for the position," said Ramona, who is 74. "I am as happy as I could be...I'm thrilled."
Throughout her lifetime Ramona has worked in a variety of roles. She spent 18 years working at a company called Control Data where she did assembly work and tested circuit boards. She has also worked at the casinos in Hinckley and Mille Lacs doing a variety of jobs.
In her new role she will work part-time. Ramona will hear cases and will offer insights "based on my experience and my upbringing," she said. She plans to learn the rules and regulations that govern her work so that she will be able to make decisions with the help of others. Gilda Burr, a Court Administrator for the Band Tribal Court, said the District Associate Justice mainly hears cases appealed from the lower court (District Court) to the Court of Appeals.
The justices also hear unlawful detainer cases from their respective districts to remove individuals from the Band's Housing Authority.
"The Justices meet several times a year or as needed to review case precedence, discuss improvement of the Judiciary and administer oaths to individuals as required by Band Statutes," Gilda added.