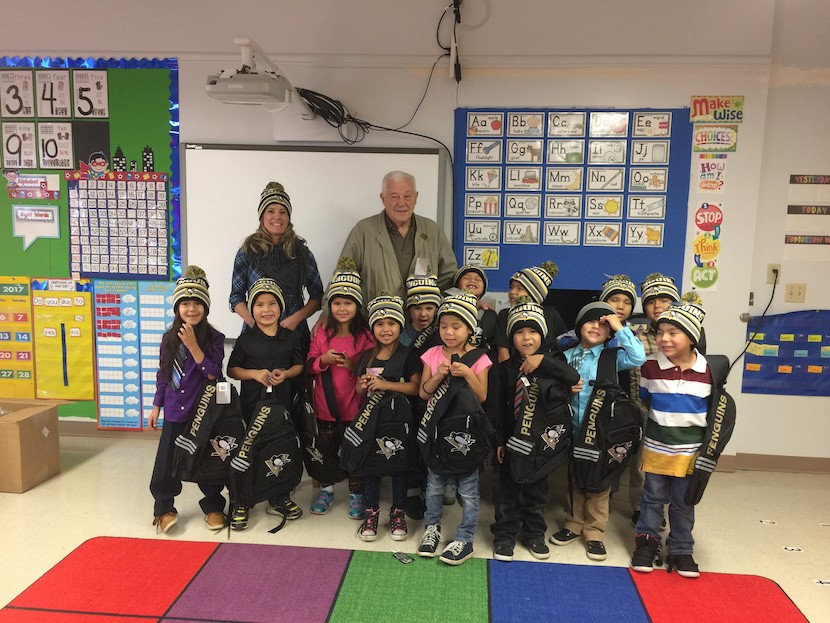 Chuck Grillo, known by many as "Gringo," recently donated Pittsburgh Penguins hats and backpacks to all the students in Laurie Rupp's kindergarten classroom at Nay Ah Shing Abinoojiiyag School.
Chuck worked as an architectural and mechanical drafting instructor for 17 years in both Bemidji and Rosemount High Schools. He has a strong passion for helping young people take their assets to the highest level.
Chuck says he is especially grateful to the Native American athletes like Gary and Earl Sargent and John Buckanaga, as well as the staff of Bemidji High School. Without them, and the people of Bemidji, he believes may not be where he is today.
Chuck owned the Minnesota Hockey Camp located in Nisswa from 1979 to 2016. During his time at the camp, he worked with 30 award-winning athletes in the NHL and hosted over 300 NHL players.
Gringo had a 31-year career working in the National Hockey League. He worked as a scout with the New York Rangers as Director of Pro Scouting with the Minnesota North Stars, Executive Vice President and Director of Player Personnel for the San Jose Sharks, and eleven years as a scout for the Pitts- burgh Penguins Stanley Cup winning franchise.
Gringo served his country in the United States Marine Corps, has his Master's in Guidance Counseling, and 80 credits towards his doctorate in Education. He is also an inductee in the Bemidji High School Hall of Fame and the Minnesota Hockey Coaches Association Hall of Fame.
Chuck decided he would like to give back to the Native American community. "When the final curtain closes, we will be measured by the impact we have had on the
lives of others and the size
of our heart," he said.
Chuck said he witnessed a few big hearts around Nay Ah Shing School. He felt honored to meet the staff and spend time at one of his new favorite elementary schools. Chuck said he considered many he met, while visiting, to be friends for life because of their commitment, drive, and passion for all they do.
"The future of these young people gets a little brighter each day when they encounter an administration, teaching, and support staff that is driven to help all students succeed." Miigwech, Gringo!