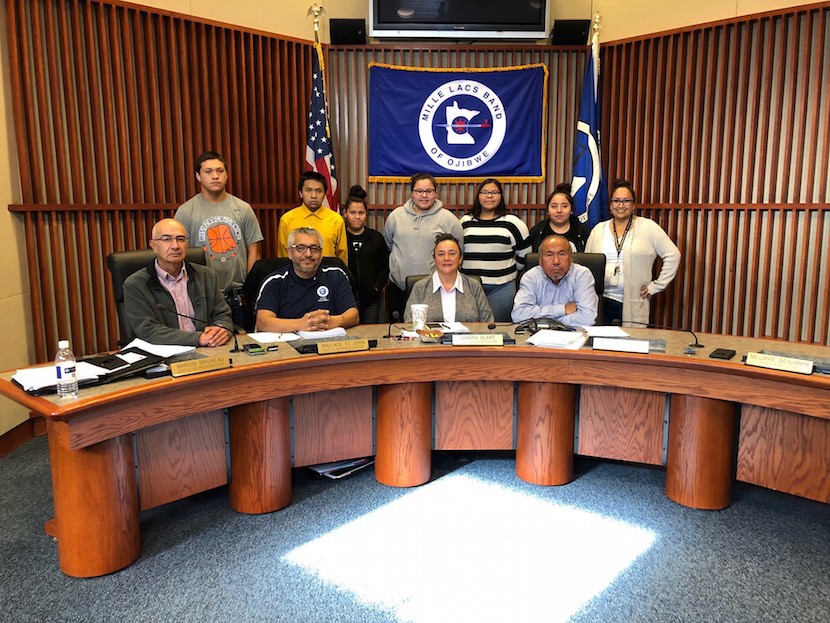 Six Onamia High School students set aside the books on November 8 for a first-hand look at tribal government in action. They were accompanied by American Indian Studies teacher Chris Clitso-Nayquonabe and instructional assistant Dana Munson.
Secretary-Treasurer Sheldon Boyd welcomed the students and asked everyone present to introduce themselves, including the three district representatives, Commissioner of Finance Adam Valdez, Legislative Attorney Christine Jordan, Parlia- mentarian Darcie Big Bear, Administrative Assistant Kiana Morrison, and Legislative Office Manager Wendy Merrill.
Chief Executive Melanie Benjamin also dropped in at the beginning of the meeting to greet the students.
Students witnessed some of the basics of Robert's Rules of Order: approving the agenda and minutes, making motions and seconds, and roll call votes.
The Assembly discussed and approved several contracts, approved hardship requests, and heard presentations from Gaming Regulatory Authority (GRA) Executive Director Becky Houle, and Commissioner of Community Development Percy Benjamin.
As the meeting progressed, Sheldon asked Becky and Percy to speak to the students about their work and how young peo- ple might pursue a career in their field.
Becky talked about working in gaming regulation throughout her career and said she likes to "geek out" on the topic. She said employees come from a variety of backgrounds: business, math, surveillance, or working their way up in the gaming industry. Some staff have only a high school degree, and one has a background in archaeology!
Percy introduced himself to the students by saying, "I over- see roads, facilities, housing, and public works — so pay attention!"
He said his department is always looking for anyone who wants to get their hands dirty: mechanics, drivers, carpenters, cement masons, painters — anyone who can work in the building trades "from the ground up." He also recommended pursuing commercial HVAC (heating, ventilation, and air conditioning) for students who want to earn higher salaries.
Band Assembly meetings are open to all Band members, who are encouraged to attend. The meetings rotate around the districts and have also met twice at All Nations Church in Minneapolis since the new Band Assembly took office in July.