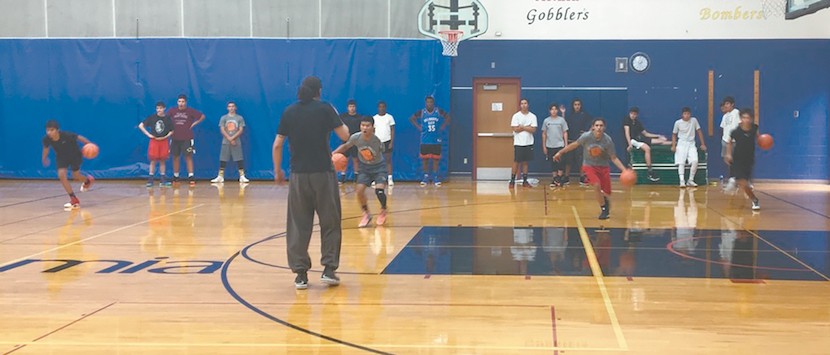 Story by Amikogaabawiikwe (Adrienne Benjamin) Mille Lacs Band member
On October 27-28 at Onamia High School, the Native Thrive Youth Empowerment/Basketball Camp took place at Onamia High School with a record number of community youth from Onamia, Isle, McGregor, Cass Lake, Hinckley, Bemidji, Lac Courte Oreilles, and even as far as Winnebago, Nebraska.
Funding for the initiative was derived from the "Keep Tobacco Sacred" project led by Mikayla Schaaf — part of the Tobacco Free Communities Grant through the Minnesota Department of Health. Regarding the shifted focus of the project, Mikayla said, "We realized that change starts with families, and we want to do more direct work in the communities and with youth. We want to promote healthy active lifestyles and community involvement. A major part of the grant is reducing and eventually eliminating non-traditional tobacco use in the community. We believe that the best way to do that is to exercise and maintain healthy identity in the community."
The initiative followed up on the August Native Thrive event at Meshakwad Community Center. Native Thrive co-planner Byron Ninham said, "We learned what we did well, and what didn't work, and wanted to build on that knowledge to create something new and special. We wanted to utilize grant funds to support wellness activities and connect with young people in a personal basis in a camp setting, using sport as the medium/language."
The coaches are highly qualified. Two of them played Division 1 ball and others played Division 2 and are currently coaching, mentoring, and working with young people. Shaunna Knife and Kelsey Peltier are the assistant and head coaches at United Tribes, respectively. Brady Fairbanks is the athletic director and head men's basketball coach at Leech Lake Tribal College. Justin McCloud is currently working to pursue his pro- fessional career overseas. He is a graduate of Illinois State and former grad assistant for the University of Mary in Bismarck, North Dakota.
The coaches emphasized fundamentals and the basics of the game while creating a fun atmosphere for all camp- ers. Grades 6-8 and 9-12 were assigned to separate groups for camp. There were definitely some high-level competitive games, and good defensive fundamentals that were taught throughout the weekend. The coaching staff was very open and honest about the importance of reinforcing those skills.
A lot of the coaches got to the level where they were get- ting to know kids by name and high-fiving, but also not lacking discipline to those who weren't performing up to their potential. By the end of the weekend, kids were tagging on social media and taking selfies with the coaches. "I wanted to let all of the kids know that they can always look to me or see me as someone who they can call on in the future," Byron added. "I told them that I am always personally here for a phone call, check-in, or a visit."
At the culmination of camp, all campers were invited to a banquet-style dinner at Grand Casino Mille Lacs and were invited to participate in a Q&A panel with all of the coaches and clinicians. The coaches spoke about their path in life and their path in sports and education. They told the kids that they used sports to further their professional and personal lives.
"They used basketball, basketball didn't use them," Mikayla added.
As a closing event, every student athlete received a new pair of Nike PG 2.5's and a Nike HyperElite basketball for their participation in the event. Byron believes those incentives are important. "So often we find reasons not to go to school, not to give that extra effort, not to try out for things, because we may not have the equipment, but we were able provide those things through this grant — the basic tools of a basketball and a pair of sneakers to eliminate some of those barriers to participating or trying to achieve. I am so proud that we were able to provide that avenue."
Event organizers would like to send a chi-miigwech to Chris Nayquonabe and the Onamia Indian Education Department for sponsoring the venue, encouraging attendance, coordinating youth involvement, and staffing the event. Chi-miigwech to the Mille Lacs Band Niigaan Program for providing transportation and supplying Powerade sports drinks for the youth. A special shout out to Leroy Fairbanks III who supported the efforts in Mille Lacs by recruiting and engaging 30+ athletes from the Cass Lake/Bemidji area. "He has been a huge ally for youth sports and community involvement and engagement as a politician, father, and coach, and he should be recognized for that," Byron added. Miigwech, LeRoy.