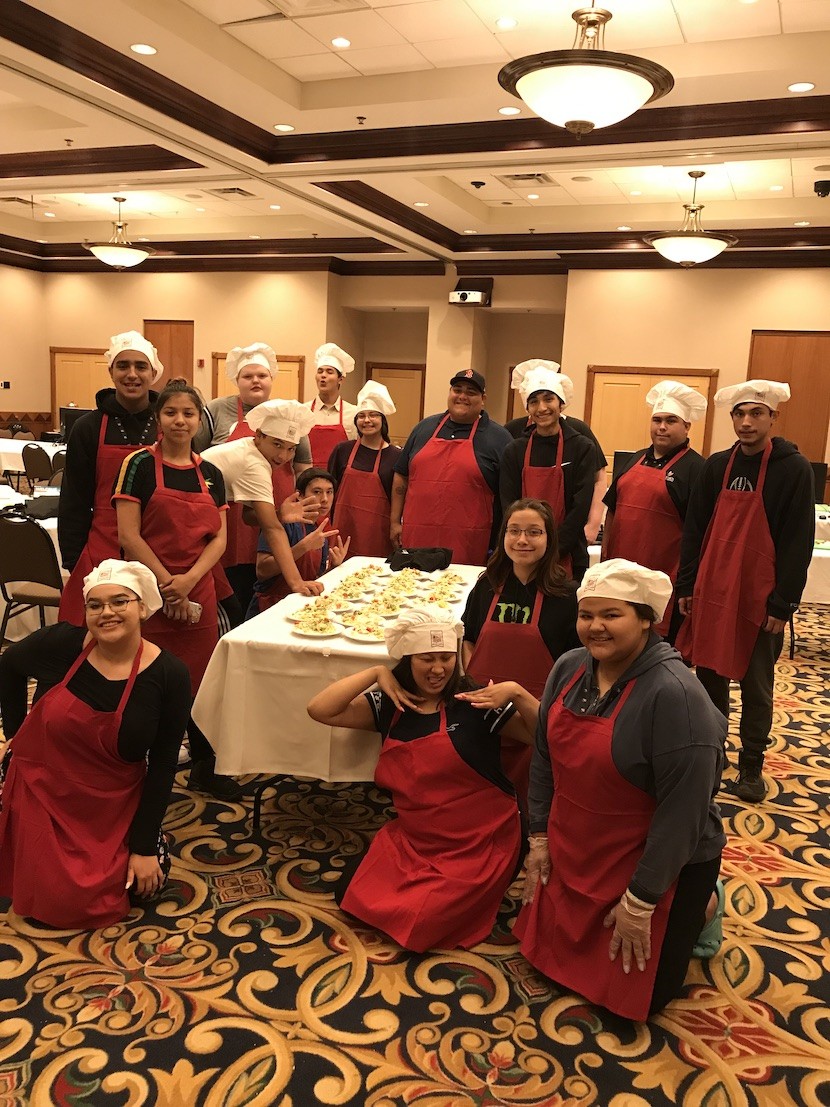 The value of internships, both to organizations and students, is well-known. The idea of a Mille Lacs Corporate Ventures (MLCV) internship came after the 2018/2019 Adopt-a-School program when Onamia Indian Education Director Chris Nayquonabe asked MLCV to consider creating a program for her students.
She said internships and other forms of experiential education help students make a seamless transition to the world of work and are a perfect vehicle for organizations to increase retention rates, complete short-term projects, and identify future hires. She also stressed the importance of the students understanding how to work in a corporate setting, gaining business skills, and learning about leadership.
The idea was so great that MLCV opened the inaugural Summer Internship Workshop program and encouraged all Mille Lacs Band students to apply.
The curriculum was designed by Band member Alyssa Enno, based on her experience as an intern just six years ago. Today, she serves as MLCV's Brand Communication Specialist.
"Alyssa identified experiential learning scenarios where the interns could absorb the information, analyze what they learned, apply it to a real-life problem, and reflect upon it," said Nayquonabe.
Four weeks of learning, discovering, exploring, and innovating made up a transformational learning experience for 16 Mille Lacs Band community students: Amelio Merrill, Derek Smith, Jr., Jaeden King, Jenai Beaulieu, Curtis Jackson, Kyle Bush, Corey Bush, Carlos Saice, Madeline Boyd, Josef Boyd, Ashton Smith, Kaitlin Wind, Madison Sam, Amanda Eagle, Trinity Blake, and Kevin Harrington.
On Tuesday, August 6, the interns shared their experience with the local community at a luncheon celebration at the Grand Casino Mille Lacs Events Center. They discussed how they utilized their internship to develop their personal brand, plan multiple events, explore their career interests, and identify and build upon their strengths.
"At the end of this internship workshop, we wanted each of the students to walk away with two things: understanding their path to leadership and solving interesting problems," said Joe Nayquonabe, CEO of MLCV. "For each of the interns to move forward on their leadership path, they have to look inward and explore what makes them a leader. Just as important, at the center of every significant innovation is always an idea. The best ideas come in response to an important problem that needs to be solved and requires more creativity and abstract thinking, as well as an ability to see the bigger picture."
The goal for this Internship program was to create a space where the interns were able to explore and experiment with new ways of thinking and work together collaboratively. And that's exactly what they did.
Learning about Teamwork
The workshop began on Monday, July 8. The interns would start each day with an ice breaker exercise to get to know each other and begin the process of forming themselves into solid teams.
Teamwork in the workplace can increase efficiency, improve communication, expedite idea generation, distribute workload, and establish a culture where each person feels a sense of belonging and empowerment. Prior to breaking into teams, each person had to identify their own personal strengths and understand the value that they brought to a team setting.
Each team was designed to include people with different passions and capabilities. "We saw camaraderie form in the best way with every intern," said Nayquonabe. "They embraced and celebrated their team's individuality, expressed out-of-the-box ideas to push each other forward and work together to complete their final presentations. It was super cool to watch."
Each team worked together in various ways: completing their MLCV Friday 5 e-mail, which is a weekly e-mail that is sent company-wide that is a digest of relevant information contributors want to share; their MLCV advertisement that highlighted the company's mission; and their final presentation, which included their personal brand highlights, an event they had to plan, and top takeaways.
Discovering Strengths
MLCV brought in the Insights Discovery® Personal Profile, which is a personal and team development tool that gives individuals an engaging and transformational insight into themselves and others.
"I was able to clearly call out my strengths and learn about my weaknesses so I can work on those," Amelio Merrill shared as a top takeaway during his final presentation.
Throughout the internship, the students worked on completing a personal brand workbook utilizing their insights as a reference. Jeff Bezos, the founder of Amazon, is famously quoted as saying, "your brand is what people say about you when you're not in the room." A personal brand is the unique combination of skills and experiences that make you who you are.
The interns learned that personal branding is a matter of being honest, transparent, and authentic as to what makes them unique.
"Learning about branding helped me realize things about myself and to think about the image I want to create of myself," said intern Jaeden King. "I learned how to highlight my best traits and how to showcase them in a personal and professional setting."
Exploring Various Business Topics
Each day was filled with essential business topics such as personal branding and identifying the value that they bring to a team, company branding and marketing, communication techniques, business writing, how to evaluate a business, managing budgets, and event planning.
For example, they learned about how to plan the July Bi-wiidoopamishinaam Come Eat With Us Elder Event with Beth Gruber. Interns selected the location and menu, set the agenda, determined the prizes, and managed the overall budget.
On the opposite end, there are instances where events don't necessarily go as planned, so Alyssa created a Fyre Festival Case Study that the Interns analyzed to understand and identify where the event failed. Fyre Festival was a music festival scheduled for two weekends in Spring 2017 that seemingly lacked any infrastructure.
Equipped with the original pitch deck and various news articles about the festival's mishaps, the interns quickly identified that having a contingency plan, setting realistic expectations, and staying within the allotted budget were all ways to avoid the backlash the festival received.
The interns even joined the MLCV Board of Directors for their quarterly meeting. There, each person introduced themselves, discussed their interests for their academic careers, and expressed what they had learned so far throughout the board meeting.
Innovation at Work
Innovation happens when we provide creative, challenging, and fun opportunities for people to build up an excellent environment with productivity.
MLCV made sure the interns had some fun along the way — having dance-offs, creating advertisements, and doing a cooking chef challenge with Tony Buckanaga (see page 1).
The chef challenge resonated with all the interns, but this experience really stood out for Kyle Bush. "I learned that teamwork is the best way to get anything done," said intern Kyle Bush during his final presentation. "In our cooking challenge, each person cooked a different ingredient. Those ingredients alone would have been boring and plain, but when we put it all together, we made something incredible — chicken alfredo."
"This was a very impactful experience for us as much as it was for the students," Nayquonabe said. "Each intern dedicated their time, talent, and ideas with us, and we feel very excited about for future of the Mille Lacs Band with these bright minds."