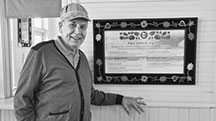 By Brett Larson, July 6, 2015
Sometimes we have no idea of the stories our neighbors can tell.
Folks around Mille Lacs may know Bill Schaaf because he served as self-governance coordinator and Community Support Services Director from 1998 to 2008, or because his birch bark art work is on display around the reservation, or because he plays a mean game of pickup basketball — impressive for a 74-year-old.
But those may be near the bottom of his list of accomplishments.
Bill was raised in the woods on the Leech Lake Indian Reservation, where his father, a member of the Minnesota Logging Hall of Fame, taught him the importance of independence. "Work ethic was really important to him," Bill says.
Although his father was German, Bill was immersed in Ojibwe culture. His mother was a Mille Lacs Band member and direct descendant of Chief Buffalo of the Lake Superior Red Cliff nation. She introduced her 11 children to family members who taught them to trap, hunt, fish, and rice in traditional ways.
In the 1960s and '70s, game wardens would chase him and his friends off their ricing lakes. "So we used to go night ricing," Bill recalls with a smile. He was strong from working in the woods, and one day on Bowstring Lake he gathered 710 pounds in his flat-bottom boat. "Back then, before paddy rice and commercialization, you could make enough in a day to buy a nice car."
After high school, Bill went to Haskell Indian Nations University in Lawrence, Kansas, a school his daughter attended and his granddaughter currently attends. It was there he learned to play basketball in the intramural program.
After Haskell, he participated in a relocation and job training program. Bill learned air conditioning and sheet metal trades and worked for GM for five years, but he soon grew bored and decided to head back to college at Berkeley, where he majored in political science and American Indian studies. That was in the late 1960s and early 1970s, when protests against the Vietnam War led to cancellation of an entire semester of classes.
"We weren't protesting the war," Bill says. "We had other things to do, like take over Alcatraz." The protest was intended to demand return of Indian lands. "Once everybody caught wind of it, Indians from all over the country came, and it just got bigger and bigger."
Although it dissolved into chaos, the takeover brought attention to Indian issues and prompted the U.S. government to recognize tribes' inherent sovereignty.
"It created a lot of awareness not only domestically but internationally about the conditions on reservations. We gave up over 100 million acres of land nationally and signed treaties that made the U.S. government legally responsible for the health and welfare of Indian nations. That's why we receive government allocation for things like health care, housing and social services. They're still paying for the conquest and seizure of our land. They still haven't paid a fair price for what they took from us."
Later Bill brought some California friends to Minnesota to join AIM in a fishing rights demonstration on the Leech Lake Indian Reservation. "We joined AIM in Minneapolis and went up to Cass Lake and set up an armed encampment," Bill recalls. "We knew it was wrong for them to be arresting people and throwing them in jail. Those were our God-given, inherent rights."
He remembered getting chased off the ricing lakes in his youth. "You'd go ricing on what you considered to be Indian land, and there would be someone there to arrest you. I think that's why I had it in me to fight."
Their actions led to the groundbreaking case Leech Lake Band of Chippewa Indians v. Herbst, which resulted in the federal recognition of Band members' right to hunt, fish and gather on the reservation — free of Minnesota game and fish laws.
After the decision, Indian tribes started developing their own conservation codes and establishing their own tribal court administration. "I'm proud to say I was part of that," Bill says.
Following his rabble-rousing period, Bill began a long career of working on behalf of tribal sovereignty in California, Nevada, Minnesota, Oklahoma, and Washington, while raising six daughters and two sons.
Among his accomplishments, Bill:
Served as executive director of the American Indian Center in Sacramento.
Helped start the California Indian Manpower Consortium — including 100 tribes — which is still in operation.
Worked as business manager for the Pyramid Lake Indian Reservation in Nevada, helping to get a museum built that is still standing today.
Wrote a book on Chippewa government and developed a curriculum to be used in schools.
Helped the Comanche tribe in Oklahoma rebuild their reservation by coordinating loans from the American Indian -
National Bank and initiating gaming operations.
Helped the Puyallup tribe in Washington win a $160 million land claim settlement and put land in trust starting the Puyallup First housing project. Current Tribal Chairman Bill Sterud remembers Schaaf's contributions and offers his respect whenever Bill comes back for visits.
Worked with Leisure Time Gaming, St. Cloud, to secure contracts with several tribes to operate and finance Indian casinos, including Shooting Star Casino in Mahnomen, Minnesota.
Won national Indian basketball championships (and several MVP awards) for his age group in his 20s, 30s, 40s, 50s, 60s and 70s.
Basketball, family, travel and art keep Bill busy now. Bill learned about Ojibwe birch bark arts as a child in the north woods, but he didn't try it himself until 10 years ago. Although he makes some baskets and model canoes, his favorite work is making picture frames with traditional floral designs.
Bill's work is currently on display at the Mille Lacs Band of Ojibwe Government Center, Health Center, and District II and III Administration Offices.