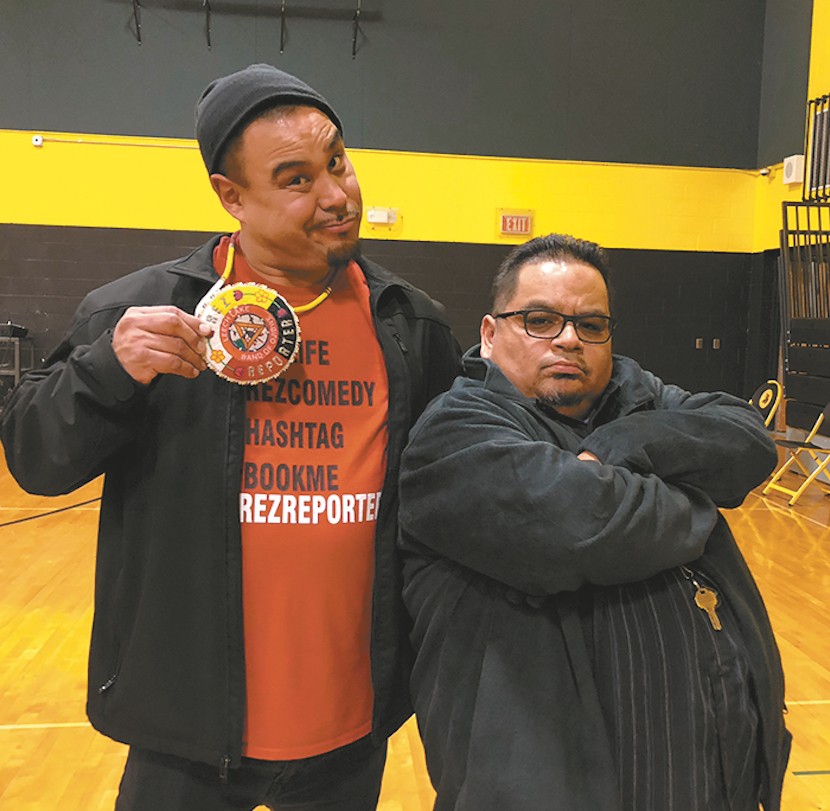 Entertainment and education were on the menu — along with a tasty Thanksgiving-style feast — as Band members gathered at Nay Ah Shing High School November 13 for an event sponsored by the Department of Natural Resources.
The evening kicked off with stand-up comedy routines by Rob Fairbanks (the Rez Reporter) and Jon Roberts, who shared their unique and funny insights into reservation life.
After dinner, District I community member Robert DesJar- lait shared his experience growing up in the Twin Cities and traveling to Red Lake to spend Thanksgiving at his grandmother's house.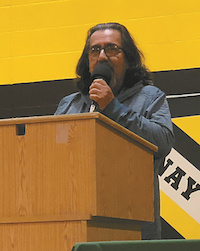 "When I think of Thanksgiving, I think of those memories," said Robert. "I look at it as a time when you get together with your family and community and share a feast. We don't pray like Christians, but we make a spirit plate and give that to our relatives who have passed on. Thanksgiving is nothing new to us. Even before the invaders came, we did this. We had feasts in the spring, feasts in the fall. It's been said we should have Thanksgiving every day, and a lot of us do. We get up and put our tobacco down and thank the Creator for another day."
Robert also spoke of his 36 years of sobriety and his debt of gratitude to Herb Sam, the Mille Lacs Band Elder who passed away recently and gave Robert his Anishinaabe name.
DNR Commissioner Bradley Harrington thanked Robert and introduced Brenda Child, an Anishinaabe history professor at the University of Minnesota, who told the true story of the Wampanoag Indians. She said they really did help out the Pilgrims and shared a feast with them in 1621 (after the Pilgrims raided their food caches).
The Pilgrims found the land relatively uninhabited, Brenda said, because epidemics caused by contact with Europeans had already decimated the Indian population on the Atlantic Coast before the arrival of the Pilgrims.
Instead of a "virgin wilderness," North and South America had been heavily populated until those epidemics.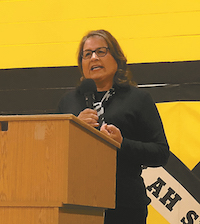 Brenda also told of the war against Massasoit and the Wampanoag that came later, and how the Pilgrims gave credit to their God for "a speedy victory" — which involved the massacre of women, children, and Elders.
Brenda explained that Thanksgiving was not celebrated until 200 years later, when it was made a holiday during the Civil War. "Holidays serve a political purpose by telling us stories about the past," she said. "During the Civil War, politicians declared the official holiday, trying to bring people together."
Like Robert, Brenda also found a positive theme in the real story of Thanksgiving: "The Wampanoag people have survived. They still exist. We have to rethink and reconsider what we read in our textbooks, but it is an incredible story of survival."
Above: Rob Fairbanks (The Rez Reporter) and Jon Roberts.